News
Dolemite is My Name! Gets Hilarious Netflix Trailer
Eddie Murphy and Keegan-Michael Key's blaxploitation biopic, Dolemite is My Name!, gets its first trailer form Netflix.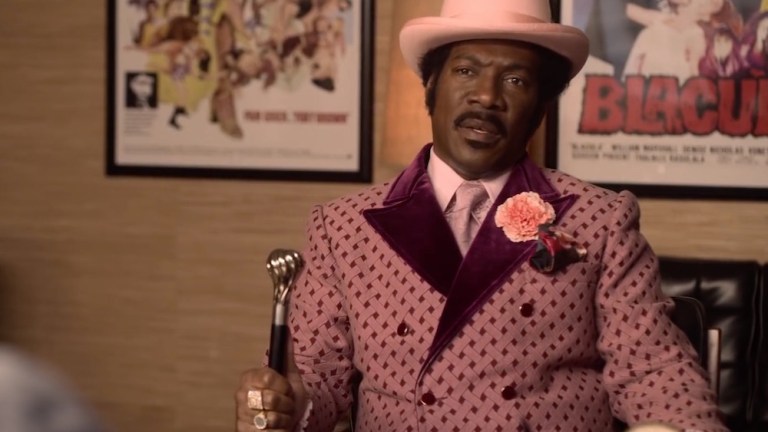 Film producer Rudy Ray Moore was one of a kind. Known as the "Godfather of Rap," Moore had a career that spanned decades, varying musical genres, nightclub routines, and even a stint as a church preacher. But he is of course likely best known for his Blaxploitation cult classic, Dolemite. The making of that last film is also the subject of a new affectionate-looking documentary coming from Netflix and the director of Hustle & Flow: Dolemite is My Name! And with Eddie Murphy playing him no less…
If you don't know who Dolemite is, well he was marketed as "the ultimate ghetto hero," one badass pimp renowned for his Kung fu prowess, and his clique of employed ladies who'd help him keep the community safe. This was the crux of the 1975 B-thriller produced by Moore, who also stars in the film, and its story of a man of legendary karate and bedroom prowess who is then framed by the police. Facing up to 20 years in prison, Dolemite proves his innocence one ass-kicking and love making session at a time.
The film marks Murphy's first film since Mr. Church in 2016. It is also a film with a strong cast that includes Keegan-Michael Key of Key & Peele fame as Jerry Jones the playwright who is convinced to write the script for Moore's Dolemite and even act in the film. We imagine it will not be the work Jones wants to be remembered for. The film also includes Wesley Snipes, Mike Epps, Craig Robinson, Tituss Burgess, Da'Vine Joy Randolph, and T.I.
In addition to producing and starring in Dolemite is also considered the "Godfather of Rap" because of his sexually charged use of rhyming in standup routines that made light of the pimp, prostitute, and hustler underworld. Records of his routines became popular throughout the 1970s and into the '80s, as did some of his other films, which includes The Godfather of Disco. The film looks like an amusing monument to the filmmaker by others, including director Craig Brewer who helmed Hustle & Flow and the highly underrated Black Snake Moan.
Dolemite is My Name! is scheduled to stream on Netflix sometime later this year, but if you're headed toward Canada soon, it is going to premiere at the Toronto International Film Festival.
Read and download the Den of Geek SDCC 2019 Special Edition Magazine right here!
David Crow is the Film Section Editor at Den of Geek. He's also a member of the Online Film Critics Society. Read more of his work here. You can follow him on Twitter @DCrowsNest.