News
Does Watchmen have any chance of a March 2009 release?
The latest from the legal battle between Warner Bros and Fox could mean a court date that's likely to delay the release of the Watchmen...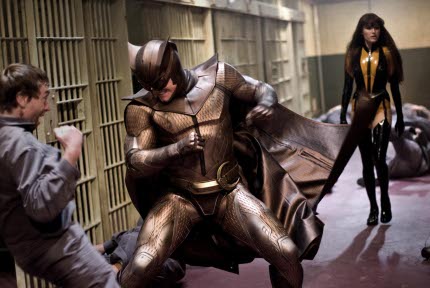 Believe Kevin Smith, and the upcoming Watchmen movie, directed by Zach Snyder, is the real deal. Certainly the trailer has got us pumped up, and the fact that the release date is down for March 6 2009 means we won't even have to wait until next summer to see it. What could possibly go wrong?
Er, quite a lot. Because, as we previously reported here (and everyone else did, to be fair), 20th Century Fox and Warner Bros are fighting a legal battle over the film, and the pair may not have their day in court in time to see the film hit its original release date. It dates back to an argument by Fox that it bought the rights to make a Watchmen movie back in the 1980s, and when a court refused Warner Bros' motion to get the case dismissed earlier this year, the potential for fireworks increased.
The initial thinking was that there'd be a fair amount of posturing before Fox and Warner Bros worked out some deal – presumably involving the latter giving the former money – that would allow the film to hit its March release slot. But some are growing concerned that that may not now be the case. The fixing of a trial date is the key problem, with it seems the earliest the case can be heard being April on 2009, while it could even slip to the summer.
So where does that leave the film? In a bit of trouble seems to be the answer. It's going to take some negotiating between the two parties to get a March release, but there's now a very real chance that the film will be delayed. The worst case scenario is that Watchmen may not even be released next year at all: after all, if the legal shenanigans run on over the summer, Warner Bros will not want to release one of its biggest tentpole pictures in the death knells of winter. And given that the firm has already shunted the Harry Potter film into 2009 to make up for a lack of major blockbusters on its slate, any sizeable delay is surely something it wishes to avoid at all costs.
There's still a lot of arguing to do between the overpaid legal parties here, of course. But right now, we wouldn't be putty the miserable contents of our petty cash tin on seeing the film next March. Unless we suddenly befriend Kevin Smith.
UPDATE: The court date has now been set for 6th January. Full steam ahead, then…