News
Doctor Who: Trial Of A Time Lord DVD [pt.4]
The trial concludes in very disorderly fashion, as the chief prosecutor turns out to be the Doctor himself...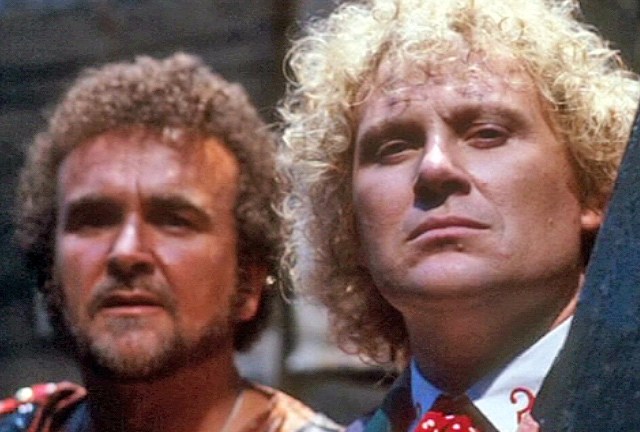 Concluding our four-part review of the BBC's forthcoming Trial Of A Time Lord DVD release, which constitutes the complete 23rd season of Doctor Who in 1986…
4: The Ultimate Foe (eps. 13-14) Director: Chris Clough writers: Robert Holmes / Pip & Jane Baker
Plot We find ourselves back in the Galifreyan court of law at the Doctor's trial – and here we will remain for the final two episodes of the 23rd season of Doctor Who. Our hero protests that much of the evidence that has so far been presented has been distorted and manipulated, but when the Inquisitor produces the Keeper Of The Matrix (James Bree), he contends that such a manipulation is impossible.
Suddenly the court's huge viewing screen is filled with…The Master (Anthony Ainley)! The Doctor's old nemesis has sent two new witnesses to the trial – Sabalom Glitz (Tony Selby, from the earlier Mysterious Planet) and Mel (Bonnie Langford, from the preceding Terror Of The Vervoids). But why is the dastardly old renegade time lord suddenly on the Doctor's side, for the first time since The Five Doctors…?
It transpires that the entire trial has been a conspiracy by the absent High Council of Galifrey to cover up a compromise of the security of the matrix centuries earlier by those who created the megalomaniac robot sentinel Drathro (The Mysterious Planet). And for once, the Master is not the culprit, but rather reveals that the Valeyard (Michael Jayston), is actually a future version of The Doctor himself – an evil incarnation that lies somewhere between the Doctor's twelfth life and his last, and his aim is to rid himself of the 'good' version once and for all and claim all of the Doctor's remaining existence.
With this revealed, our ignoble Valeyard legs it for the Netherworld of the matrix itself, there to conclude his evil scheme. The Doctor follows him in and drags the reluctant crook Glitz with him. There the pair must negotiate the unreal and bureaucratic, Dickensian world of the 'Fantasy Factory' and locate and destroy the Valeyard before he does as much for the Doctor. Every technique of reality-distortion and confounding of logic will be used to trip up our heroes as they rally to save Gallifrey's ancient civilisation from a new regime under the Valeyard…or the Master.
OpinionNo story that features Anthony Ainley's deliciously mischievous Master is without redeeming qualities, and there's a lot to like in Ultimate Foe: Baker himself delighted in the dramatic possibilities of playing out a couple of episodes in an 'unreal' fantasy-world where anything can change, and he responds to the environment with broad strokes that suit it. The return of Tony Selby as cosmic wide-boy Sabalom Glitz is an additional treat.
The extended night-shoots for Foe pay off in spades in moody chiaroscuro lighting, and the old pottery that stands in for 'The Fantasy Factory' sets off a whole chain of delightfully odd-ball settings and apposite characters such as Dickensian bureaucrat Mr. Popplewick (Geoffrey Hughes). There's an agreeable air of steam-punk Victoriana in Foe, including some deadly exploding quill-grenades!
Jayston is finally able to emerge from his trial-room leash and provides an effectively malevolent alter-ego of the Doctor. So with a brisk and breezy two-episode length, Colin Baker at his best and Ainley, Selby and Jayston relishing the high melodrama and invention, there's no drag at all in this concluding saga.
The death of Robert Holmes from liver failure meant that Pip and Jane Baker had to step into his shoes at very short notice to write the final episode, and there's no visible join. Nor can we blame them necessarily for the concluding cop-out about Peri's death, as this appears to be part of Holmes' original completed script for the first part, and not revealed at the end of the last episode (a mistake that even the accompanying documentaries seem to fall into) as commonly thought.
Giving Bonnie Langford a line like "I'm as truthful, honest and about as boring as they come" belies Holmes' aversion to Langford's assistant, or at the least the characterisation of her created by Pip & Jane Baker in the preceding Vervoids story. With no moments of reflection or any real pause in the action, one can hardly make any judgement of Langford at all here, except that she follows Baker into very theatrical histrionics in one court-room scene and it doesn't really wash.
When asked by the Inquisitor if the evidence seen by the court (i.e. the preceding three episodes) was all the fabrication of a tampered matrix, the Master replies that 'a lie must be shrouded in the truth to succeed'. Unfortunately, in the general run of Trial Of A Time Lord, this 'false evidence' device is not used with any great forethought, and therefore comes across as a cheap sci-fi plot hack.
Additionally, the 'trial within a trial' illusion in The Ultimate Foe is fatally flawed when it shows Mel escaping the court-room to begin the 'fantasy trial' before it has begun, and then conveniently forgets about this fact later, and this adds to the piecemeal, 'cobbled-together' feel of the script-editing in this series.
Why, also, is the Valeyard – along with the rest of the court – ignorant of who the Master is when he first shows up? The character is infamous on Galifrey as a 'rogue' time lord, as clearly shown throughout The Five Doctors.
Nonetheless The Ultimate Foe remains a ripping and gripping Doctor Who yarn with plenty of fun and uniquely British eccentricity, and a good note on which Colin Baker can make his unexpectedly final stage-exit as the Galifrean hero before Sylvester McCoy took over.
Extras
Commentary with Colin Baker, Chris Clough, Tony Selby and (ep 14) Pip & Jane Baker An excellent and jocular commentary on episode 13 turns into an a occasionally ribald and joyous get-together when the writers turn up to have their say for the final episode that they 'substituted' on. Tremendous fun, with plenty of good stories and observations. The long distance at which the material is viewed means that the gloves are off as usual, but affection for many aspects of Trial and Foe is evident nonetheless.
Commentary with Eric Saward (ep.13 only)With the wounds still deep after his unkind 1986 magazine interview. 'naughty' Eric conducts us through his version of the history of Trial Of A Time Lord and The Ultimate Foe from the confines of his Colin Baker-proof sound booth. Amongst other things, we find out here how the character of the Inquisitor, played by Lynda Bellingham, was to originally have been rather more light-hearted and Doctor-like herself, and why she ended up as the 'unswerving British judge' stereotype anyway.
– The Making Of The Ultimate Foe (15.15)Slightly shorter than the other documentaries, this one to accompany Foe continues at the breakneck pace and fascinating tone of the others, with contributions from Colin Baker, Eric Saward, Tony Selby, Jane & Pip Baker, Michael Jayston, director Chris Clough, Jim Sangster and other Who pundits. One delightfully geeky story is told by Pip Baker, who turned to his governmental weaponry scientist brother for some background research; apparently this entire lethal governmental think tank was at one point united in racking its brains to do its bit for Doctor Who!
– Deleted and extended scenes (4.30)More trial-room off-cuts, along with some genuinely insignificant shavings from the editing-room floor. Here also we see a very moody pre-amble to the Doctor's entrance into the Matrix, and the unlikely situation of the Master comforting a distraught Mel.
– Trails & Continuity (1.11)A particularly anaemic collection of trails, but then Ultimate Foe was only a two-parter.
– Trials and Tribulations (55.02)It's typical of the diligence of the archive Who team to see the big space left by the mere two episodes of Ultimate Foe and decide to fill it up with nearly an hour of documentary about Colin Baker's controversial and often fraught tenure in the role. The coverage begins with Baker's bit-part as a guard in Arc Of Infinity and goes on to show how he won the role whilst playing raconteur at a garden-party. Features some very frank and telling interviews including: Colin Baker; Pip & Jane Baker, Nicola Bryant; Eric Saward, ex-BBC Heads of Series and Serials David Reid and Jonathan Powell, continuity adviser Ian Levine and others. Also features snippets of archive TV interviews of the period with Peter Davison and John Nathan-Turner.
– 1985 hiatus (3.49)The story of the controversy regarding the BBC's decision to suspend Doctor Who for eighteen months in order to use its budget to develop new drama.
– Doctor In Distress (3.45)Oh dear. The era of the Band Aid wannabee, where even a lack of adequate sandwiches at lunch had the power to gather twenty B-list media liggers into a recording studio for a protest song, brings you this musical appeal of the time to 'save' the Doctor from the long hiatus. Watch Bobby G from Bucks Fizz, Faith Brown, Matt Bianco's Basia, Sinitta, Alison Moyet, Sally Thomsett (from Man About The House) and others appeal in vain to the Beeb for clemency in the form of a worthless hack pop song. They're lucky the 17 year absence of Doctor Who didn't start there and then.
– Open Air (10.28)A debate show of the period with Pattie Coldwell arbitrating between a collection of (mostly juvenile) Doctor Who fans and guests Pip and Jane Baker, who are put on the spot by the former as to the cohesion of the writing in Trial Of A Time Lord.
– Info textThe subtitle-style fascinating information that would be more amusingly imparted within another medium than a simultaneous overlay on the original story.
– Saturday Superstore (13.28)Mike Reid's Swap Shop stand-in finds Sarah Greene and Reid presenting a preview of Trial and an interview with Colin Baker. Once again, Langford is absent, then as now. Baker fields phone-in questions from fans and there are even some guesting Galifrean time-lords.
– Photo Gallery (5.00)A nice collection of pics, both action and 'behind the scenes' from The Ultimate Foe.
– PDF materials Radio Times billings and articlesa collection of listings and feature article clippings from Radio Times.Trial Of A Time Lord QuotesThe BBC press department asked the principals in Trial to give a quote related to the new season. Anthony Ainley's response is delightfully prosaic: "I'n glad to be back".ZigZagA sprawling layout from ZigZag magazine goes behind the scenes at Trial Of A Time Lord.
– Coming soon (0.55) A tightly edited trailer for the slightly slacker Four To Doomsday.
SUM UP: TRIAL OF A TIME LORD DVD (4 discs)Trial Of A Time Lord only has one terribly weak story – Vervoids, and even that is enlivened with the eponymous creatures themselves. Mysterious Planet has much to offer, whilst Mindwarp would be a jewel in any 1980s Who adventure. What people seem to remember about this particular series – and I include myself here, prior to this review – is the very weak and badly laid-out 'trial' wrapper which does little but interrupt the proceedings pointlessly until the action takes off in The Ultimate Foe.
So when deriding the 23rd season of Who, remember that it resurrected only one previously-seen character in Sil (Mindwarp), which re-entrance proved to be an absolute delight; that the writers were trying something new that might even have worked if the project had not been completed under such pressure; and that Colin Baker's Doctor was far more palatable in his new, more sanguine personality than in his previous series.
The extras on this four-disc set are as good as, or better than, anything yet produced in a Who archive release. Though the RRP is nearly £50, that's already dropped by £15 and will probably drop further. At which discount a Who fan will succumb depends on many things, but the accompanying material alone is likely to keep it out of the £5 bargain bin forever. I hope so – I really respect the attention to detail in this and nearly all Doctor Who archive releases, and hence didn't feel that the usual 800 words would constitute a fair appraisal of it.
If you're interested in the history of Who at its most crucial and fragile stage of tenure at the Beeb, this is an essential purchase; and If you're looking for two or three good yarns, you could do a lot worse.
Overall stories:
Extras:
Trial Of A Time Lord is released on September 29th, RRP £49.99
The Complete list of this four-part review
Part 1 (The Mysterious Planet)Part 2 (Mindwarp)Part 3 (Terror Of The Vervoids)Part 4 (The Ultimate Foe)