Reviews
Doctor Who: The Rescue/The Romans DVD set review
A pair of William Hartnell adventures come together for a superb new Doctor Who release.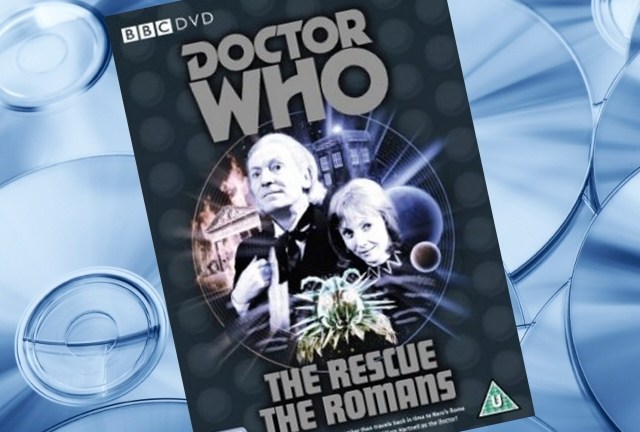 There's no overall title for this set of two consecutive stories across six episodes from Doctor Who's second season, in early 1965 (the marvellous "Vena, Vidi, Vicki" has been suggested online). Paired on video nearly fifteen years ago, they are a great contrast – and this time, they look much clearer…
Story-wise, The Rescue is pretty much WYSIWYG. Young Vicki (Maureen O'Brien), is one of only two survivors from a crashed Earth rocket (it's got a Union flag, in a nice touch) on a distant planet. Bennett (a strong performance from Ray Barrett) was disabled in the crash, and as the days count down to the arrival of an Earth rescue ship, both of them are under the sinister watch of Koquillion, a native alien.
But all is not what it seems, and the arrival of the TARDIS crew throws this loosely Tempest-like scenario (no Sycorax though, mind) off balance. In The Romans, the travellers get a chance to put their feet up in a nice villa. But when the Doctor and Vicki decide to venture into Rome and Ian and Barbara are kidnapped by slave traders, a comedy of errors, with some very dark undertones, ensues…
The first two years of Doctor Who are very much ensemble television. Hartnell's once irascible Doctor has mellowed – as the character has learnt to appreciate and respect Ian and Barbara, while the actor appreciated and respected the regular working team. In the immediate preceding story, The Dalek Invasion of Earth, the Doctor said good bye to his granddaughter, Susan. Here he begins as a vulnerable old buffer, hurt by loss, a little disorientated and appreciative of Ian and Barbara's patience.
This gives way to new-found confidence and humour; he's counsellor to Vicki and sleuth, excited by a mystery and enjoying having a surrogate grandchild. When in Rome, he's cheeky, dynamic, not averse to fisticuffs, and pulls off an 'Emperor's New Clothes' gag. The Rescue and The Romans see Hartnell at the top of his game; a compelling, unique lead of the like you'd never get today.
New companion, Vicki, is much more than just a carbon copy of Susan. Maureen O'Brien may not have had quite the elfin, unearthly beauty of Ford, but she's not as flakey or meek either; given plenty of chance to show her range, she has more va-va-voom than her predecessor, and good chemistry with the regulars. While there might be potentially unpleasant subtleties in Bennett's relationship with Vicki, the script doesn't go down that road, perhaps fortunately. Paired with the Doctor in The Romans, this cements her companion role; she's toned down a little but her scenes with the poisoner, Locusta (Anne Tirard), are particularly effective.
Jacqueline Hill gives her usual classy turn, particularly as mild-mannered Miss Wright gets mediaeval with a flare gun on the Sand Beast 'threatening' Vicki (only to face the wrath of a bereaved pet owner rather than a grateful damsel in distress). She then transcends from Slave Girl to Nero's Most Fancied, while William Russell, ever the dependable gentleman science teacher and hero, sticks with the Doctor for the first half The Rescue and then out on his own, put through all kinds of abuse in The Romans.
Christopher Barry's direction is assured and hopefully a pleasant surprise to the new viewer perhaps only familiar with the often technically shambolic studio work from the same time, as seen in Dalek Invasion of Earth and The Web Planet already out on DVD.
A character-based, fifty minute vehicle to introduce Vicki, with only a weak and convenient resolution really letting it down, The Rescue would not be a million miles away from New Who if you sped it up a little, but it's charming and for the strong cast alone, essential.
O'Brien, who has appeared in Jonathan Creek and written successful novels, now spends most of her time in France and doesn't look upon her time on Doctor Who fondly, having said elsewhere that felt she got short shrift on the character development front and coming back from a holiday to find out she was being written out. While it might have been nice to have her on the commentary, she does appear in the documentary; Mounting The Rescue which crams a good deal of factual information and pleasant memories from cast and crew, as well as fan, Ian McLachlan.
The team of William Russell, Christopher Barry and Ray Cusick provide welcome company for a second viewing. Toby Hadoke (Moths Ate My Doctor Who Scarf) does a terrific job of prompting, coaxing, and discussing the show with his charges, at least two of whom are octogenarians. As well as the above participants, he's joined by Barry Jackson and Nick Evans for The Romans.
The Rescue is a DVD-5 rather than a DVD-9, and there's little if anything you could argue that's missing. The best extra of all is the leap in quality after the usual digital re-mastering from the best negatives or prints, as always with Sixties releases. There's immense joy in seeing a bright, sharp, smooth version of a story you've only ever known in sepia mist-o-vision, full of burnt-in tape faults and hissy audio, and those sniffy at the improvements offered by restoration, such as corrected wobbly telecine inlay, hopefully will be mollified by the hearty approval of Barry and Cusick on the commentary. The film recordings aren't perfect, but night and day for a long term fan used to VHS or UK Gold.
The Romans is a 'bigger' production – a much larger cast, four episodes, and a rich historical environment to explore… and for the most part, new ground for Doctor Who – for this at times is a comedy and even a farce. A good farce, intentionally so, I stress. 'Historicals' (stories set in the past without aliens, robots or mad scientists) squeezed into three sub-genres in the Sixties: the earnest Lucarotti and Whitaker educational sojourns, the comedy drama of Dennis Spooner, pushed further by Donald Cotton (who novelised this story in the form of letters between characters, and would go on to write The Myth Makers and The Gunfighters), and then the romantic adventures – Smugglers and Highlanders.
Stories with a comedic bent have always divided fans, often terribly serious individuals who feel jokes detract from the business of being scared by nasties who want to destroy people/Earth/the universe – but the truth is, humour is a personal, subjective thing, and it takes a good script, good directors and good actors to get it right.
Overt comedic elements have always varied in New Who; the Douglas Adams and Russell T Davies eras, particularly. Some enjoy the undergraduate humour of Destiny of the Daleks and sniff at the bonhomie in City of Death, as some find Love & Monsters as funny as terminal disease, while others rejoice in Donna Noble, or vice versa. And as New series writers, Rob Shearman and James Moran, point out on the terrifically monickered What Has The Romans Ever Done For Us? documentary, The Romans does comedy well, with Derek Francis' excellent comic, yet menacing Nero chasing Barbara about one moment, and running-through hapless guards with a sword when it seems he's aiming for Barbara the next. Ian is a galley slave, threatened with becoming lion fodder and set up to fight a new friend to the death in the gladiatorial arena (the late Peter Diamond, most famous as stuntman in Star Wars, Indiana Jones and so on), while Vicki meets the local poisoner and the Doctor inadvertently inspires the burning of Rome… there's witty dialogue, character moments, slapstick, and drama.
The documentary gives us a wider pool than just participants; other TV emperors including Christopher Biggins, historians and Tom Spilsbury from DWM all give the documentary a different feel. The clips from the last Tennant series jar on a Hartnell release for this old-schoolie, but are appropriate enough for new fans.
On the extras front, two supporting features offer appropriate subject matter and stylish presentation. Girls! Girls! Girls! could easily have been included on The War Machines, as it looks at the female companions of the Sixties, but works fine here. Dennis Spooner – Wanna Write A Television Series? is an absolute treasure, which shows us the late Spooner through the eyes of television legend Brian Clemens, friends and family. He's a great loss from their reminisces, and it's nice to see him in tiny clips from recordings of his appearances in amateur dramatics productions, a lovely touch and the title graphics and music in the ITC adventure series style are brilliant. The stand-out feature of the set for me.
Added to this are a short piece where Christopher Barry takes us round the studio via the original quarter-inch scale model of the set plan, and Blue Peter returns to the Who discs once more with Seventies presenters Val, Lesley and Peter Purves indulging in a Roman banquet.
The Production Subtitles Trivia Tracks are typically entertaining and informative – Roman Numerals for all the date references being a nice wheeze – and don't suffer from the uneven pace of some previous discs. Although easily overlooked, being .pdf material only accessible on computer, it's well worth checking out the design drawings Cusick supervised on The Rescue disc. Radio Times .pdfs and a trailer for Attack of the Cybermen, due in March (on both discs for the benefit of overseas markets who may flog the discs separately), round out the package.
This is a superb release that covers all bases and looks great. It's currently available on pre-order for around £18 online, and an essential buy, whether you're a Who fan or just someone with an interest in Sixties cult television generally, for the wealth of information contained within.