News
Divergent TV Show: Shailene Woodley Says Lionsgate Hasn't Finalized Any Decisions
We can't look away from this story...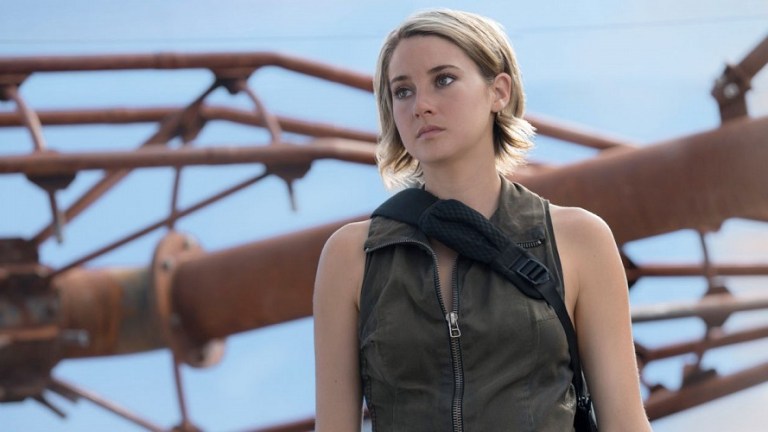 UPDATE!
When asked to clarify her earlier comments about not wanting to do a DivergentTV show, Shailene Woodley told The Today Show's Savannah Guthrie and Willie Geist that, if Ascendantis a feature film — as originally planned — then she would continue.
According to The Hollywood Reporter, Woodley elaborated:
They haven't finalized any decisions, so it's actually a moot point to talk about it now, out of respect to Lionsgate and everyone involved. I'm not exactly sure where they stand so we are kind of all in a limbo game … I signed up to tell the whole story of Tris, and I would love to be able to do that. Nothing would make me happier.
Frankly, Woodley's initial comments seemed pretty clear: she didn't sign up to do a TV show. If Lionsgate should suddenly change its mind and return to its inital plan of a fourth feature film — which doesn't seem likely — then Woodley would be on board. She is probably contractually obligated to be on board. This will probably not happen, though that comment about Lionsgate not having finalized any decisions is an interesting one…
Original story:
The Divergentseries madness continues! Speaking to Screen Rant about her potential involvement in the franchise's weird, fascinating move from the big to small screen, series star Shailene Woodley had this to say:
Last I heard they were trying to make it into a television show. I didn't sign up to be in a television show. Out of respect to the studio and everyone in involved, they may have changed their mind and may be doing something different, but I'm not necessarily interested in doing a television show.
This seems to be a similar sentiment to the one Miles Teller previously expressed. To be fair, it sounds like none of the series' stars knew about this major shake-up beforehand. And, although TV may have more cultural cache than it used to, its production schedule tends to be a much different kind of commitment than a film's production schedule.
Take the Den of Geek 2016 Reader Survey for a Chance to Win a $100 Amazon Voucher Right Here!
Previously, speaking at the TCA summer press tour, Lionsgate finally gave some more details about its plans for its DivergentTV movie — which actually sounds a lot more like a TV show than a TV movie…
According to Deadline, Lionsgate Television Group Chairman Kevin Beggs said the media company is looking at "resolving the novel in a season across 10 to 13 episodes and then expanding from there into multiple seasons." This sounds like, rather than a TV movie with a subsequent television show spinoff, the second half of the final novel will be told in a TV show that will potentially continue on past the ending of the book.
This is particularly interesting within the context of the story given that those who have read the ending of the series know that it ends in a way that doesn't exactly scream: exponential narrative potential. Also, given that Lionsgate decided to split the final book into two separate film installments, half of the final book's story has already been told, which makes expanding the story into 10 to 13 presumable hour-long installments somewhat questionable narratively. (And this is coming from someone who pondered what an AllegiantTV show might look like in my review of the movie. This ship may have sailed…)
Does this mean that the TV series adaptation will look significantly different? Is there a chance, perhaps, that it could change the controversial ending of the Allegiantbook? Presumably, a TV series vs. TV movie and TV series would mean an entirely new cast. As referenced above with Shailene Woodley's comments, it's hard to imagine that movie stars like Woodley, Miles Teller, Octavia Spencer, and Jeff Daniels would sign on for 10 to 13 episodes of a TV show. 
Still, I am endlessly fascinated by this decision. Sure, the Divergentfilm franchise is currently a mess, with Beggs admitting that "the performance of the last segment of the theatrical didn't really create a situation where [Lionsgate] could commit the production resources necessary to really make the production we needed." However, this feels relatively unprecedented — that such a huge film franchise would move to TV for the end of its run.
This could have something to do with Lionsgate recent merger with Starz, which means Ascendant has a potential home on the premium cable network (a premium network that has recently rebranded itself as a place for fandom-friendly entertainment) that would technically keep it within the Lionsgate family.
Of course, Ascendantmight not end up on Starz. Beggs said that Lionsgate will begin shopping the potential series around to roughly 12 interested networks. Doing his admirable damnedest to put a spin on this situations, Beggs said: "This is an example of what we call the virtuous cycle of content bouncing back and forth from TV and film. The economic upside on a long-term series franchise is very substantial." We'll see…