News
Disney's Lady and the Tramp Getting Signature Collection Blu-ray Release
Disney's Lady and the Tramp is joining Disney's Signature Collection with a new Blu-ray and on-demand release that comes with new features.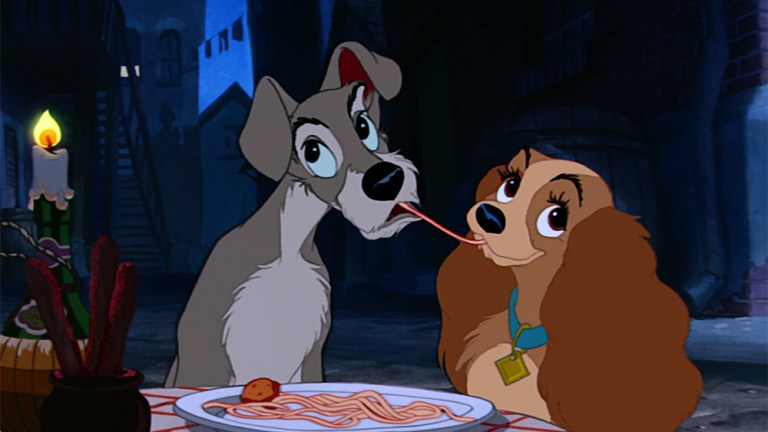 The fourth of January each year marks National Spaghetti Day. Not many people seem would initially know that—including this writer!—but Walt Disney Pictures sure did, and made it the perfect date to celebrate the film with the best spaghetti scene of all time: Lady and the Tramp. Indeed, the 1955 film is one of the all-time classics from the Walt Disney Animation Studios, released during an era when Walt Disney himself was still very much alive and still interested in the animated pictures, and it is now coming to Blu-ray and OnDemand for Disney's esteemed Signature Collection.
As announced Thursday, Lady and the Tramp will become available for on demand streaming on Feb. 20 and enjoy its full Blu-ray release on Feb. 27. The new edition will also be loaded with bonus content, including three different versions of the classic film, vintage special features, and threw new bonus ones too. The three ways to watch the movie include its original theatrical presentation, a singalong version, and one with Walt's story meetings being visible. All of which will be available on the digital version too. New features also include a digital recreation of Walt's original office on the studio lot, as well as a "celebrity-hosted" spaghetti and meatball cooking lesson.
The original film is of course a classic because it broke away from WDAS' typical fairy tale formula to envision a romance between a lady and a boy from the wrong side of the tracks… if they were dogs. Enjoying clever recreations of man's best friend, as well as devilish interpretations of what a pair of Siamese cats can be like, Lady and the Tramp is one of WDAS' most creative movies. So eat up.