News
Dirty Rotten Scoundrels Remake Nasty Women Lands a Director
Former recurring Doctor Who actor Chris Addison will direct the Dirty Rotten Scoundrels remake Nasty Women.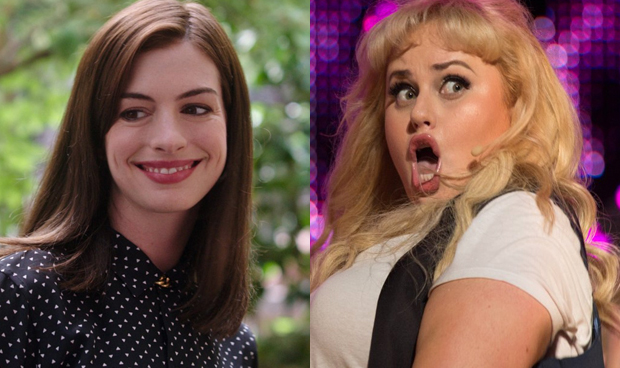 Nasty Women, an upcoming remake of the classic picaresque comedy Dirty Rotten Scoundrels starring Anne Hathaway and Rebel Wilson, has nabbed a director. Interestingly, the remake project will serve as the feature debut of its would-be helmer; someone who may be recognized by Doctor Who fans as a former recurring character!
According to a report by Variety, Chris Addison has reached a deal with MGM to direct Nasty Women. As mentioned, Addison comes into the project without feature film experience, having only worked in a directorial capacity in the realm of television as a repertory helmer for the HBO comedy series Veep and a single 2012 episode of the British bureaucratic drama The Thick of It, starring the would-be Twelfth Doctor Who star Peter Capaldi. However, Addison's resume as an actor is a bit deeper, having fielded the recurring role of AI interface "Seb" in a trio of Doctor Who episodes in 2014 (pictured below), also fielding sizable runs on The Thick of It, Skins, and Lab Rats. Wearing the hat of Nasty Women director, Addison will work off a screenplay by Jac Schaeffer.
Nasty Women will update the Dirty Rotten Scoundrels story in more than one aspect. The classic Frank Oz-directed 1988 film depicted the exploits of two con artists in Steve Martin's crass pathological prevaricator Freddy Benson and Michael Caine's pseudo-sophisticated charming Englishman Lawrence Jamieson who compete in an absurdly escalating contest of knavery to part an American heiress from $50,000. Likewise, Nasty Women teams Anne Hathaway and Rebel Wilson as gender-swapped versions of the Lawrence/Freddy archetypes, re-contextualized as female schemers – one classy, one crass – in their collective attempt to inveigle a young, socially naïve tech prodigy into giving up his vast fortune.
Nasty Women was expected to carry the classic Dirty Rotten Scoundrels billing until it was recently renamed, in the spirit of topical relevance, after an inflammatory debate comment made by then-presidential candidate Donald Trump toward Hillary Clinton in a particularly tense exchange, becoming an anti-Trump feminist call to arms. Potentially divisive political flag-planting aside, moviegoer outrage lamenting yet another Hollywood remake film might be quelled by the fact that, Scoundrels itself was a remake of 1964's Bedtime Story in which Marlon Brando played Freddy and David Niven played Lawrence. A Dirty Rotten Scoundrels musical also ran on Broadway in 2005.
For co-star Anne Hathaway, the 2013 Best Supporting Actress Oscar winner for Les Misérables, comedy is hardly uncharted territory, having starred in films such as The Intern, Valentine's Day and Bride Wars; a repertoire that goes back to her very first onscreen role starring on the 1999-2000 Fox sitcom Get Real. She joins a contemporary comedy star in Rebel Wilson, who emerged as the breakout star from bellwether contemporary offerings such as Bridesmaids and the Pitch Perfect films, also featured in recent films such as the 90's British TV nostalgic Absolutely Fabulous: The Movie and ensemble romcom How to Be Single. Wilson is also attached to star in another remake in Private Benjamin, updating the 1980 film starring Goldie Hawn and its subsequent 1981-1983 television series adaptation starring Lorna Patterson, depicting a spoiled trust-fund princess who joins the Army in a quixotic quest for self-improvement.
Nasty Women has yet to announce any significant project dates. In the meantime, those unfamiliar with the classic 1988 movie it will update can check out the trailer below!