News
Digimon Adventure tri. Movie 5: Everything You Need To Know
Digimon Adventure tri. Symbiosis is coming this September! Here's everything you need to know.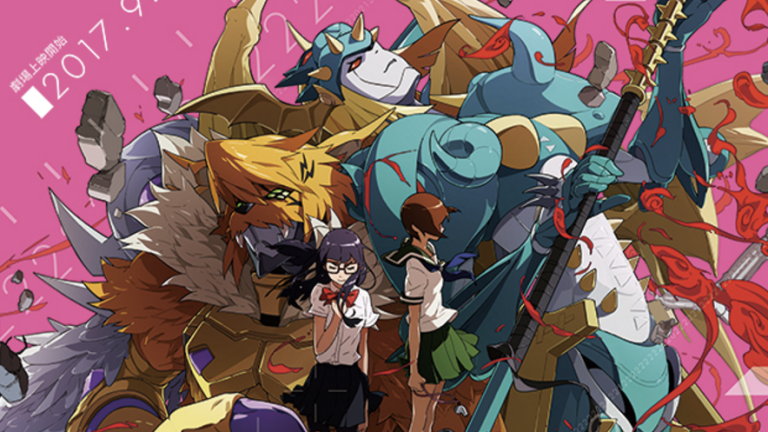 Digimon Adventure tri. Movie 5: Symbiosis is coming soon and we've got all the latest updates here! The movie will have it's limited theatrical run in Japan starting on September 30th, 2017. As with the last four films, it will be streamed on Crunchyroll on its release day with English subtitles. We've got a new poster for the film which shows off Kari and Meiko.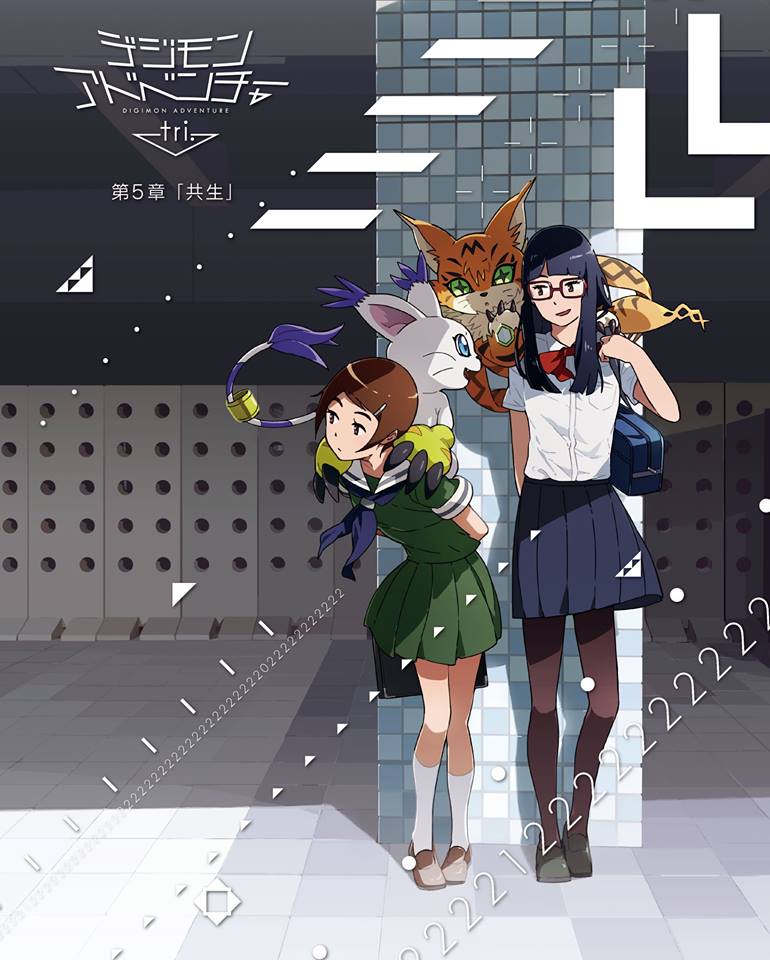 We've got a new trailer as well.
Kari getting enveloped in digital code? Tai's goggles on the ground? This one looks like it'll be heartbreaking. We've got another full length trailer here along with a translation for it. Thanks to With The Will for that!
Meiko: An existence where you no longer need to be stopped by anyone… An existence where you musn't be born…

Meiko: Am I… no longer a partner?

Tai: Right now, there's someone out there wanting to see you more than anyone else—It's Meicoomon.

Kari: Meicoomon's a valuable partner too! No matter what form she becomes, the feelings you really want to tell her will definitely get through.

Agumon: I'm sure Mei-chan loves you too, Meiko!

Mimi: You—no–we are Meicoomon's [only] hope!

Tai: We became friends because we were chosen, right?

Matt: We're not just Chosen… we're the Chosen Children!

Kari: The Digital World… it hates us… it believes we're an interference.

Daigo: Even if that's the case, there's nothing that can be done even with the power of their Partners?Is there still any hope?!

Hackmon: It's too late. They are of no use. As a foreign body, it will be eliminated.

Izzy: Our world… will be engulfed by the Digital World…

Agumon: We gotta go!

Gabumon: Yeah!

Agumon: Taichi!

Tai: Just… who exactly is our enemy?!

Yamato: As if you could wish for our friends to be sacrificed! Tai!

Tai: I… I won't run away from my friends' suffering!

Tai: We… are Chosen Children!!

(Credits, date, poster)

Meiko: I… love Mei-chan, don't I?
The Digi-World believes the kids are an interferance? Oh man, now that is a fascinating question to deal with. It's also great to see several one off Digimon characters returning along with some of the old locations, although what part they'll play remains unclear.
We've also got the original trailer and a translation for it below. Thanks to With The Will for that!
Meiko: Am I…no longer your partner?(Bonds broken)Kari: The feelings you really want to convey will definitely get through.Matt: As if you could wish for our friends to be sacrificed! Tai!(Each of their choices)Tai: I… I won't run away from my friends' suffering!
The trailer features the return of Omnimon along with the an appearance by Ophanimon Falldown Mode. We've also got a poster that gives us a few clues to the plot.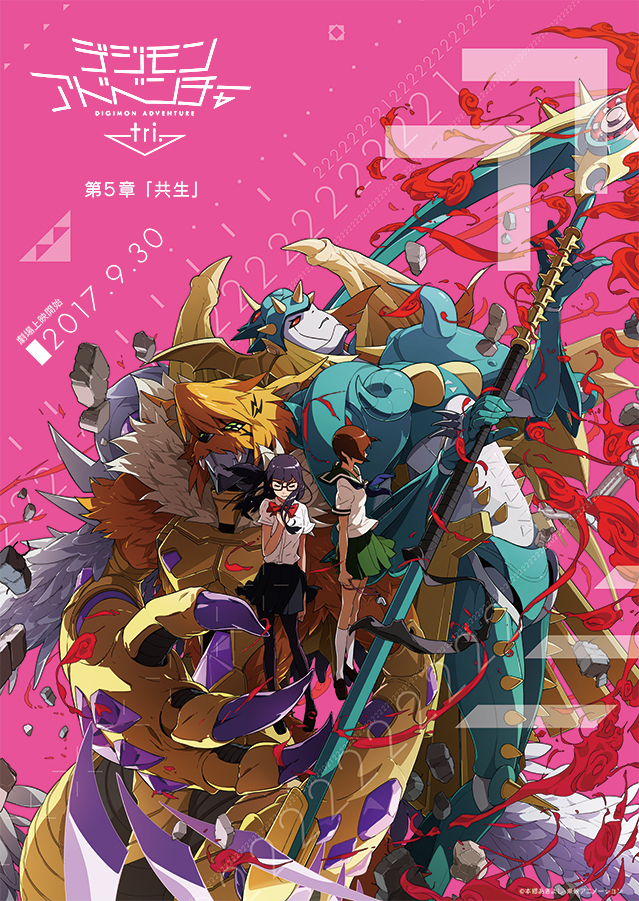 So right off we can see the movie will probably focus on Kari and Meiko, as they're the two characters prominently displayed on the poster. With Kari turned away from the camera like that, you know some bad stuff is going to go down in this movie. Come on Digimon Adventure, give us The Dark Ocean! Behind the two is a Digimon I can only assume is Meicoomon's mega digivolution (dub terms for life!) and Ophanimon Falldown Mode. 
For those of you not in the know, Ophanimon is the mega digivolution of Gatomon and Falldown mode is, as the Digimon Wiki puts it, "It is a form of Ophanimon that was so angry that it suppressed its own emotions and fell into madness. It swelled with anger at the world, where atrocious sins keep mounting no matter how many times they are purged, and it closed off its heart."
Does this hint at Kari having a negative impact on Gatomon in the fifth movie? Kari was briefly possed in movie three so perhaps that will come back around. This isn't the first time we've had one of the main characters Digimon go bad, it's been happening as far back as Skull Greymon in the first season.