News
Die Hard 6: Man Takes Out Ad to Pitch his Idea – UPDATE
Eric D. WIlkinson has taken out a full page ad in The Hollywood Reporter to pitch his Die Hard sequel idea...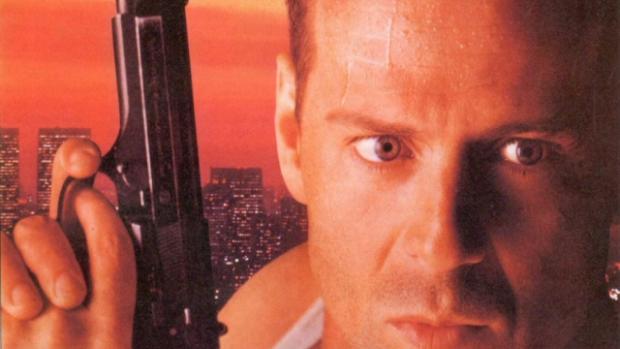 THE LATEST
Just a quick update to this story. Writers Eric D. Wilkinson and Richard Schenkman have now had one of their scripts optioned. The film in question is The Devil, that's been picked up by Eclectic Pictures.
Whilst Wilkinson's Die Hard idea hasn't progressed, he got invited to pitch projects of the back of his bold full page ad that he took out in The Hollywood Reporter.
The Devil is described as "an action/horror franchise-starter loosely based on a true story." We wish Messrs Wilkinson and Schenkman all the best with the project.
Meanwhile…back in November…
A nice addition to this story. Mark Millar, the man at the heart of the likes of Kick-Ass and Kingsman: The Secret Service, has posted about Eric D. Wilkinson's idea for a new Die Hard film. And what's more, he's taken it a step further. Here's what else Millar would do with the original idea that Wilkinson had…
To get McClane in this high-security prison much faster and much more smoothly how about he's arrested as he comes off a Christmas flight and he has no idea what the Hell he's being charged with? He's been busted under a Homeland Security provision, the last twenty five years of his life having him involved or certainly at the centre of…

The attack on the Nakatomi buildingThe terrorist incident at Dulles airportThe bomb-threat to New York CityDie Hard 4's cyber-terror threat

And, more recently, whatever actually happened in Die-Hard 5.

To be at the centre of ONE of these incidents is a rare and incredible thing. To be involved in TWO is deeply suspicious. But to be at the epicentre of FIVE DIFFERENT INTERNATIONAL TERROR-THREATS and always being the one man who walks away and you're basically going to prison for the rest of your life. This ties all five Die-Hard movies neatly into Die-Hard 6.

The man behind his incarceration… the guy who's been tracking McClane all these years and building the case against him? Why, it's none other than Richard Thornberg, the sleazy reporter who tried to screw McClane over twice and was humiliated by both he AND the ex Mrs McClane.
You can read Millar's full post right here. 
Here's our original story from yesterday….
Having sat through the film that pretended to be Die Hard 5 – it went by the name A Good Day To Die Hard – it had us seriously questioning whether people behind Die Hard movies cared about them as much as those of us who watch them.
The current plan for the sixth Die Hard film is for it to be an origin story – Die Hard: Year One – mixed in with some modern day Bruce Willis sleepwalking.
Yet one screenwriter reckons he has a better plan. So much so that he's taken out a full page advert in The Hollywood Reporter to pitch it.
Eric D Wilkinson, who previously produced Paranormal Movie, took out the ad and wrote in it an open letter to director Len Wiseman, producer Lorenzo di Bonaventura, and to Bruce Willis. And in it, he puts his pitch for the new film.
The pitch reads thus:
Former hero cop John McClane, 60 years old and beat to shit, is a convicted felon, being carted off to a Federal prison. Why?

Flashback to 1979, where 24-year-old New York City Patrol Officer John McClane is part of a team of cops assigned to investigate the murder of 6-year-old Ethan Peller, working under the direction of an up-and-coming Detective Stan Winshaw. Strong police work leads McClane to suspect possible sex trafficker Clarence Sutton, who mysteriously vanishes moments before McClane can make the arrest. The rule-breaking McClane and his superior Winshaw butt heads. The trail goes cold and the case is never solved. When McClane makes unprovable accusations about Winshaw he is transferred to the city's bleakest division.

34 years later, Detective John McClane takes a personal leave and heads to Moscow to help his estranged son, who is being tried in a Russian court. While McClane is out of the country, the remains of Clarence Sutton are discovered, not only with DNA evidence linking Sutton to the murder of Ethan Peller, but additional evidence that ties John McClane to Sutton's killing.

Upon McClane's return from Russia, he is arrested, tried and convicted for the murder of Clarence Sutton. He is given a 30-year prison sentence in ADX Florence, an ultra-maximum-security, or "supermax" prison which houses some of the most dangerous criminals in the country, including Omar Al-Maqdisi and Abdul bin Saeed, masterminds of the two worst terrorist attacks on American soil.

Following the Russian adventure, John had successfully reunited his family and reconnected with his wife Holly. Now, while he serves his sentence, Holly has been spending all of her time and effort on his appeal – especially once new evidence surfaces which may not only exonerate McClane, but also implicate Stan Winshaw (now a decorated police Captain) who may have framed John for the murder of the suspect they were chasing nearly forty years ago. However the day Holly goes to the prison to deliver this news personally to John, a riot breaks out, and before she can safely leave, the prison is put on lockdown.

But this is no ordinary prison riot.

By nightfall, inmates control the facility, holding Holly McClane and many other hostages. We soon learn that the riot itself was a distracting subterfuge… part of a plan to break both Al-Maqdisi and bin Saeed out of prison so they can help complete a horrific new terrorist attack in New York City.

However the one thing the terrorists didn't count on was the one man who is always in the wrong place at the wrong time… And when it comes to John McClane, old habits die hard.
Hmmm. That doesn't sound like it's arresting the problems of the Die Hard series on paper, at least from where we're sitting.
Whether this gets sufficient attention remains to be seen. The advert looked like this….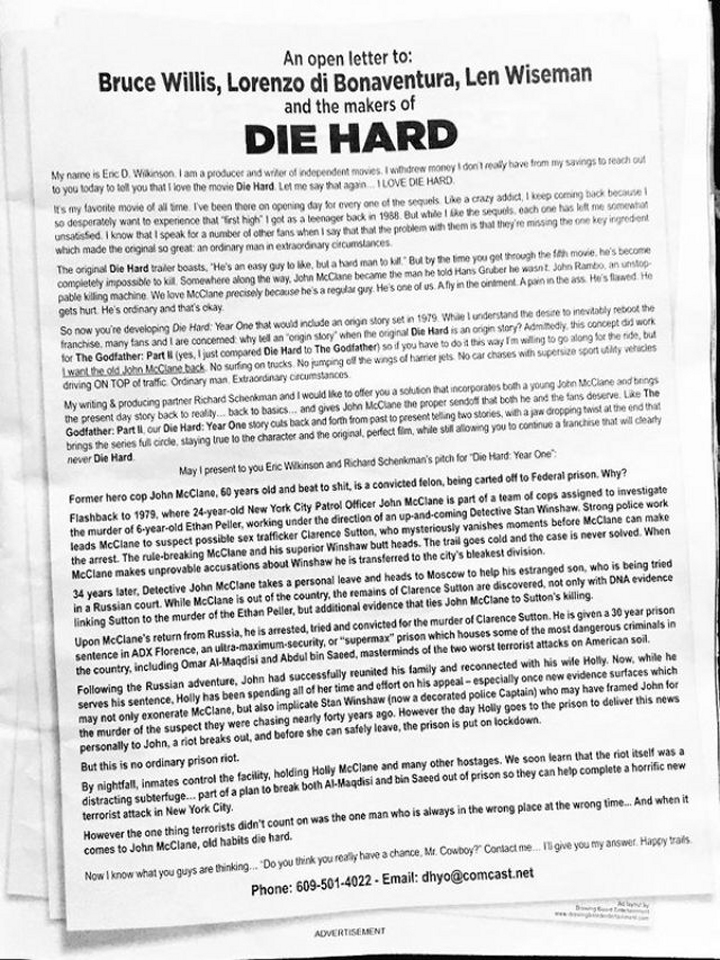 And we'll keep you posted as we hear more.