News
Description Of Tomorrowland's NYCC 5-Minute Clip
George Clooney made a surprise appearance at New York Comic-Con when Brad Bird's Tomorrowland screened a new teaser and an extended clip!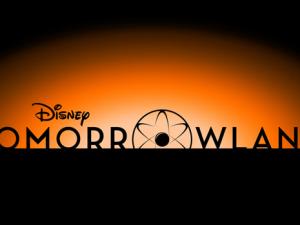 Before this year, the Walt Disney Company has never had a panel at New York Comic-Con. It's safe to say that after their freshman debut in Main Stage 1-D on Thursday afternoon, they have dominated this East Coast event like all other geek moments on the calendar.
Marvel Studios may have made its unofficial home in San Diego, but with impressive new showings of both Big Hero 6 (more on that one soon) and Tomorrowland, it is safe to say that Disney proper now has found massive nerd approval at an event of its very own. And with a genuinely surprise appearance by George Clooney, appearing to complement announced Tomorrowland cast members Britt Robertson, Hugh Laurie, and Shiloh Nelson, as well as director Brad Bird and screenwriter Damon Lindelof, the filmmakers had more than enough goodwill in the room. George Clooney even riffed on his infamous one-and-done interpretation of the Dark Knight.
However, Tomorrowland still showed up in force with not just the first preview of the upcoming teaser for the film (which we will detail below), but also a staggering five-minute clip from one of the likely early set-pieces of the Bird film.
As the second movie to play at the panel, the mood was already pleasant for Tomorrowland, especially since every audience member got a pin that mimics the new Tomorrowland teaser poster (photo below). And Bird and Lindelof played coy at first, insisting that they did not have much to show or say about the film, other than that Lindelof first got the idea for the film when he was speaking to a Disney executive about the original Pirates of the Caribbean film. Lindelof considered making a theme park into a film a ridiculous idea, but the finished film was an "awesome movie," and he had since been toying about a vision reminiscent of Walt Disney's imaginings of the future on the big screen. He eventually set Entertainment Weekly's JeffJensen (who has a story credit on the final film, and is an executive producer for the project) on researching it. They showed in a slide show a suitcase of futurist memorabilia Jensen discovered, implying it might have been Walt's—or simply one of his imagineers. It included a comic book issue of Amazing Stories.
But soon, it was on to the main event, which was most definitely the footage, which began with the world premiere of the teaser trailer:
After this impressive teaser, Laurie, Robertson, and Nelson appeared to discuss with Lindelof and Bird how this movie is inspired by Steven Spielberg's Close Encounters, and how Lindelof wanted this to be a "discovery movie."
The shoe then drops when Laurie starts mocking George Clooney in a very rehearsed goading that summons Mr. Clooney from stage right.
New York Comic-Con's euphoric welcome allows Clooney to remark, among other things, that "it's not lost on me that I'm spending my honeymoon at Comic-Con." He also plays with moderator Chris Hardwick about his tenure as the Batman.
However, Clooney quickly turns the subject into riling fans up about getting only a teaser. "What the hell?! That's it?!"
After several minutes of faux-needling, Clooney gets Bird and Lindelof to relent into showing what is our first real glimpse at the tone for Tomorrowland: a treasure trove for Disney and Bird geekdom.
The footage begins with Casey mysteriously visiting a rundown farm marked with a sign that reads "Walker." She jumps the fence and knocks on his door. The scene in question seems to be Clooney's introduction in the film, as it builds up to him demanding from behind a closed front door with security cameras for her to leave. When she refuses, she is bounced by what seemed to me like an invisible force field of some kind that causes her to fly onto her back.
Clooney's Frank Walker appears, towering above her with the sun backlighting him until Clooney's reliably roguish face appears, but it is not smiling. She pleads with him that she has a pin that showed her a world she must go to, but Walker retorts, "You've been tricked to think you're special when you're not." He forces her to stay outside his house, but she won't leave his property even after nightfall and rain.
Later that night, Walker sees on his security cameras that Casey has set his tractor on fire. Running outside, he brings a fire extinguisher that blasts…a freeze ray/fog that turns his tractor into an ice sculpture [somewhere right now Arnold Schwarzenegger is smiling]. There is more to this "failed inventor" than meets the eye.
When Walker turns around, he sees that Casey has sneaked into his house and shut him out, using his own force field against him; he gets back in through a secret passage to berate her, but before he can toss her out once more, surprise antagonists show up on the security cameras. They tell Walker via the video that she is a fugitive. If the hermit does not turn her over, this smiling man in black clothes will "terminate" Walker's life.
The rest of the extended clip curtails into an impressive action sequence where it's revealed that Casey's ominous pursuers are actually robots, letting Walker showcase a utility belt of goodies in fighting them.
In a very playful and even somewhat cartoonish (in the best possible way) action set-piece, Bird's traditional magic is worked. Walker fights the robots with an electric shock machine device that fits in his hand, and a portal that seems to transport them to a mysterious location (it looks like a metallic hoola-hoop with CGI liquid blue making up the center). His house even turns militant with heavy metal doors collapsing over all windows and doors. Casey finally returns the favor of Walker's help by beating a cyborg to death with a baseball bat.
The footage ends triumphantly when Casey and Walker escape from the robots by piling into his bathtub, which turns into a rocket ship firing them well above his farm before cutting to black.
And that was Tomorrowland's panel! None of the actors or filmmakers took questions from the audience, but since the rest of their discussions were an elaborate tap dance, it was probably for the best. They walked off the stage to the ending credits song of the original 1950s Mickey Mouse Club.
It is only the first day of New York Comic-Con, and we may already have a winner.
Like us on Facebook and follow us on Twitter for all news updates related to the world of geek. And Google+, if that's your thing!