Reviews
Department S DVD review
Long before the likes of Torchwood and the X-Files, British TV produced Department S, a threesome that investigated strange happenings...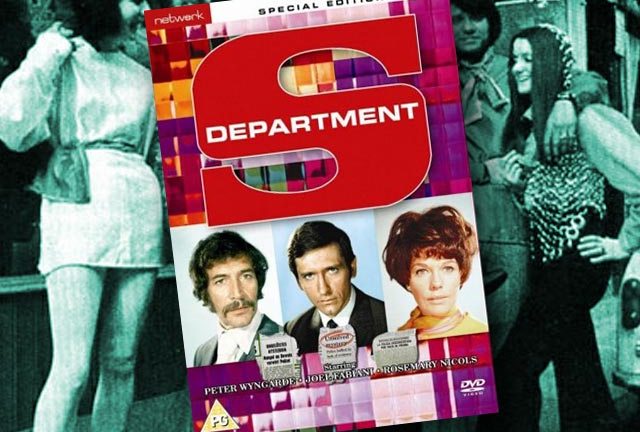 I was in a flurry of excitement when I heard that Den of Geek had a review copy of Department S and I was doing the reviewing. This is solid ITC 60s entertainment of the highest order. I was looking forward to relishing every detail.
The series stars Peter Wyngarde as Jason King, Rosemary Nicols as Annabelle Hurst, and Joel Fabiani as Stewart Sullivan. The other regular character is their boss – Sir Curtis Seretse played by Dennis Alaba Peters. They are Department S of Interpol, and they get called in to investigate when the regular police apparatus can't come up with an explanation for bizarre crimes.
Rosemary Nicols was the 'English rose' spotted from stage work and a guest appearance in Man In A Suitcase where she is drawn along by her crush on McGill, into a world of violence and espionage that she doesn't fit into. Joel Fabiani was picked during a talent-hunting trip to the States and was apparently an absolute gentleman during production. Dennis Alaba Peters was an inspired piece of casting, as he brought statesman-like gravitas to a role in British television at a time when the presence of a black leading character was extremely rare.
But watching it again, the thing that hits you most is the sheer genius of Peter Wyngarde. He is absolutely hilarious with barbed one-liners, incredible style, and – much less often reported – fantastic acting. Not wanting to spoil it for you, but in the episode The Last Train To Redbridge, where he is poisoned with nerve gas, he is utterly convincing and goes well beyond the sometimes 'comfortable' zones of ITC shows. I imagine Wyngarde drew from his own experience as he was apparently held in a Japanese prisoner of war camp in the Second World War.
In the show he bumps into a bevy of classic 60s beauty, which he surveys with a light-hearted but exceedingly politically incorrect eye. The Austin Powers films parodied this style, going way over the top, but Wyngarde always stole the scenes and kept us captivated when he did it. As a typical ITC production, Department S regularly had him involved in fisticuffs, but he did it with scintillating panache and humour. I recall a quote from him saying something along the lines of "whenever I feel like a bit of exercise, I have a nice lie down and forget all about it"!
Wyngarde remains a fascinating enigma. He became a superstar of debonair pleasure from being in the show. Being a true 'actor' he brought all the larger-than-life flourishes to his starring role, which he made his own. He ended up with sacks of fan mail, his own spin-off series Jason King, and even produced his own LP where he talks to you as if you are a woman in his boudoir. My abiding memory from the time is a cologne advert appearance where the voiceover went "Peter Wyngarde smells…" (look of indignation from Wyngarde) "…great !"
When hedonistic excesses became a little too public, Wyngarde's appearances got reduced, although he did surface in an occasional cameo role, for instance as a gossip expert in the Jeremy Brett Sherlock Holmes series. Whatever gossip may be doing the rounds these days, I am aware that Wyngarde takes his fans extremely seriously. When my friends, the band 'the Paisley Wheelchair Experience', produced a song celebrating him, called 'The Return Of Jason King', Wyngarde personally autographed fifty copies. I am the proud possessor of one of them.
In chronology the series followed ITC show The Champions and it kept to the two guys (one American), one girl formula of that show. It also has Avengers style 'teasers' at the beginning where something really strange happens and you are left to find out why during the episode.
Viewing episodes again, I amazed myself at how drawn in I was by some of the plots when I was young. Sometimes the 'detective work' borders on the ridiculous, and is not exactly consistent with a crack team of sleuths. However, I'm forced to conclude that this isn't the point. ITC shows had reached a finely tuned entertaining pinnacle, and with action, great music, comedy and suspense they are eminently watchable. With Jason King involved the show was even more memorable.
In production terms the series was unusual in sharing a schedule with another ITC series involving some of the crew – Randall & Hopkirk (Deceased). This was an interesting approach to producing such series more cheaply.
Like other ITC shows, it features the magnificent music of Edwin Astley, and in the DVD set large chunks of this accompany a stills gallery. This is excellent, but slightly frustrating as it's not ready to put on your iPod as, say, the original soundtrack that comes with The Ipcress File is.
The show's main theme tune is a delicious mixture of haunting strings and glowing organ sounds. Some years ago, a fellow enthusiast, knowing my particular interest in the music, passed on the address of Edwin Astley (musical directors) to me. I tried to use the information responsibly, and I wrote him a fan letter asking for details of the organ used on the Department S theme tune, and duly enclosing a stamped addressed envelope. Alas I never received a reply, and not too long after that I learned that he had passed away.
For me, Department S always occupied a special place in my mind at that time (I was 6 or 7) because it didn't seem to be on as much. In fact I only have a vague recollection of watching it late Friday night as a special treat. So it remains to me as a special and rare pleasure.
I confess that while I'm delighted that this box set is out, it misses a few of the things I would have liked to see. The documentary, while full of delightful facts and behind-the-scenes stories, does not feature any interview with Peter Wyngarde, as does the German box set of Jason King. In fact, despite excellent appearances by Joel Fabiani and Rosemary Nicols giving candid and frank recollections, it is obvious that several key production staff are no longer around to pass comment.
Also, as mentioned earlier, the suite of music from the show, whilst excellent and accompanying a very enjoyable selection of stills, including production shots, should have been on a soundtrack CD so that you could have put it on your iPod.
Similarly rather disappointing is the DVD interface. Whilst nicely recreating the title sequence graphics, the episode selection options are provided in a rather pedestrian 'one after another' way.
In short, whilst this may be the most special edition of Departments S, it is not Network DVD's finest hour in terms of collectible satisfaction. Compared to the lavish soundtrack albums produced by Fanderson cataloguing Gerry Anderson's shows soundtracks, or the Space:1999 special edition or Sweeney box sets, this collection leaves quite a lot to be desired. But the show remains a cracker, and any TV archivist collection home will be sadly lacking without it.
Parsley the Lion's own website is gardenrecords.com and he can be contacted via parsley@gardenrecords.com.