News
Den of Thieves Trailer and Release Date
Gerard Butler and O'Shea Jackson lead this bullet-heavy crime thriller.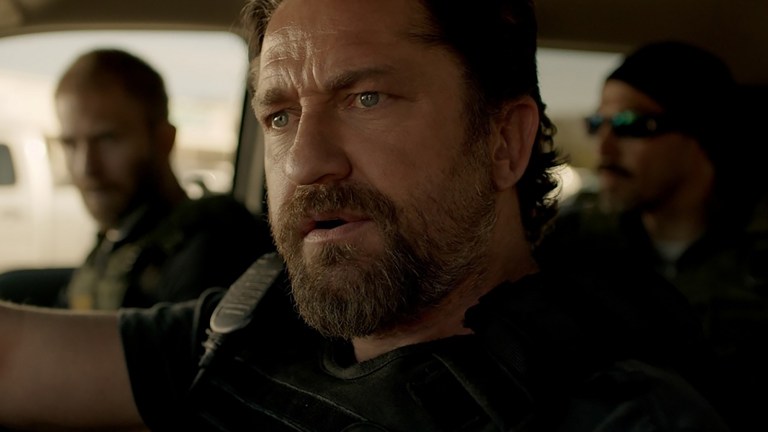 Described as a "Los Angeles crime saga in the vein of Heat," Den of Thieves follows the intersecting and often personally connected lives of an elite unit of the Los Angeles County Sheriff's Department and the state's most successful bank robbery crew as the outlaws plan a seemingly impossible heist on the Federal Reserve Bank of downtown Los Angeles.
We're not exactly sure how the lives of an elite team of cops and a lineup of criminals would end up intersecting, but we suppose writer and director Christian Gudegast (London Has Fallen) is going to tell us in his directorial debut (trivia: Gudegast is the son of actor Eric Braeden, best known around these parts for playing the villainous Dr. Hasslein in Escape from the Planet of the Apes). Because we didn't get enough of him in Geostorm, Gerard Butler stars here along with Pablo Schreiber, O'Shea Jackson Jr., Brian van Holt, and Curtis "50 Cent" Jackson.
Den of Thieves Trailer
Check out the trailers that have been released so far…
The final Den of Thieves trailer shows more of the audacious heist that's central to the film, told from the points of view of both its would-be perpetrators and the elite LA County Sheriff's Department personnel who are determined to prevent the incident. As the clip makes evident, this heist crew have done their homework, looking to hit the LA Federal Reserve Bank, eschewing the traditional ostentatious objective of heavy gold bars for the cleaner quarry of cash, specifically old cash that's destined to be taken out of circulation and destroyed. Yet, the buildup to this awesome display of avarice is clearly teeming with deadly implications.
The first Den of Thieves trailer, which hit back in October, can be seen below. 
Den of Thieves Release Date
STX Films will release Den of Thieves on January 19, 2018.