News
Den Of Thieves 2 is Happening, Details Revealed
Gerard Butler and the director will make a sequel to Den of Thieves.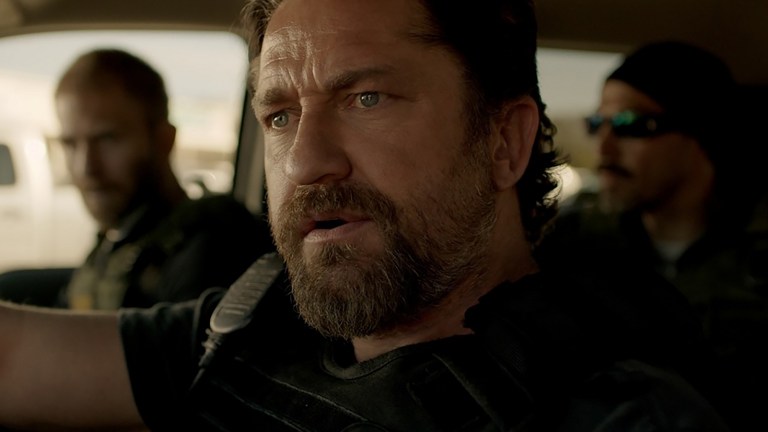 Den of Thieves, the Heat-wannabe crime thriller starring Gerard Butler, was mostly drubbed by critics and has only earned around $41 million at the North American box office, but somehow that's good enough for somebody to commission a sequel.
According to Deadline, Den of Thieves 2 is indeed in the works, with director Christian Gudegast and co-star Curtis "50 Cent" Jackson also set to return and O'Shea Jackson Jr. in talks to come back as well. Producers Mark Canton and Tucker Tooley spent 15 years (!) trying to get the first one to the screen, so they must be determined that the follow-up take a more speedy route into theaters.
Gudegast is penning the screenplay from his own original idea, which will find Butler's crude and thoroughly unlikable "Big" Nick O'Brien pursuing Jackson Jr.'s Donnie in Europe, where the latter gets mixed up with diamond thieves, a massive gem heist and the infamous Panther mafia.
As per a new interview with Gudegast over at Screen Rant, he confirmed that he was deliberately setting up the first film for a sequel, and that "the sequel will be something that I have researched for years and years."
He gave a few details, too. "I'm adapting a different story to make it a sequel about the Pink Panther mafia and the diamond thieves from Europe. It's all going to be set in Europe. And it's going be about Big Nick hunting Donnie, who's involved in a diamond heist and he's teamed up with the former Pink Panther mafia, and it's about Nick hunting him along with… Nick is also going to be hunted by another group, I won't reveal right now."
Promising a fair few twists, he added that "it'll be hopefully very surprising."
Like many critics and audiences, we didn't care much for the picture, but it was made for a bargain price of $30 million. The return was modest but apparently enough for the producers and filmmakers to want to spend more time with Big Nick, although it seems as if he'll go it alone this time as he rampages across Europe in search of his quarry and a strip club or two.
There's no release date yet for Den of Thieves 2, or any indication of when production will begin. The first film opened in North America last month and is still playing in theaters.
Butler, meanwhile, is getting ready to play Secret Service agent Mike Banning again in Angel Has Fallen, while Jackson Jr. recently completed filming on Godzilla, King of the Monsters, which comes out next year. Curtis Jackson continues to star in the cable series Power and will show up later this year in Escape Plan 2 opposite Sylvester Stallone and Dave Bautista.