Features
Den of Geek's top 20 movies of 2018 – No 8: A Star Is Born
Bradley Cooper and Lady Gaga hit all the right notes in this musical remake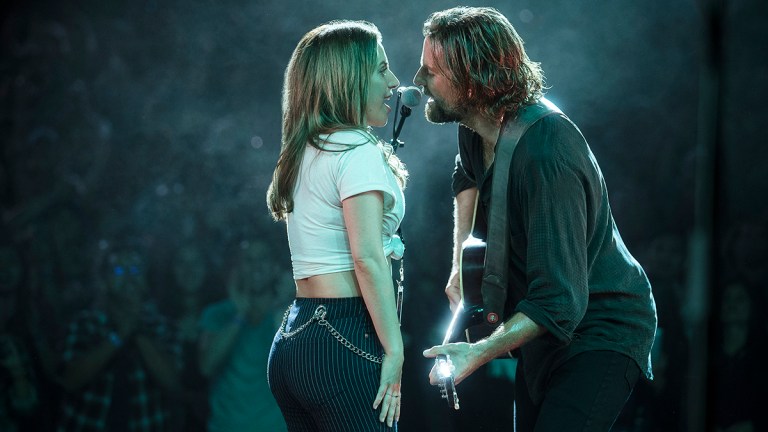 It's a miracle that A Star Is Born, the debut film from director Bradley Cooper, managed to jump over all of the hurdles in its way. Not only did it have to convince us that it was necessary in the first place, but it also had to prove Cooper as a director at the same time as establishing Lady Gaga as a credible actress. Besides all that, it's a big, broad, painfully earnest musical drama.
The genre's recent successes appear to contradict the myth that it's hard to get people to see a musical the way they used to, but A Star Is Born differs from many of its peers in a few ways.
It's even debatable whether A Star Is Born is a musical in the traditional sense, with the music all diegetic to the story. Cooper's direction adds an unprecedented authenticity to the concert scenes, appearing more like a concert documentary than a traditional drama in these moments. He clearly knew that, without those sequences being exactly right, the audience probably wouldn't buy into the rest of it.
The small amount of criticism the film has received for its depiction of suicide and an unhealthy relationship just highlights how out of step with 2018 it appears. We live in an era of greater awareness on subjects such as mental health and addiction, female autonomy and, well, the futility of pitting pop music against "real" music. And yet A Star Is Born is almost aggressively old-fashioned in its treatment of these things, and has connected with a massive audience nonetheless.
That's a credit to how timeless of a story it is, and also to the talent in front of and behind the camera. In addition to the two main players, supporting turns from Sam Elliott, Anthony Ramos and Cooper's own very good dog, Charlie, help make the film what it is.
Its plot is as close to pre-spoiled as you can get, with trigger warnings and revealing music videos released on YouTube all assuming that people aren't going in expecting to be surprised. That makes its success even more impressive, because it suggests that it's the side dishes, rather than the main course, that people have become attached to.
It's the argument for remake culture, if anything. A film that's a remake of a remake of a remake, but one that has been updated to chime with modern audiences without losing the original's point.
The songs – co-written by composer Lukas Nelson – are another secret to its success, with the album operating as a classic musical soundtrack and a lost Lady Gaga album simultaneously. Cooper gets his own big numbers, but it's Gaga's power ballads and love songs that really lift it above recent hits like La La Land and even The Greatest Showman (a problem sidestepped by the recent covers album for the latter).
We believe Ally can be a big star because the woman behind her has got the chops, and Cooper's championing of his leading lady resulted in a film that would have been totally different without her.
Gaga is a proven superstar and, even if her musical identity and star power has shifted over the last few years, she hasn't stopped being herself. Both Jackson and Ally are arguably stock characters we've seen again and again, but the performances infuse them both with personality and complexity.
A Star Is Born is now a massive contender for awards season, in conversations for best film at the Oscars as well as for acting and directing gongs for Gaga and Cooper.
Whether you believe the attention is deserved, it's hard for anyone to deny that the film has struck a nerve among critics, festival jurors and mainstream audiences alike, making it that rarest of things ana Oscar movie that dares to be accessible to general audiences. A Star Is Born appears to have very few pretences above being a schmaltzy, but technically amazing, crowdpleaser. And therein lies its charm.