News
Den of Geek loves Bruce Campbell
Bruce Campbell: the man, the myth, the legend, the chin. We love him.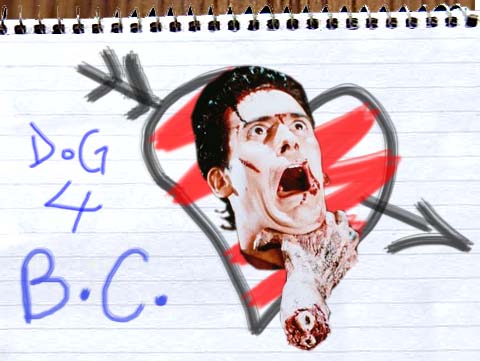 I could write all day about why we here at Den of Geek love him so much, but those are mere words which don't do Bruce justice.  No, you could take one look at his IMDb page and see, in a heartbeat, why the man is the heartthrob of geeks throughout the world.   
His first film, the immortal Evil Dead (which launched a beloved cult classic trilogy of movies about the wisecracking, smirking, ass-kicking Deadite-fighting Ash and his adventures across time, space, and Tennessee) is a tour de force of creative camera work, splattering fluids, and deciduous forest sexual assault.  He followed that up with more of the same in Evil Dead II, though Bruce showed improved range as an actor, better comic timing, and a greater ability to smash plates over his head and be laughed at by puppets.  The third Ash adventure, the underrated Army of Darkness, is more fun while showcasing Bruce's ability to both ride a horse and sword fight.  While less gory and more funny, Army of Darkness nonetheless showcases some of Bruce's best one-liners.
His TV work is also worthy of notice.  From the criminally ignored 1994 series The Adventures of Brisco County Jr., where Bruce plays a wisecracking big-chinned bounty hunter armed with a variety of neat steampunk-style gadgets patrolling the Old West, to his scene-stealing role as Autolycus the thief on both Xena: Warrior Princess and Hercules: The Legendary Journeys, where Bruce goes, fan interest follows.  Of course, he did spend a year trying to make the boring Ellen Degeneres vehicle Ellen watchable, but he more than makes up for that by being brilliant in his role as hard drinking womanizer Sam Axe on the incredible Burn Notice.   
Video games?  Bruce has done them, both as Ash and as other characters.  Books?  Bruce has written two best-sellers:  If Chins Could Kill:  Confessions of a B-Movie Actor and Make Love!  The Bruce Campbell Way.  He's written screenplays, directed movies and TV shows, done radio-style adaptations of his own novels, and remains one of the most approachable and likable actors working in Hollywood today.  His e-mail address is one of the worst kept secrets in the world, and he's very good about answering his fan mail when he can (I know several people who correspond with him every so often).  Even his commercials are brilliant!
That's the core of Bruce's appeal.  He's not some stuck up actor type; he's just a regular guy who just happens to have been in some of the best (and worst) movies ever made.  He routinely and regularly pokes fun at himself and his public persona, is one of the best interviews you could ever get lucky enough to do, and records some of the wittiest DVD commentaries in the business thanks to his candor and inability to take things too seriously (making him the antithesis of Uwe Boll, who is hilarious because he seems to think he is Shakespeare).   
He even recorded the commentary track to Bubba Ho-Tep in character as Elvis.  How can you not love that?
If I was ever lucky enough to stumble into a career as an actor, rather than just being a gorilla-shaped pop culture writer (I knew I'd sneak a reference to Congo in this somewhere), I'd want to be like Bruce Campbell.  He's always the best part about any movie or TV show he's involved with (and in the case of Spider-man 3, he was the only good thing).  Who wouldn't want to always be a highlight?   
Hail to the king, baby.
Previous Den of Geek love letters: Hayden Panettiere, Nick Frost, Morgan Webb, Illeana Douglas
If you'd like to write a love letter to someone, the address, as always, is geekcontent@gmail.com.