News
Demolition Man: underappreciated movies
It didn't set the box office alight. It seems to rarely get mentioned in the Stallone back catalogue. But we reckon Demolition Man is a cracker...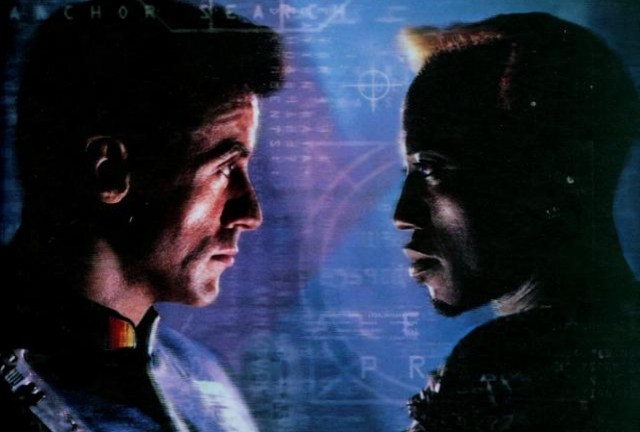 "Send a maniac to catch a maniac".Made immediately after one of Sylvester Stallone's career resurgences, as Cliffhanger cleaned up around the world, Demolition Man was a moderate hit in 1993. But heck, if it's not one of his very finest films, my name's Basil.
Here was an extremely entertaining, surprisingly very funny take on the future, and one that would effectively pull the rug from under Stallone's starring role in Judge Dredd a year or so later.
There's so much to enjoy. As a cryogenically frozen Sly is put through the defroster, to catch an ultra-violent criminal of the past – Wesley Snipes, in fine form himself – you can't help thinking that you're watching something tuned into the style of the Zucker Brothers. Here are two brute force weapons in a world with no violence whatsoever. It could have been so wrong. Instead, it's so right.
For at the point where concept generally turns into chaos, Demolition Man has gleeful fun with its fish out of water concept. The twist being, of course, we're all with Sly on this one.
The seashells by the toilet seat? Sitting face to face with Sandra Bullock having sex, but without touching (and let's not forget Bullock's horror at the suggestion of "fluid transfer". When she questions Sly on what it leads to, his retort is priceless: "Kids, smoking, a desire to raid the fridge.")? The Verbal Morality Statute (this site wouldn't get away with it)? It's a future so tongue-in-cheek, it's hard not to enjoy it.
And there's a fair supporting cast, too. This was the film Bullock made before Speed would catapult her to stardom the following summer, and as she spouts out 'variations' on supposedly phrases from the past ("You really licked his ass", "Let's go blow this guy", "Looks like there's a new shepherd in town"), her future star was clearly on the rise.
Denis Leary also pops in there, too, along with Nigel Hawthorne.
Hawthorne, as Dr Raymond Concteau, was hardly gushing about the process of making Demolition Man in his autobiography, where he made it clear that it was a job he took to help secure funding for the film that would become The Madness Of King George. But, on screen, he seems more than happy to join in the fun.
But then there's Sly, merrily ripping the piss out of his tough guy persona, taking a side-swipe at Arnie and generally having more fun on the big screen than we'd seen in ages. His verbal and physical sparring with Snipes is a worthy foundation to build the film around, even if it's the side details that lift Demolition Man well above the norm. Bizarre that its director would only go on to do one more major Hollywood movie, the Alicia Silverstone shit-fest that was Excess Baggage.
Perhaps Demolition Man's last reel is a little too old school considering the inventiveness of what went before, as the inevitable shoot-out between Snipes and Stallone is fun, but nowhere near as enjoyable as the first three quarters of the film.
But the film, in spite of enjoying a solid core of supporters, still hasn't got the recognition it deserves. Because if a more outright enjoyable sci-fi action movie has been made in the last fifteen years, I've yet to see it.