News
Decadent and depraved: the AVN awards
Ron's late night channel hopping lead him to spot a glitzy awards ceremony. But the Oscars have been and gone - so what's this about?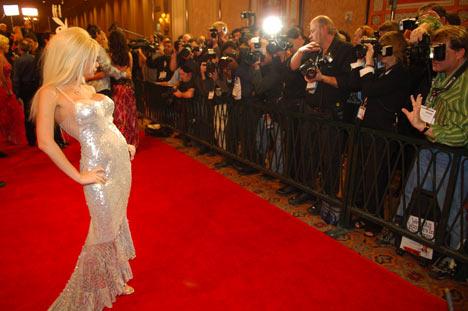 It's a world of glitz and glamour. Large round tables are set up and drinks are flowing freely inside the Mandalay Bay Events Center. A massive stage dominates, with big video screens, a podium, and a live 12-piece band. Everything is slick and clean, but not austere. It's a very classy, attractive setup in a venue normally associated with championship boxing events. But, I wonder as I flip through channels at 3 AM, what is it all for?
In a gross parody of everything Hollywood, the first presenters approached the stage, accompanied by the live band playing some upbeat, pop-rock number with glossy horns. Imagine my shock when I find out it's not some obscure Hollywood media organ honoring the greatest in cable television, but Adult Video News honoring the greatest in all-girl scenes and outstanding male performances. This lovely setup and expensive venue was packed in with over 6,000 of the adult film industry's stars, financiers, and most devoted fans.
There was no way I could turn away from this.
I can understand the adult industry's desire to reward its own with a pornographic Oscar equivalent. Anyone in any sort of performance field likes to get an award, after all. I can further understand the glitzy production values as well, considering it was put on television and was the 25th Annual AVN Awards ceremony. As far as I know, this was their first televised awards ceremony, so good for them.
The whole thing was a very weird parody of the Oscars, to me. Acceptance speeches thanked husbands, producers, co-stars, and, notably and hilariously, "all the horny perverts" who rent and purchase the output of the million-dollar sub-industry. It was funny at the time, but it was also a shockingly honest assessment of just who buys and rents these movies, and why they rent them. Someone apparently didn't get the memo about the required fake class.
There were expensive suits and ties on some of the men, though there were casually-dressed performers in the audience who apparently weren't in on the memo that this is supposed to be the highlight of the adult video year. I was sorely disappointed at the lack of people dressed like 1970's pimps, the scarcity of the mullet, and the startling lack of porn-star mustaches in the crowd.
It was more of a mixed bag with the female performers in the audience. Their best-dress outfits ran the gamut from expensive designer dresses (on the richer starlets) to what I can only describe as stripper clothes designed to be easy to take off in one movement. Instead of 'wardrobe malfunctions,' where a fading actress or outright nobody 'accidentally' shows a breast to the clicking paparazzi, the girls in the audience just flashed the cameras and grinned, happy with the work of their plastic surgeons enough to thank them in speeches. At least, unlike their Hollywood counterparts, they're honest enough to admit why they got as far as they did, and it's not from acting talent.
It's a bizarre, disconcerting mix between balls-out honest (not literally, it was women only exposing themselves) and the constant need to pretend that what they do isn't have sex on film for money. The honest comments were always met with muted or no applause, while the performers who kept up the charade were rewarded with warm receptions. The video clips shown were always of non-porn action, usually someone trying to act.
The message is clear: the unspoken should remain unspoken, especially on porn Oscar night.