News
Death Race 2050 Trailer and Release Date
Roger Corman is back behind the wheel, but Malcolm McDowell is holding the checkered flag in the red band Death Race 2050 trailer.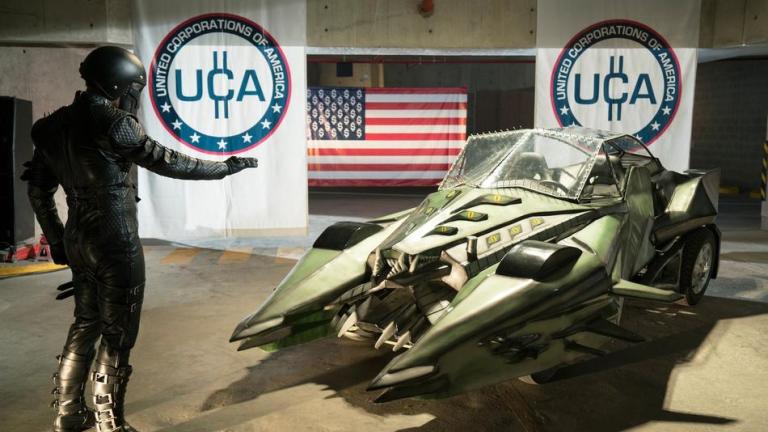 The nation is about to be gripped by a new wave of road rage and it's been brewing for just over 40 years. Death Race 2000, made by horror legend Roger Corman in 1975, foretold the future of reality TV challenges and survivors. The upcoming Death Race 2050 is set a half century later and America has surrendered to Big Brother entirely. Death Race 2050 stars A Clockwork Orange's iconic Malcolm McDowell as The Chairman of the corporate government that rules the United States.
In Death Race 2050, the nation has been brainwashed by virtual-reality entertainment that peaks each year with the Death Race, a violent cross-country road race. Drivers get points for hitting pedestrians , tailgating other drivers off the road and, probably, texting while driving. The reigning Death Race champion is the half-man, half-machine Frankenstein, played by Manu Bennett from Starz's Spartacus.
Directed by G.J. Echternkamp, Death Race 2050 also stars Burt Grinstead (NCIS), Marci Miller (Viper), Folake Olowofoyeku (The Beaver), Anessa Ramsey (Footloose), Yancy Butler (Hard Target) and Charlie Farrell (Cantar).
Death Race 2050 Red Band Trailer
Death Race 2050 Release Date
Death Race 2050 will be released on Blu-ray combo pack, DVD, and digital HD on Jan. 17, 2017. It hits Netflix the same day. It will include bonus features like the featurette The Making of 2050, which goes behind the scenes of the film to see why Death Race 2000 is still so popular over four decades later.