News
Deadpool Dons Pink for Omaze Video
Deadpool switches to pink to take on his old enemy, cancer, in a new video promoting a campaign for charity fundraiser Omaze.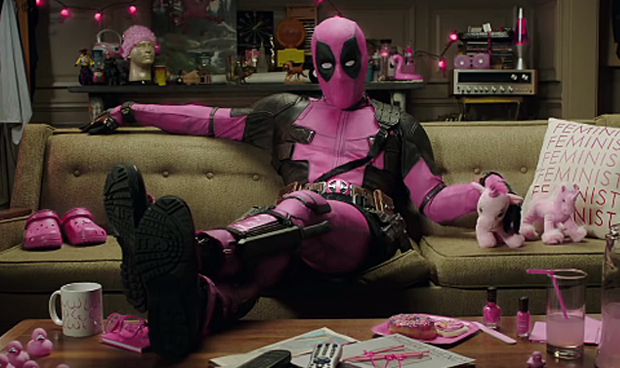 Deadpool 2 quickly approaches its May release still without an official title; a fact that increasingly appears to be a characteristic meta move made by the mirthful Merc with a Mouth. However, donning an appropriately pink outfit, Deadpool's latest meta moment, a promotion with charity fundraising organization Omaze, will attempt to use donor-fueled resources to wage an attack on an old enemy that's cost him dearly: cancer.
Deadpool himself, Ryan Reynolds, is the focus of an Internet video exposing his "heart-on" on full display. The clip, which premiered on Tuesday night with the FX broadcast premiere of the original Deadpool, represents a partnership with 20th Century Fox and Omaze. The focus of the heart-on in question is to raise funding for support and preventative treatments for cancer patients. Thus, in a Deadpool-esque manner, Omaze's latest drive is called F**k Cancer.
With just a $10 donation, Omaze is dangling a most intriguing incentive with a chance, via drawing, to win some "movie marketing memorabilia," which, quite literally, will be the suit off Deadpool's back – with, as they tease, potential for residual Wade Wilson perspiration – in the pink battle suit that he boldly sports in the video. Of course, the more you donate, the more entries you receive, raising your chances to don the suit with an impoverished, punk-rockish, pride akin to a homemade pink-dress-rocking Molly Ringwald daring to defy James Spader's rich jerk by showing up to the big dance (yes, that was a Pretty in Pink reference, Deadpool would have totally got that).
Of course, Deadpool's attempted beneficence also comes with yet another opportunity to drop a major (self-deprecating) diss on Ryan Reynolds's maligned 2011 cinematic turn in Green Latern, when he pitches:
"This is one fight were everyone can be a hero. No superpowers, capes or lame CGI costumes needed."
Omaze has used the platform of Hollywood blockbusters to raise charitable funds several times in its still-young existence, having only launched in 2012. The organization has worked with Marvel Cinematic Universe stars Robert Downey Jr. and Chris Evans, as well as the cast of Game of Thrones, the cast of the current Star Trek movies, and, notably, provided some proper fan freak-outs using Harrison Ford in the buildup to 2015's Star Wars: The Force Awakens. Now with Ryan Reynolds's Deadpool 2 (or whatever it's ultimately going to be called,) serving as the latest such cinematic platform, it's got a character with an appropriate cancer-connected backstory, the perfect kind of humor and, for what its's worth, a sweet sartorial reward glistening.
Omaze's F**k Cancer campaign runs until May 21. That's only three days after Deadpool 2 ("The Quickening?") arrives at theaters on May 18.