News
Deadpool 2's Zazie Beetz Eyes Astronaut Film Pale Blue Dot
Pale Blue Dot will star Natalie Portman as an astronaut who becomes unhinged from after-effects of her time in space.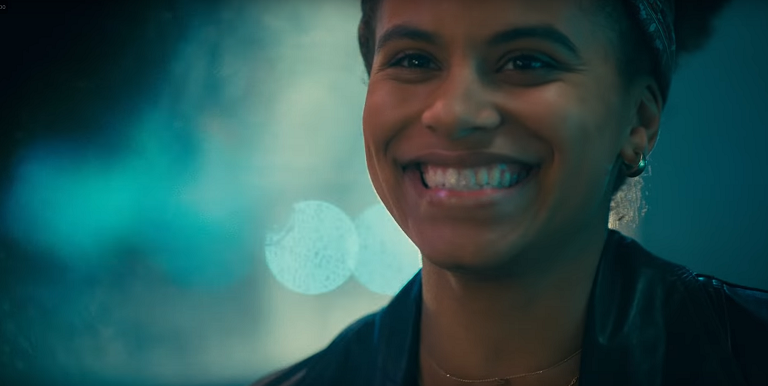 The developing drama, Pale Blue Dot, will put an outer space spin on post-traumatic stress disorder, experienced here by a female astronaut. The project, which had originally tapped Reese Witherspoon as its star, is, instead, going with headliner Natalie Portman, who's logged plenty of space time in the Star Wars Prequel Trilogy.
The film, which is based on a real-life headline-making 2007 kidnapping incident in Orlando, FL, will also co-star Jon Hamm.
Zazie Beetz is in talks to complete the embattled onscreen love triangle of Pale Blue Dot, reports THR.
Should Beetz finalize the deal, she will (presumably) play a version of U.S. Air Force Captain, Colleen Shipman (unnamed in the report, described as an "astronaut trainee"), who was assaulted and kidnapped by space-PTSD-suffering astronaut Lisa Nowak (Portman) after the latter's disastrous breakup with the former's new romantic interest in astronaut William Oefelien (Hamm). The fact-based film will focus on Lisa, who, after returning home from a lengthy mission, experiences a dramatic change in personality; a real phenomenon that occurs after a person spends too much time in space.
Beetz is on the cusp of some major momentum, notably with the May 18 release of Deadpool 2, in which she fields a potentially star-making role as the popular comic book mercenary, Domino. She also just signed up to star in an untitled movie project from director/writer Babak Anvari (Under the Shadow). Her recent roles consist of TV runs on FX's Atlanta and Netflix's Easy, as well as a role in the Gerard Butler-starring disaster flick, Geostorm.
Pale Blue Dot – based on a real-life headline-making love triangle that led to the 2007 kidnapping incident – will center on elements of romantic tumult, compounding the PTSD condition of Portman's astronaut Lisa Nowak, significantly affecting her sense of reality. The occurrence breaks her façade of calmness and accelerates her extraterrestrial-originated existential crisis, leading to her fateful criminal act. Relevant to said crisis of perception, the title, Pale Blue Dot, refers to the famous 1990 photograph of Earth taken from the Voyager 1 space probe at 6 billion km, in which our grand terrestrial turf appears as an insignificant blue dot on a strip of brown.
For Portman, who is coming off recent film efforts such as the Oscar-nominated 2016 Jackie Kennedy biopic, Jackie, 2016 fantasy film, Planetarium and 2017 musically-inclined romance drama, Song to Song, Pale Blue Dot could see her channeling a descent into madness that's almost akin to her performance in 2010's Black Swan. She recently starred in director Alex Garland's sci-fi film, Annihilation, and will next appear opposite Game of Thrones star Kit Harington in the drama, The Life and Death of John F. Donovan.
Jon Hamm, who became a chain-smoking womanizing icon on television's Mad Men, recently made an impact in director Edgar Wright's acclaimed thriller, Baby Driver. He'll soon appear in the April-scheduled thriller, Beirut, as well as television role as archangel Gabriel in Amazon's Neil Gaiman/Terry Pratchett novel-adapted TV series, Good Omens.
Pale Blue Dot will see a superstar small screen visionary in Noah Hawley, known from his work on the Coen Brothers movie-inspired Fargo and the X-Men-adjacent Legion, assume the director's chair, set to work off a script by Brian C. Brown and Elliott DiGuiseppi. Besides his soon-to-wrap work on the upcoming second season of Legion, Hawley recently revealed that the Comic-Con-announced Marvel movie project centered on supervillain Doctor Doom is still a standing entry on his backlog.
Pale Blue Dot has not set any significant dates as of yet.