News
Deadpool 2 Gets a Music Video by Celine Dion
Deadpool 2 now has an epic soundtrack song to call it own in "Ashes" by Celine Dion, with a wacky video to boot.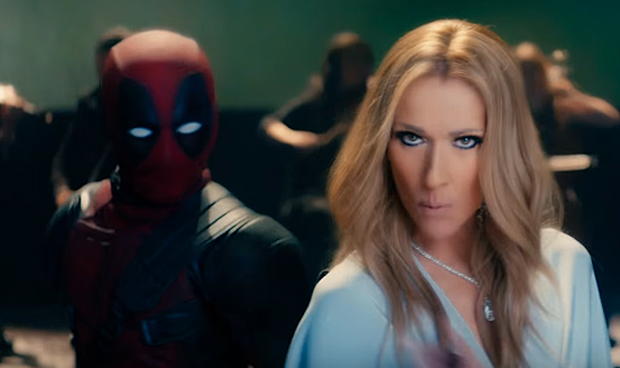 Deadpool 2 has cooked up yet another surprise. This one, however, has nothing to do with the plot, instead manifesting as a revival of the lost art of the epic movie soundtrack song (and accompanying music video rife with movie clips). Thus, considering that the original Deadpool went the catalogue route to use DMX's "X Gon' Give It to Ya" as its theme song, one might wonder what kind of song could thematically work for this sequel. Well, how about… Celine Dion?
This is not a joke, folks. Deadpool 2 will be forever attached to an epic theme song by none other than Celine Dion – you know, of "My Heart Will Go On" Titanic fame? This time, however, it's not a song told from the perspective of a girl who wouldn't scoot over on a big floating door to prevent her boyfriend from freezing to death on the icy waters. Rather, the song is a declarative and empowering piece called "Ashes," featuring the powerful pipes that, for decades, has made Dion a hitmaker (and now Ceasars Palace Las Vegas resident).
You know that Deadpool 2 poster that parodies Flashdance? While it seemed like just another repertory random pop culture reference when it hit, little did we know that it would prove prescient. While starting out in serious manner, showcasing some ethereal shots of Dion onstage singing, the "Ashes" video quickly takes the comedy route when Deadpool himself arrives, displaying a contemporary dance routine that would give any steel town girl on a Saturday night a run for her leg-warmer money. Before we know it, Deadpool is all up in Celine's grill, stealing the spotlight and, yet again, making a victim of the often-attacked fourth wall. (Oh, yes, you better believe that Deadpool makes a Titanic joke.)
It's a funny, yet nostalgic throwback to a time – especially during the 1980s and 1990s – when just about any hit movie worth its salt was associated with a hit soundtrack song, accompanied by an obligatory music video that would dominate the regular MTV rotation. It was a symbiotic dynamic. Just as Titanic will be forever linked to Dion's "My Heart Will Go On," even (sometime best-forgotten) popcorn fare received poignant moments such as Batman Forever and Seal's "Kiss From a Rose," Armageddon and Aerosmith's "I Don't Want to Miss a Thing," or even Gen-X rom-com Reality Bites and Lisa Loeb's "Stay" – and that's not even covering the '80s, which accrued too many iconic soundtrack hits to list here.
Accordingly, posterity will now similarly associate Deadpool 2 with "Ashes" and this hilariously surreal music video. As for the movie itself, it's already tracking phenomenally, but we'll have to wait until it arrives at theaters on May 18. (And no, despite what Celine says, "Spider-Man" won't be in the movie.)
Deadpool 2 Soundtrack
Here's the (predictively eclectic) full song list for the Deadpool 2 soundtrack album.
"Ashes" – Celine Dion"Welcome To The Party" – Diplo, French Montana & Lil Pump (feat. Zhavia Ward)"Nobody Speak" – DJ Shadow feat. Run The Jewels"In Your Eyes" – Peter Gabriel"Take On Me" (MTV Unplugged – Summer Solstice) – a-ha"If I Could Turn Back Time" – Cher"9 to 5″ – Dolly Parton"All Out Of Love" – Air Supply"We Belong" – Pat Benatar"Tomorrow" – Alicia Morton"Mutant Convoy" – Tyler Bates"Bangarang" (feat. Sirah) – Skrillex