News
Deadpool 2 Delivers an Apology to David Beckham
A new Deadpool 2 promo shows the Merc with a Mouth attempting to apologize for one of the first movie's best burns.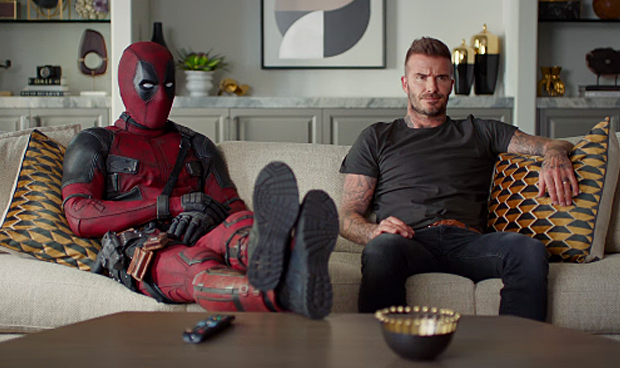 Deadpool 2 may be keeping movie plot cards close to its crimson-clad chest, but it's maintaining a steady blitz of hilarious promotional content. However, the latest example of this, a video skit with retired footballer great, David Beckham, is a follow-up to one scathing joke in particular from the original movie.
The original Deadpool quip in question is recapped with the added imagery of its recipient, David Beckham, sitting on a couch watching it on TV, as Deadpool is depicted responding to Blind Al's meant-to-be-comforting notion that "looks aren't everything," after which he states, "Looks ARE everything! Ever heard Dave Beckham speak? It's like he mouth-sexed a can of helium." Conveniently, the legendary striker, is then exposed to a barrage of apologetic gestures from Deadpool himself… although, we might be meant to take it as Ryan Reynolds in a Deadpool costume – these things get confusing.  
Ultimately, though, the wantonly remorseful Wade Wilson's gestures finally melt the Spice Girl-married heart of Beckham, whose breath was taken away, thanks to a bit of Berlin. Of course, it wouldn't stop his brutal reprisal which – seemingly directed at Ryan Reynolds – drops bombs about notorious Reynolds-headlined pre-Deadpool comeback flops like Green Lantern, R.I.P.D., Self/Less, Blade: Trinity and the ultra-obscure 2000 horror comedy, Boltneck (which, in Reynolds's defense, starred Matthew Lawrence).
While we have finally achieved some belated parity in this Deadpool-Beckham feud (that apparently existed), for what it's worth, the initial Deadpool shot across the bow with the "mouth-sex/helium" comment was followed up with the self-deprecating quip, "You think Ryan Reynolds got this far on a superior acting method?".
Regardless, with that purported beef now officially squashed, we can all move on to the release of Deadpool 2, which hits theaters on May 18.