News
DC's Blackhawk Movie Coming From Steven Spielberg
Warner Bros. continues to attract big directors for their projects, with Steven Spielberg signing on for a Blackhawk movie.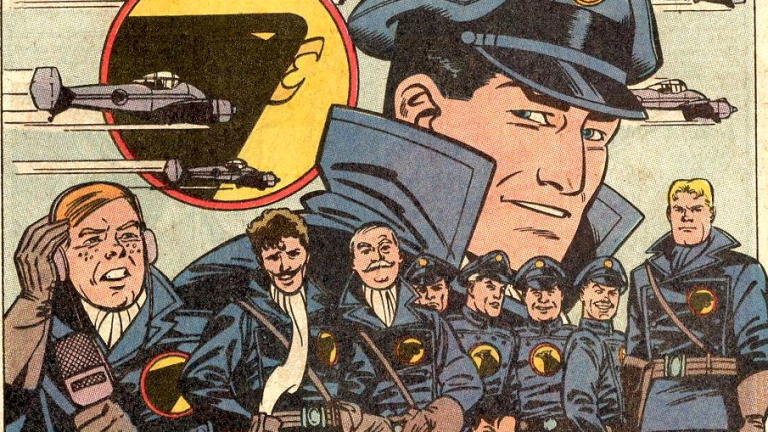 I've been waiting my entire life for Steven Spielberg to tackle a DC Comics property. For years, I wondered what a Spielberg Superman movie would look like, or how perfect his sensibilities would be for a property like Shazam. But sometimes the right project is right there, it's just not the obvious one. In this case, it's a World War II aviation property: DC's Blackhawk. 
Spielberg's Amblin Entertainment will produce a Blackhawk movie, and the intention is for Spielberg to direct it. David Koepp, no stranger to Spielberg blockbusters, having worked with the director on the first two Jurassic Park movies, War of the Worlds, and ummmm…Indiana Jones and the Kingdom of the Crystal Skull, will write the screenplay.
Blackhawk is the story of the Blackhawk Squadron, an international group of ace pilots operating from their secret base on Blackhawk Island, raining death from above down on the Nazis during World War II. The legendary Will Eisner co-created the team, along with Chuck Cuidera and Bob Powell in 1941. It was a successful enough feature to spawn a 1952 movie serial from Columbia Pictures, which starred original live action Superman Kirk Alyn as the leader of the team, the man who gets to go by the singular name of Blackhawk. The characters remain staples of DC Comics to this day.
"We are so proud to be the studio behind Steven Spielberg's latest hit, and are thrilled to be working with him again on this new action adventure," said Warner Bros. Pictures Group chairman Toby Emmerich in a statement. "We can't wait to see what new ground he will break in introducing 'Blackhawk' to movie audiences worldwide."
"It was wonderful working with the team at Warner Bros. to bring Ready Player One to the screen," Spielberg added. "They bring a blend of passion and professionalism to everything they do and have a tremendous history in this genre.  I am excited to reunite with them on Blackhawk."
For all the endlessly debated growing pains of Warner Bros. and their DC movies over the last few years, they've been quietly assembling impressive directing talent, often on lesser-known properties, and it looks like they are continuing to double down on their strategy of taking a filmmaker first approach, and worry less about the whole shared universe thing. That being said, there's no reason that Blackhawk couldn't fill in the 1930s/1940s of the DCEU the same way that Wonder Woman did with the World War I years.
Spielberg's name has come up in connection with the Blackhawks for something like 20 or 30 years, and now just picture an aviation/fighter pilot themed Indiana Jones movie and try not to get excited. There's no release date yet set for Blackhawk, but Spielberg won't get to work on this until after Indiana Jones 5 and West Side Story, so we're at least a few years away. 
The complete list of upcoming DC superhero movies can be found here.