News
DC TV: Why the Crisis on Earth-X Crossover Was the Best Yet
Arrow, The Flash, Supergirl, and Legends of Tomorrow just came together for an ace crossover event. Spoilers ahead...
This article comes from Den of Geek UK. It contains spoilers.
Now that is how you do a crossover. While DC's cinematic branch licks its wounds over Justice League's resounding "meh" of a critical reaction, The CW's TV team has offered up something truly special: a four-part crossover event that delivers on numerous levels, bringing together a huge collection of superheroes to take down a massive threat from another Earth.
Bringing together the casts of Arrow, The Flash, Supergirl, and Legends of Tomorrow, this event – "Crisis On Earth-X" – is The CW's best crossover yet. It offers fresh ideas alongside heaps of fan service, and the special effects wizards behind the scenes make the limited TV budget feel like that of a massive movie. Various other superhero brands, across both TV and film, could learn a lot from this crossover.
Let's take a moment to appreciate what we've just seen. Here are the main reasons why "Crisis on Earth-X" is the best superhero crossover from The CW so far…
The Structure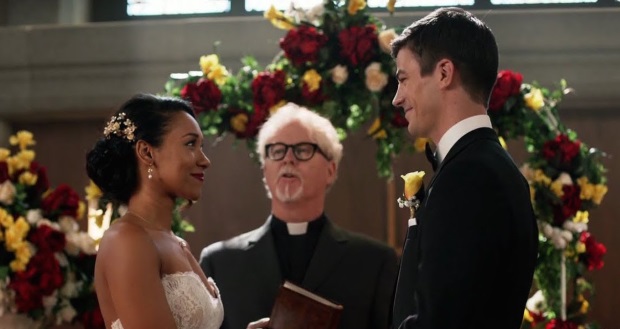 Last year's fall crossover – "Invasion!" – had a lot going for it. But one thing peeved certain sections of the fan base: it was touted as a four-part event, but really, the "Invasion!" crossover only began in the final moments of its Supergirl section. This was understandably confusing for casual viewers, especially those that don't normally watch Supergirl. They came in expecting a crossover, but what they actually saw was a relatively standard Supergirl episode with a teaser tag at the end.
The brains behind The CW's superhero shows have clearly learned from the mistakes of the "Invasion!" event. This year, the "Crisis on Earth-X" crossover comes straight out of the gates in barnstorming fashion. Rather than opening with a Supergirl-centric story, this year's crossover begins by establishing the grim world of Earth-X and the high stakes nature of this event. We see the Earth-X version of Guardian (Mehcad Brooks' Jimmy Olsen) being brutally killed by the Dark Archer (later revealed to be the Earth-X Fuhrer, doppelganger to Stephen Amell's Oliver Queen).
After that short villain-teasing scene, fans are treated to a quick montage – set to music – which showcases the current status of The CW's main heroes. Melissa Benoist's Supergirl is fighting a Dominator ("So last year!"); Grant Gustin's The Flash is going up against King Shark; the Legends are in a Robin Hood-aping adventure; and Stephen Amell's Green Arrow is fighting ninjas, because of course he is.
All of these main heroes feature in the four episodes that follow, making this feel like a truer "four-part crossover" than the one from last year. Just from a structural point of view, that's a great place to start.
The Story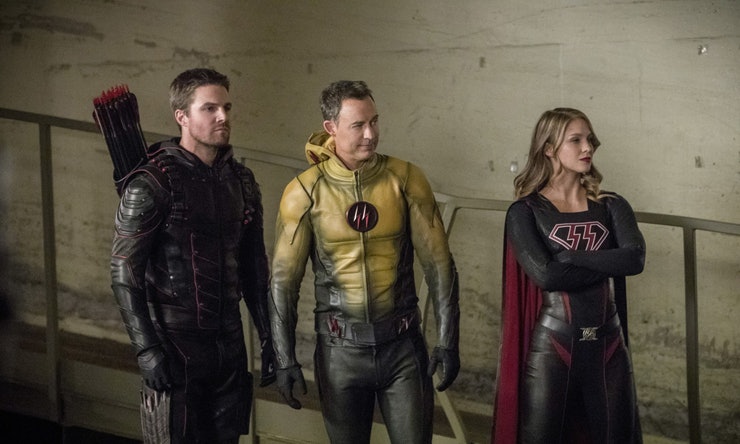 "Crisis on Earth-X" reaps the rewards of The CW's expansive shared universe. At this point, even casual viewers who don't usually watch all of the shows are aware that there is a multiverse at play. The Flash regularly visits parallel worlds, and Supergirl is from one of them. Even Green Arrow has had to deal with the dimension-jumping Black Siren, a twisted version of Katie Cassidy's Laurel Lance.
With all of that groundwork laid, "Crisis on Earth-X" can get off to a running start, bringing in a team of Nazi villains from a parallel universe where the spoils of World War II went the other way. The long-hyped wedding of Grant Gustin's Barry Allen and Candice Patton's Iris West even gives The CW an easy reason to bring the four shows together. There are barely any heavy-lifting logistics to be done, allowing "Crisis on Earth-X" to tell exactly the story it wants to tell.
In the grand scheme of the Arrowverse, fans are used to accepting madcap concepts. This deep into the shared universe, the idea that there is a Nazi Earth where Oliver Queen and Kara Zor-El are married despotic tyrants is easy to accept.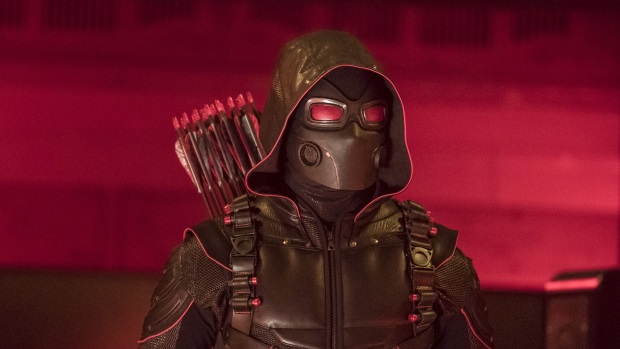 Plus, unlike last year's crossover, where Team Arrow went on their own 100th episode adventure and the Legends popped off to another time in their episode, "Crisis on Earth-X" keeps the story relatively streamlined. The Nazi doppelgangers are working with Tom Cavanagh's Reverse-Flash to conquer Earth-1 and steal Supergirl's heart (because Overgirl needs a new one). These doppelgangers are ruthless, and they have resources and soldiers at their disposal.
Many previous crossovers between have had overt purposes to serve in The CW's overarching corporate plan: these include the execution of Arrow's 100th episode and the introduction of Legends of Tomorrow's initial big bad, Casper Crump's Vandal Savage. It always seems to detract from the overall enjoyment when there are clearly some corporate goals competing with the story.
But, with " Crisis on Earth-X," we have a crossover event that feels – simply and enjoyably – like a story that the writers wanted to tell. There is no backdoor pilot here, nor a tease of things to come. There is just a whole lot of superhero fun.
The Fan Service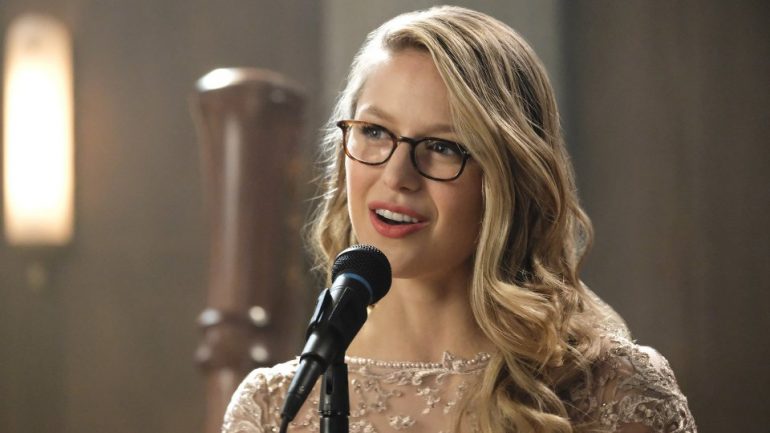 With four shows colliding and a brand new parallel world to explore, "Crisis on Earth-X" is a veritable treasure trove of cameos, easter eggs, and references. This offers an extra level of enjoyment for eagle-eyed fans, which stops this four-hour fight between heroes and Nazis from ever going stale. They even reprise Barry's love song from the musical crossover, with Kara singing it at the wedding.
There are too many to list here (check out our guide!), but Supergirl delivered the best dialogue reference, in my opinion. "General, would you care to step outside?" is a direct lift from Superman II. Christopher Reeve's Superman said those words to lure Terrence Stamp's Zod out of the Daily Planet. It's a reference that slots naturally into the scene, with Supergirl using the same line to lure Overgirl out of the Nazi Waverider. It put a big smile on this DC fan's face.
The best cameo, for fans of Arrow at least, is the reappearance of Colin Donnell's Tommy Merlyn. He was a fan favorite choice to be the man under the Prometheus mask last year, and here the writers recognized that fan theory and brought it to life. Although Earth-1's Prometheus turned out to be someone completely different, Prometheus of Earth-X was indeed Tommy.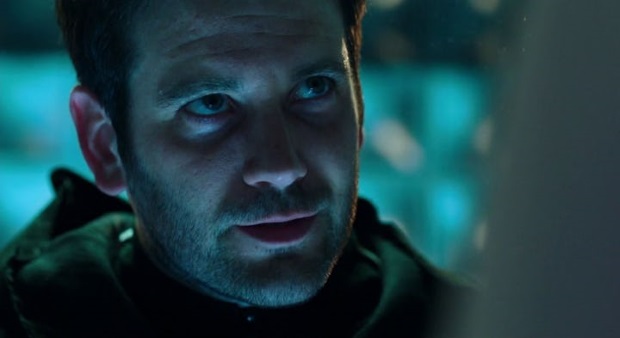 As well as being a fun fan service moment, the brief meeting between Earth-1 Oliver and Earth-X Tommy was a very compelling scene to watch. Calling all the way back to Tommy's tragic demise in Arrow season one, it's clear that Ollie is desperate to convert Tommy's Nazi doppelganger into an ally. On both Earths, these men were best buds, but Nazi Tommy is sadly too far gone to bond with heroic Oliver. And you've got to praise a superhero show that can go so dark as to show Tommy killing himself right in front of Oliver.
Wentworth Miller's arrival as Citizen Cold was also fun, although it has slightly less shock power because Leonard Snart pops up all the time in this multiverse. His relationship with Russell Tovey's Ray was sweet to watch, though, and it should be interesting to see "Leo" spending a bit of time with Dominic Purcell's Mick in next week's Legends episode.
It's a testament to the talents of The CW's writing team – and the overall quality of their DC output over the years – that their audience is so invested in ideas like this. Having watched this universe grow, fans can now accept and welcome heroic and villainous doppelgangers without hesitation. The writers don't even need to include much exposition anymore, which allows the stories to run more smoothly. Because of this, "Crisis on Earth-X"'s cameos really delivered the goods.
The Action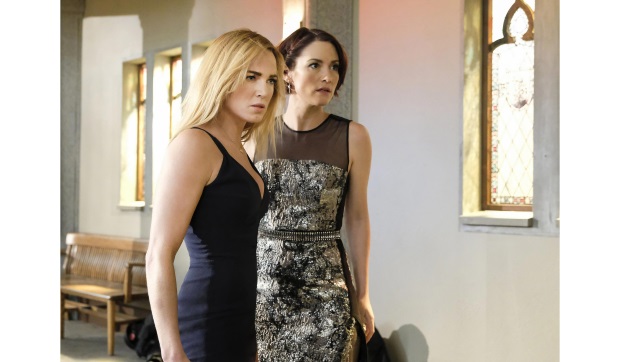 "Crisis on Earth-X" also delivers on the stunts and special effects side. Right from the start, with the battle at Barry and Iris' wedding, it's clear that you're in for a treat. As well as seeing the super-powered heroes in action, we also get to witness mere mortals doing their best to muck in. Caity Lotz's Sara Lance and Chyler Leigh's Alex Danvers put in a strong shift, and the stunt work is impeccable.
Also, you can really tell that The CW's teams have been looking at what works in other superhero media and translating it into their own universe. We already knew this, given the rise of violent one-shots in Arrow after Daredevil arrived on Netflix, but "Crisis on Earth-X"  brings the visual excellence of The CW superheroes up to a whole new level.
There seems to be a conscious effort being made to match the quality of modern superhero films, with the Marvel Cinematic Universe being a particular inspiration. Joss Whedon's The Avengers popularized the swooping shot that showcases numerous heroes fighting faceless baddies, and "Crisis on Earth-X" replicates it, with numerous battles between superheroes and masked Nazis deploying the swoopy camera technique. And despite the huge budget difference between The Avengers and The CW, it looks pretty darned good.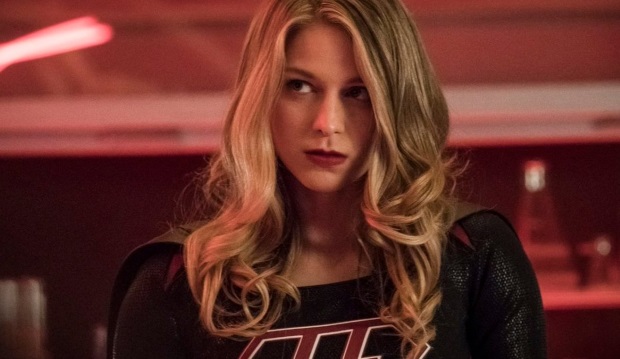 Another highlight comes when Overgirl targets a scaffold covered in construction workers. Supergirl flies in and holds the scaffold together. The Flash zooms Green Arrow onto the top level. And then Green Arrow uses his grappling gun to tie the structure back together, zipping around the building apace. This idea bears a resemblance to the boat scene in Spider-Man: Homecoming, and again, "Crisis on Earth-X" achieves the impressive feat of matching it. (Plus, it's nice to see heroes being heroes and saving some civilians here.)
And in one memorable battle moment, the influence of Captain America: Civil War can be felt. In that film, Hawkeye fired an arrow with Ant-Man on it. In "Crisis on Earth-X," Mr. Terrific throws a T-Sphere with The Atom on it. Again, the special effects team implements this concept well. And when The Atom jumps off the sphere, he takes down a bunch of Nazis in a visually arresting way, flitting between sizes to increase his advantage.
These may not be original ideas, but The CW did a top-notch job at making "Crisis on Earth-X" feel cinematic. With so many heroes to include, action scenes would have been the easy place to drop the ball. But instead, we saw some of The CW's best action work to date.
The Emotional Heft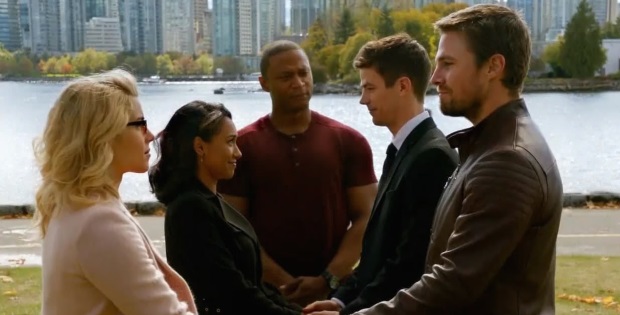 Telling a fun story over four episodes with loads of surprises and movie quality action is all well and good, but emotional investment is arguably the number one thing that all entertainment strives to achieve. If we didn't care about the characters going up against their sci-fi Nazi doppelgangers, this crossover would be a clear failure. But, thankfully, we do.
The CW's writing staff made some smart storytelling moves in planning this crossover. Rather than leaving heroes' personal lives to the side for a week as previous crossovers have done, "Crisis on Earth-X" falls at a vital point in a lot of highly personal stories from the individual shows. And, instead of shying away from them, the crossover event delves right in.
Kara and Alex have both been through tough break-ups, so they come into the crossover looking to get their grooves back. Alex ends up in a one-night stand, and ultimately learns from Sara to trust her judgement and not go running back to Maggie. And Kara ends up on an operating table at the behest of her Nazi doppelganger, who chastises her for having a heart. Kara bites back, knowing that her deep feelings are a positive part of who she is, even if the Mon-El situation is a total nightmare. (Side note: Benoist really is great, isn't she? She shines in both of her roles in this crossover.)
On Legends, Franz Drameh's Jefferson Jackson and Victor Garber's Martin Stein have been talking for weeks about splitting up their nuclear superhero fusion double-act, Firestorm. And in "Crisis on Earth-X," they are presented with a way to achieve that, thanks to Carlos Valdes' Cisco, Tom Cavanagh's Harry and Danielle Panabaker's Caitlin. This storyline prodded some interesting ideas, with Jax not wanting to give up the superhero life and Stein seeking retirement with his family. In the crossover, both men finally admitted the surrogate father/son bond that they share.
And then the viewers were completely blindsided. With so much being made of Stein's lovely retirement, it seemed inevitable that he would end up driving into the sunset and enjoying his happy ending. But instead he was shot by sci-fi Nazis, and voluntarily ended his life to save Jax on the Waverider operating table. It's rare that someone properly dies in any of these shows, meaning there wasn't a dry eye in the house when Jax broke the news to Martin's family, nor when he spoke such lovely words at this funeral.
And, of course, there was also the surprise double-wedding at the end. With Barry and Iris tying the knot alongside Oliver and Emily Bett Rickards' Felicity Smoak. It's nice to have both of those nuptials out of the way, although it does seem a bit harsh that Olicity stole the thunder of the West-Allen wedding. Nonetheless, the foursome's vows provided another moment of emotional heft and ended the crossover on a positive note. Great stuff.
The Levity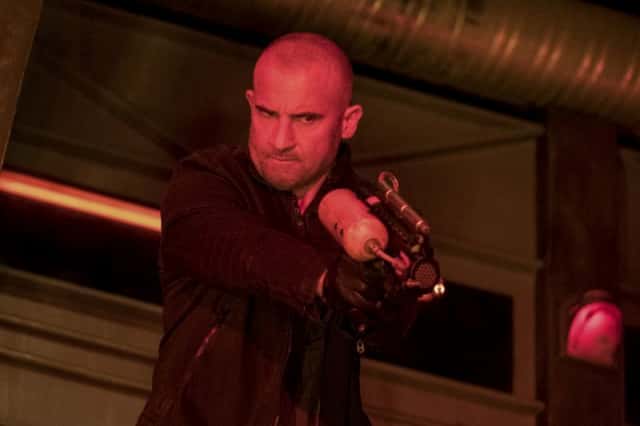 Call me demanding, but in an action-packed four-part crossover event full of cameos and emotions and genuinely high stakes, I also expect some levity! Without a few laughs thrown in, the "Crisis on Earth-X" crossover could have been a dour affair, with all of those pesky Nazis and shocking death scenes turning The CW's shared universe to a fairly dark place for a week.
Thankfully, though, there was plenty of humor to keep the darkness at bay. As usual, everything Purcell's Mick did and said was funny. Purcell may have joined this universe as a generic villain, but he's grown into a comedic powerhouse. It was particularly fun seeing him try to coax Killer Frost out of Caitlin. And his single tear at Stein's funeral was proof enough that there's a decent bloke beneath Mick's bravado, heavy drinking, and dodgy pronunciations.
Jax and Stein also brought some strong humor, prior to the tragic death. Stein trying to encourage Jax to become the lamest ever version of Spider-Man was a real highlight, one of the many quiet dialogue scenes in this crossover that will live long in the memory. Other funny stuff included David Ramsey's Diggle going from brooding to vomiting in seconds, and Alex absolutely failing to play it cool after her night with Sara.
All in all, the "Crisis on Earth-X" crossover was a major success. Free from the burdens of setting up another show or pausing for Arrow's 100th episode, here The CW team could focus entirely on pulling something off that the fans would love. And boy did they succeed.
A relatively simple story filled with Earth-X doppelgangers left enough space for individual performances to shine and genuine emotions to flare, as well as providing plentiful opportunities for impressive action scenes and fun cameos. It had stakes, it had laughs, and it had one of the Arrowverse's most tragic deaths to date. (RIP Stein, until we meet your doppelgangers!)
It's hard to know what more we could ask for from the Arrowverse, or how The CW could possibly top "Crisis on Earth-X" with its next big autumn crossover. One thing's for sure, though: we look forward to seeing them try.