News
Dave Bautista Confirms Drax is in Avengers 4 and Guardians of the Galaxy 3
Drax is in Avengers 4, and Dave Bautista updates us on Guardians of the Galaxy 3.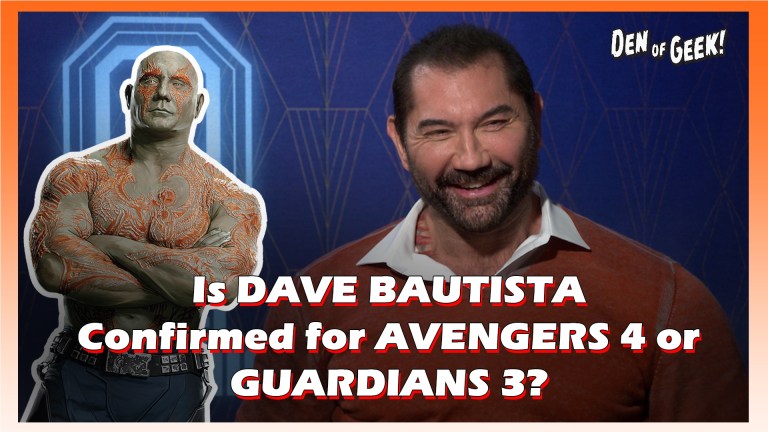 This article contains Avengers: Infinity War spoilers.
No one outside Marvel knows exactly how Avengers 4  is going to play out or whether the surviving Avengers and their allies will be able to restore the half of the universe's population that Thanos snapped out of existence with the Infinity Gauntlet in Avengers: Infinity War. But it seems that we can count on at least one of the Guardians of the Galaxy to reappear.
Den of Geek caught up with Dave Bautista recently at the press day for the upcoming Hotel Artemis, where we asked him whether Drax the Destroyer — who was snapped away along with all the other Guardians, except for Rocket — is going to resurface in either 2019's Avengers 4 or 2020's Guardians of the Galaxy Vol. 3. Watch his response:
"I don't know if I was supposed to, but I believe that I've already said publicly that I am in both," said Bautista with a laugh, as Hotel Artemis co-star Jodie Foster cheered from her seat next to him.
How or when Drax –and perhaps other superheroes turned to dust by the Mad Titan — will return is a mystery for now to the fighter-turned-actor. "Yeah, we don't know," he told us. "I don't even know. I haven't read the script for either, and, you know, I've talked to James (Gunn, Guardians writer/director)."
Bautista does know which film he's most looking forward to, however: "I'm more excited about Guardians 3, obviously," he confirmed. "It's just much nearer and dearer to my heart. So I don't ask to see the script and I don't want to know about it until he's actually written it. And then I want to read it and just say I love it, 'cause it's always great."
Bautista's remark about not reading the script for Avengers 4 is a bit of a puzzler, since it's been reported that much of the film was shot in tandem with Avengers: Infinity War. Could directors Anthony and Joe Russo be holding back the return of many of the heroes for the additional shooting that is scheduled for later this year?
No doubt Marvel's master plan will become clear over the course of the next couple of years, but for now we can take comfort in the fact that the master of non-sequiturs will be back..somehow.