News
Darkest Hour: Release Date, Trailer & More for Gary Oldman/Winston Churchill Movie
We have the trailer for the the new Winston Churchill biopic, Darkest Hour. There's also plenty more to know about the Gary Oldman film.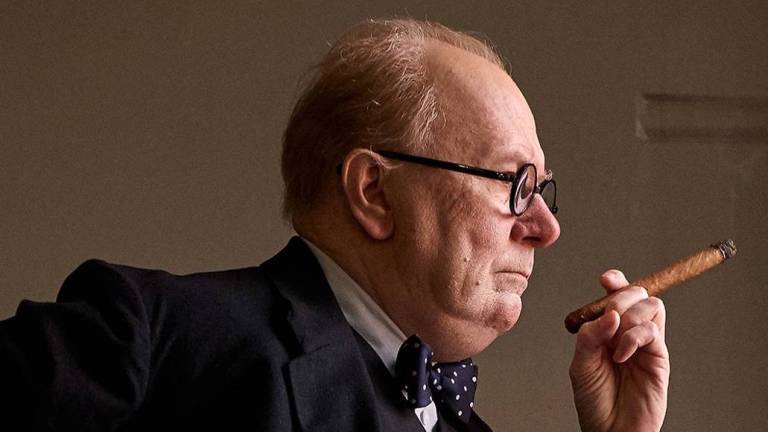 The subject of Britain's grim and brutal war efforts during the beginning of World War II has been the subject of many films, even just this year. And for good reason: The British Isles survived the fall of their French ally, the Dunkirk evacuation (which is also getting a movie), and finally the Blitzkrieg before finally putting Germany on the defensive. This is the stuff of steely, extraordinary sacrifice. So yes, there will be many more films on the subject, and one like Darkest Hour, which features Gary Oldman as British Prime Minister Winston Churchill during these most agonizing of times is inevitably going to pique our interest. Here's what you need to know:
Darkest Hour Trailer
Feast your eyes on the trailer of Gary Oldman as Winston Churchill. And it is impressive, as is Joe Wright returning to his penchant for stunning English period pieces.
Darkest Hour Cast and Crew
Quite eye-catchingly, Gary Oldman has been cast as Winston Churchhill in the picture. Oldman has had a diverse career filled with heroes, villains, vampires, and wizards. More recently, he played George Smiley in the respected Tinker Tailor Soldier Spy, for which he earned an Oscar nomination. Presumably, he could be up for another Oscar nomination with Darkest Hour.
In the film, Oldman joins director Joe Wright, who is in actuality licking his wounds a bit after 2015's infamous debacle, Pan. However, unlike that bizarre would-be blockbuster misfire, Wright is returning to his element of drama (usually of high pedigree) at Focus Features. Previously, Wright has helmed what is (in our opinion) the best movie adaptation of Pride & Prejudice in 2005 at Focus, as well as a highly stylized rendition of Anna Karenina . Perhaps most apt for comparison, however, is his most lauded film to date, Atonement, which was also set during the Second World, figuring in the Dunkirk evacuation and Blitzkrieg air raids over London to tragic effect in its narrative.
The movie will also star John Hurt as Neville Chamberlain, Ben Mendelsohn as King George VI, Lily James as Elizabeth Nel, and Kristin Scott Thomas as Winston's wife, Clementine.
The movie is being filmed from a script by Anthony McCarten, who sold it on spec after penning 2014's Oscar winning The Theory of Everything.
Darkest Hour Release Date
Darkest Hour is scheduled to be released on Nov. 22, 2017.
Darkest Hour Synopsis
Here is the official synopsis:
"Within days of becoming Prime Minister of Great Britain, Winston Churchill must face one of his most turbulent and defining trials: exploring a negotiated peace treaty with Nazi Germany, or standing firm to fight for the ideals, liberty and freedom of a nation. As the unstoppable Nazi forces roll across Western Europe and the threat of invasion is imminent, and with an unprepared public, a skeptical King, and his own party plotting against him, Churchill must withstand his darkest hour, rally a nation, and attempt to change the course of world history."
Darkest Hour Images
So far there has only been one, but your first look at Gary Oldman as Winston Churchill is undeniably attention-grabbing.