News
Dan Aykroyd Is Holding Out Hope For Ghostbusters 3
Ray Stantz says the script is currently in the works.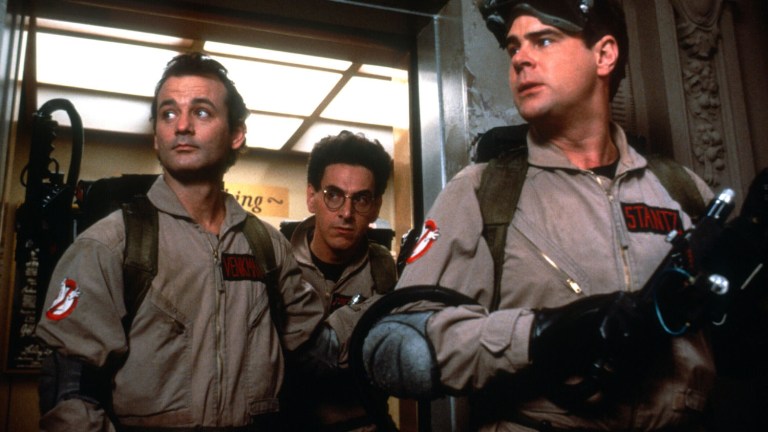 Dan Aykroyd has always been the most enthusiastic Ghostbuster. Ever since Ghostbusters II came out in 1989, he's been trying to get a third film made, and nothing seems to convince him that it's probably not happening. Harold Ramis has died, Bill Murray has flat our refused, and Paul Feig's 2016 reboot has since flopped at the box-office, but Aykroyd is still holding out hope.
"There is a possibility of a reunion with the three remaining Ghostbusters. It's being written right now," said Aykroyd during an episode of AXS TV's The Big Interview with Dan Rather.
Even though he's been saying the same thing for 30 years, we could almost believe him, until he went on to say that Murray is set to return as well.
"I think Billy will come," he said. "The story's so good. Even if he plays a ghost!" Murray has since been lured back for a cameo in Feig's reboot, a voice in the 2009 videogame (and several less than exemplary roles in films like Garfield: A Tale Of Two Kitties) but he's always been belligerently clear about never, ever, playing Peter Venkman again.
Further Reading: The Real Ghostbusters Scariest Episodes
The original 1984 film might have given Murray one of his most iconic roles, but he famously only did it so he could finance his Somerset Maugham literary adaptation, The Razor's Edge– and he hasn't stopped moaning about the second one ever since. When the idea of a third film last came up (back in 2008 when he was promoting City Of Ember) he told a press conference that "I'm more involved with trying to get the desert I ordered at lunch than I am with the new Ghostbusters sequel."
Still, Aykroyd sounds positive that it still might happen. Even if the reboot didn't work out as well as everyone hoped, there's still a chance that an old-school original Ghostbusters sequel could hit all the right nostalgia buttons… If they can get Murray back. Meanwhile, a Ghostbusters animated film is still in the works.