News
Damien Chazelle's Babylon Could Star Emma Stone… and Brad Pitt
Emma Stone (and now Brad Pitt,) could headline La La Land director Damien Chazelle's new movie, Babylon.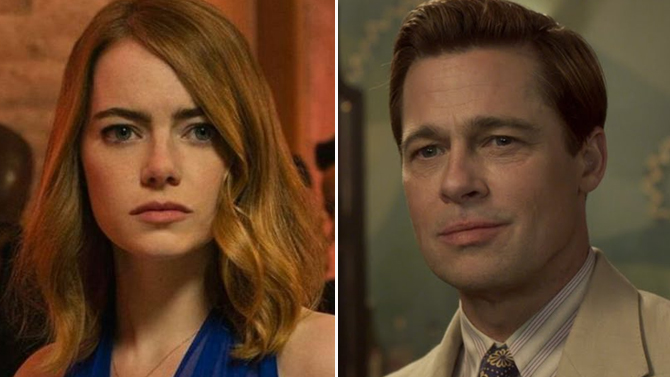 Babylon, the developing would-be film from Oscar-winning La La Land director Damien Chazelle, is already making plenty of industry waves as he currently considers would-be studios for the project. Moreover, the project's value has just increased significantly with the latest report, which indicates that the film could facilitate a reunion between the director and the co-star of his Oscar-earning effort in Emma Stone. Additionally, a subsequent update reveals that Brad Pitt is also in the mix.
With La La Land distributor Lionsgate reportedly a front-runner for Chazelle's next written/directorial turn, Babylon, it appears that Emma Stone – whose performance in the former earned a Best Lead Actress Oscar win in 2017 – is circling the starring role in the new film, leading what will become a large ensemble of high-profile names, according to Deadline. The trade's report would later bear the addendum that megastar Brad Pitt was also eyeing a role in the film, though details are still sparse.  
Interestingly, Babylon – unlike La La Land – will not be a musical, instead set to manifest as a big-budgeted prestige period picture set in Hollywood during the 1920s; a golden-yet-transitional period for the film industry as the twilight of the silent film era gave way to the soundtrack-bearing dominance of "talkies." Sources describe the project's plot to Variety, painting the picture of an R-rated elegiac look back at the Roaring Twenties film industry era in question, taking a similar approach as Quentin Tarantino's 1969-set Once Upon a Time in Hollywood (in which Brad Pitt co-stars,) by providing a mix of fact-based and fictional characters, putting them through the lens of nostalgic caricature, creating a fabled landscape with its backdrop.
Chazelle will be joined on Babylon by producers in Olivia Hamilton, Matt Plouffe and Marc Platt. Having become the youngest Best Director Oscar winner for La La Land – an accolade achieved off the back of a 2015 Best Adapted Screenplay nod for Whiplash – Chazelle followed up last year by reuniting with that film's other co-star, Ryan Gosling, in Neil Armstrong biopic First Man. His work on Babylon will be preceded by his current project, Netflix musical TV series The Eddy, which has yet to reveal its release date.
Would-be star Stone followed up her La La Land Oscar win with a duo of high-profile films in Battle of the Sexes and The Favourite (for which she would earn a Best Supporting Actress Oscar nod), moving on to variety of projects like Netflix TV series Maniac, and returned to one of her breakout roles in the October-scheduled sequel, Zombieland: Double Tap. Her prospective starring role in Chazelle's new film would arrive by way of performances in now-developing films such as her starring effort in Disney's Cruella, and horror-comedy The Menu.
Prospective co-star Pitt, who's earned performance Oscar nominations himself – in 2012 for Moneyball, 2009 for The Curious Case of Benjamin Button and 1996 for Twelve Monkeys – and has a shared Oscar victory as part of 2014 Best Picture winner 12 Years a Slave, would be coming into Babylon off the aforementioned Once Upon a Time in Hollywood (which hits on July 26,) and director James Gray's space drama, Ad Astra (which hits on September 20).
We'll keep you updated on Damien Chazelle's Babylon as the news arrives.
*This article was first published on July 15, 2019 and has been updated with new information.
Joseph Baxter is a contributor for Den of Geek and Syfy Wire. You can find his work here. Follow him on Twitter @josbaxter.