News
Dakota Fanning is a Total Trekkie in Please Stand By (Exclusive Clip)
Dakota Fanning schools everyone in Star Trek trivia in this clip from the new movie Please Stand By.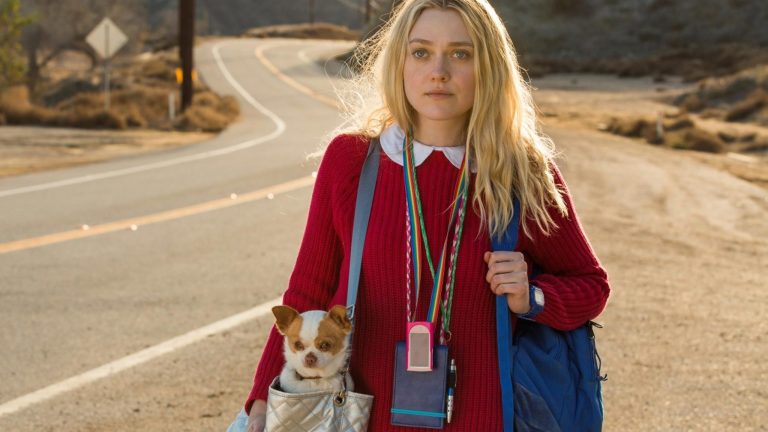 Please Stand By is the story a young autistic woman, played by Dakota Fanning (The Alienist), who runs away from her caregiver (Toni Collette) and sister (Alice Eve) in order to get her Star Trek script to a writing competition in Hollywood.
Along the way, she meets people like Patton Oswalt's Klingon-speaking cop. River Alexander, Jessica Rother, Michael Stahl-David, Matty Cardarople, Edward Hong, William Stanford David and Marla Gibbs also appear.
The film is an exploration of autism, fandom, and family, and we have an exclusive clip!
In the sneak peek, Fanning's character, Wendy, is on her lunch break at the mall where she works, hard at work on her Star Trek script. Other employees are quizzing Wendy on obscure (or, depending on your level of Star Trek knowledge, not so obscure). Wendy casually answers all of the questions. No word yet on if she identifies with the term "Trekkie," "Trekker," or neither.
Check it out…
Here's the full, official synopsis for the movie:
A young autistic woman runs away from her caregiver in order to boldly go and deliver her 500-page Star Trek script to a writing competition in Hollywood. On an adventure full of laughter and tears, Wendy, played with exquisite delicacy by Dakota Fanning, follows the guiding spirit of Mr. Spock on her journey into the unknown. "It is there for us to conquer, not to fear." Directed by Ben Lewin (The Sessions) and also starring Academy Award® Nominee Toni Collette, with a special guest-appearance by Patton Oswalt.
Please Stand By is out in theaters, on demand, iTunes, and Amazon Video today.