News
Cyborg Getting Deluxe Blu-ray Release
Jean-Claude Van Damme's '80s sci-fi masterpiece, Cyborg, is getting a loaded Blu-ray release from Shout! Factory. We're excited.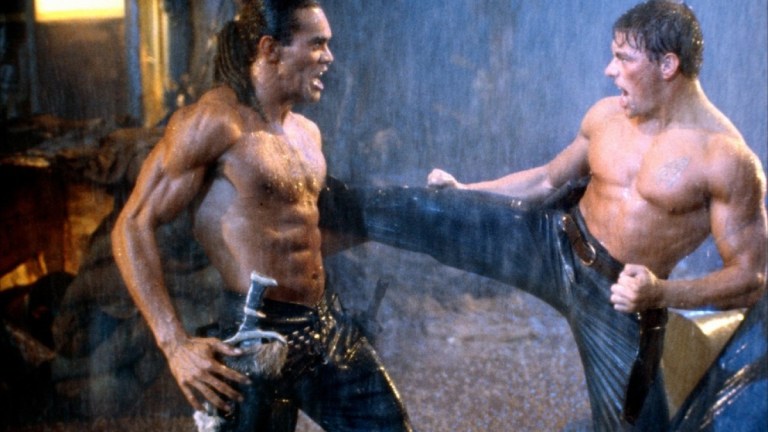 Holy moley, we're finally getting Masters of the Universe 2 in a fully loaded deluxe Blu-ray edition with a 4K scan! Wait…what's that, you say? Oh, that's right, I meant Cyborg, not Masters of the Universe 2, of course.
Anyway, the good folks at Shout! Factory are about to unleash a loaded, awesome Blu-ray edition of Cyborg, the 1989 Jean-Claude Van Damme post-apocalyptic cyberpunk throwdown that among other things features JCVD crucified in the desert sun for a stretch. It's really something. 
And there are so many cool connections to other weird, '80s ephemera, too. Cyborg is directed by Albert Pyun, he of the MST3K-famous Alien From LA and the beloved only by me 1990 Captain America movie. Pyun was also supposed to direct a Spider-Man movie, as well as Masters of the Universe 2. Neither happened, so a bunch of that work was folded into Cyborg. No, seriously, we wrote an entire article about it.
Check out how loaded these special features are!
NEW 4K Scan From The Original Film Elements
NEW Audio Commentary With Writer/Director Albert Pyun
NEW A Ravaged Future – The Making Of CYBORG – Featuring Interviews With Writer/Director Albert Pyun, Actors Vincent Klyn, Deborah Richter, And Terrie Batson, Director Of Photography Philip Alan Waters, And Editor Rozanne Zingale
NEW Shoestring Fantasy – The Effects Of CYBORG – Featuring Interviews With Visual Effects Supervisor Gene Warren Jr., Go-Motion Technician Christopher Warren, And Rotoscope Artist Bret Mixon
Extended Interviews From Mark Hartley's Documentary ELECTRIC BOOGALOO: THE WILD, UNTOLD STORY OF CANNON FILMS With Writer/Director Albert Pyun And Sheldon Lettich
Theatrical Trailer
Still Gallery
Honestly, this will probably be worth it just for the commentary, but this really looks great.