News
Crypto: Beau Knapp, Alexis Bledel and Kurt Russell to Star in Crime Movie
Crypto is a developing cybercrime thriller that brandishes an impressive cast and a timely focus on the rise of cryptocurrency.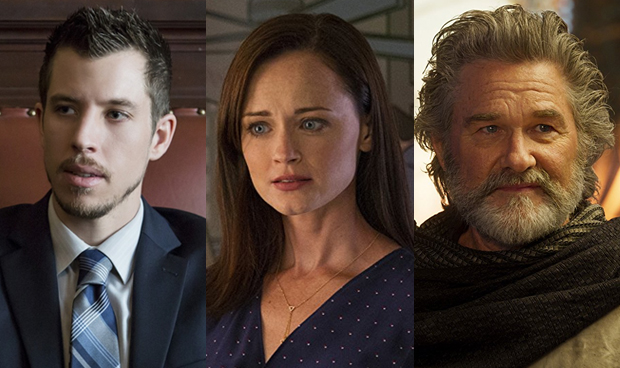 While the entertainment industry loves headline-relevant stories, the decentralized financial concept of cryptocurrency (Bitcoin, Litecoin, Ripple, Dash, etc.) is still somewhat uncharted topical waters in film and television. However, a developing film, titled Crypto, is stepping up in that regard, set to put a cyber spin on the old concept of a crime thriller.
Crypto has corralled its primary cast, reports THR, with an interesting lineup, starring Beau Knapp, the co-star of Netflix's recent crime series, Seven Seconds, Fox crime series, Shots Fired and high-profile films such as Billy Lynn's Long Halftime Walk, The Nice Guys and The Gift.
Headliner Knapp is joined by a cast that includes Alexis Bledel (The Handmaid's Tale, Gilmore Girls) and Kurt Russell (The Fate of the Furious, Guardians of the Galaxy Vol. 2), also joined by Luke Hemsworth (Westworld, Thor: Ragnarok), Jeremie Harris (Legion, The Get Down) and (Bledel's husband,) Vincent Kartheiser (The Path, Mad Men).
Crypto is a dark drama that' reflective of changing economic times, described as a tonal amalgam of The Firm and The Girl with the Dragon Tattoo. The story depicts the travails of a young anti-money-laundering agent (Knapp) who gets put on a case that's not just close to home, but is literally at home, investigating fraud in his remote agrarian-centric New York hometown. There, the character's father (Russell) and brother (Hemsworth) tend to a struggling farm. However, the case won't just be a homecoming, since it will take him to places rooted in a new criminal underworld with a book-cooking accountant (Kartheiser) who carries out tasks for a sinister clientele, a shady art dealer (Bledel) and an investigator with a specialized expertise in cryptocurrency (Harris).
John Stalberg Jr. will direct Crypto, working off a script by Carlyle Eubank and David Frigerio, writers of the 2014 sci-fi film, The Signal, in which Knapp co-starred. The script is based on an original story by Jeffrey Ingber. While Stalberg's only existing feature is the 2010 Adrien Brody-starring comedy High School, he's racked up a project backlog that includes drama The Beast in Me and comedy Limbo. As Stalberg expresses in a statement:
"I am overjoyed to be working with such an incredible cast to bring this timely, thrilling story to life. Beau is incredibly talented, and seeing him bring this character to life opposite talent like Alexis, Kurt, Luke, Jeremie and Vincent has been a dream come true."
Stalberg will be joined by producers in Jordan Yale Levine and Jordan Beckerman of Yale Production and David Frigerio. Also onboard are executive producers Michael J. Rothstein and Siena Oberman of Yale Productions, as well as Clay Epstein, Joseph Siprut, Shaun Sanghani and Zac Weinstein. Yale's Jon Keeyes, Russ Posternak and Jesse Korman will serve as co-producers. As Levine adds:
"Cryptocurrency has captured the attention and imagination of consumers and entrepreneurs all over the world but has never been explored in film in such a nuanced and exciting way."
Crypto Release Date
Crypto has yet to reveal its release date. However, it is currently shooting in New York.