Features
Crowdfunding Friday: monsters, puppets and a Syndicate sequel
Mythical beasts. A spiritual sequel to a classic 90s game. They're two Crowdfunding Friday projects we've picked for your consideration...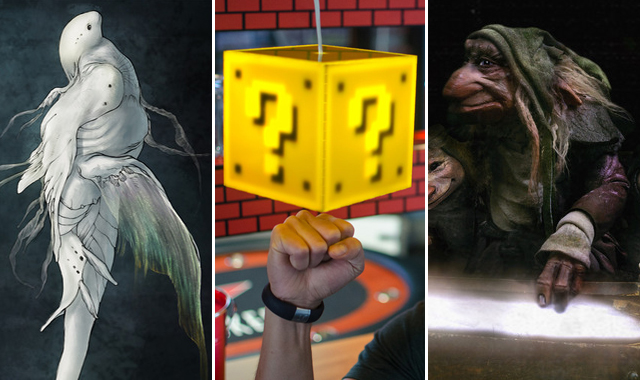 Warning: casually browsing through a site like Kickstarter at an early hour in the morning – particularly before a revitalising cup of coffee – can result in some bizarre misunderstandings. That's what I learned this week, as I stumbled on some things called 'Narwhal BBQ Skewers'. What kind of monster, I thought, would not only think of cooking a rare kind of whale on a barbecue, but also put the idea on Kickstarter?
As you've probably gathered already, I'd made a bit of a mistake. The project is actually the idea of artist Melissa Dowell, and the skewers are merely stainless steel, narwhal-shaped – and actually rather adorable. Anyway, this rather confusing preamble is intended to lead us gently into the first of this week's selection of crowdfunding projects, which is all about the search for a curious-looking creature that lurks somewhere in the depths of the ocean…
The Ningyo
Cinema's long overdue a return to the pulp adventures of Arthur Conan Doyle or H Rider Haggard – Luc Besson's Adele Blanc-Sec was about as close as we've got in recent years – which is why The Ningyo looks like such an exciting project. A short film about a professor who specialises in hunting down mythical creatures, The Ningyo could provide the jumping off point for a feature film or a future series.
What's more, the creature designs in both the pitch reel above and the project's Kickstarter page are wonderful – colourful, mischievous and full of character. The Ningyo's creators, Miguel Ortega and Tran Ma, have worked as visual effects artists on films like Thor, Transformers 3, The Mist and Drag Me To Hell – and that experience really shows in both their dramatic concept art and the detail in their 3D modelling. But if you're looking for further evidence of their ingenuity, look no further than their earlier short film The Green Ruby Pumpkin. Shot on a minimal budget of $7000, and using an ordinary living room as a makeshift studio, it's like a Guillermo del Toro movie in a matchbox.
The kind of creative talent worth backing, The Ningyo has a further reward to sweeten the deal: pledge $100 or more, and you'll get a glass jar with a little monster specimen inside it – the perfect addition to any cryptozoologist's dusty library.
Lessons Learned
From computer effect to puppets now, with a project that aims to revive the beautiful handmade artistry of films such as The Dark Crystal and The Labyrinth. In fact, project founder and artist Toby Froud was the actual baby kidnapped by the dastardly David Bowie in the latter 80s fantasy flick. The son of artists Wendy and Brian Froud, who worked as designers on The Dark Crystal and Labyrinth, Toby's grown up to become a hugely talented artist, craftsman and puppeteer in his own right, as the pitch video above proves.
Lessons Learned is a short fantasy film that brings Froud's gloriously grotesque characters to life. Already halfway to reaching its $25,000 goal, the project could be a Dark Crystal for the 21st century – the perfect film to inspire a new generation of would-be artists and puppeteers.
Satellite Reign
Back when games came on floppy disks, Syndicate was about as close as you could get to something like Grand Theft Auto IV. An early example of a sandbox action game, Syndicate cast players in the role of a corporate boss, who sought to control the planet through any means necessary. With a quartet of armed cyborgs at their disposal, players assassinated, kidnapped and subverted their way to victory, seizing territories one country at a time in a series of violent, bloody missions.
Syndicate was reworked as a somewhat generic sci-fi shooter last year, which probably came as a disappointment for anyone hoping for a high-definition revival of the original game's isometric, third-person gameplay. Fortunately, the creator of the 1996 sequel, Mike Diskett, has taken to Kickstarter to bring us Satellite Reign, a spiritual successor that hews more closely to the classic game Sean Cooper designed 20 years ago.
A logical expansion on Syndicate's ideas, Satellite Reign will, Diskett says, bring us a cyberpunk city that reacts to your violent or cunning activities. In a slight twist, players aim to take down corporations, rather than lead them to domination – a sign of the post-Occupy movement times, perhaps, but the way you go about it can be as altruistic or as grimly amoral as your mood dictates.
It's early days for Satellite Reign, of course, but the pedigree behind the game makes it well worth your consideration – particularly if you have fond memories of the icily violent Syndicate.
The Question Block Lamp
Usually located slightly away from the bustling main roads of Japan's cities, 8-bit bars are popular venues for those looking for a quiet beer and a quick game of something retro. Often small and cramped, these bars are generally crammed full of old consoles, memorabilia and – if you're lucky – cocktails with a quaint videogame theme.
The Question Block Lamp would be the perfect addition to one of these bars, since it's the perfect amalgam of practical household object and videogaming history. Modelled after one of those immediately recognisable blocks from the Super Mario series, it's a light that can be activated with a prod from underneath, either with a hand or – if you're an Italian plumber – with the top of your head.
Given that each lamp is handmade, and makes that familiar da-ding noise when activated, the cost of getting your hands on one is quite reasonable – a pledge of $49 is the minimum cost, though an optional lamp stand will cost another $20, and those outside the US will have to factor in $25 postage. For those with the cash to spare, though, the Question Block Lamp would make the perfect addition to any bedroom, retro gaming cave, or Japanese 8-bit bar.
You can read last week's Crowdfunding Friday here.
Follow our Twitter feed for faster news and bad jokes right here. And be our Facebook chum here.