Features
Crowdfunding Friday: Corman's Fantastic Four & Tezuka manga
This week's selection of geek-friendly crowdfunding projects includes a Marvel movie documentary, a game remake, and some classic manga...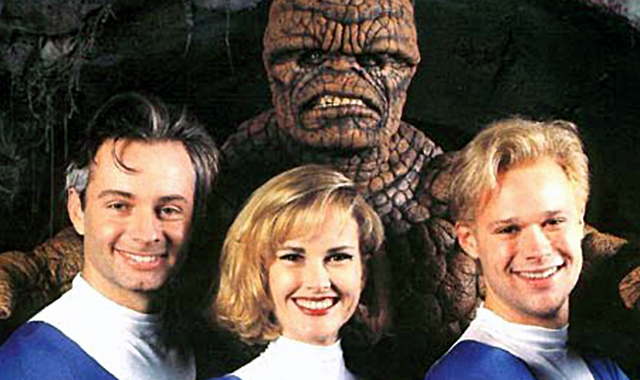 Aside from all the new ideas to be found on crowdfunding websites such as Kickstarter – including a new variety of beef jerky made from posh Japanese cows – there are all sorts of opportunities to indulge our sense of nostalgia.
Through sheer coincidence, the projects that caught my eye this week all have a retro theme; there's a documentary about a forgotten adaptation of a Marvel comic book, a timely revival of one of the most innovative computer games of the 1980s, and a special English language edition of a classic Japanese manga. Although very different, each of these crowdfunding projects is worthy of support, since they're all niche interests that simply couldn't find financial backing through other means.
There's another retro-themed Kickstarter project on the horizon, too: a small developer named 5Lives Studios has teased what might be a new version of the classic 90s sandbox game, Syndicate. After the slightly disappointing first-person shooter reboot that emerged last year, it would be very exciting (at least to gamers of a certain age) to see a more faithful update of Bulldog's original title.
The as-yet untitled Syndicate remake is expected to appear on Kickstarter in late June, so we'll keep you posted. Until then, let's get on with this week's selection…
Doomed! The Untold Story Of Roger Corman's Fantastic Four
In the early 90s, producer Roger Corman stumped up the princely sum of $1m to make a movie adaptation of Marvel's Fantastic Four. Shot over three or four weeks, the movie starred Alex Hyde-White as Reed Richards, Rebecca Staab as Sue Storm, Michael Bailey Smith as Ben Grimm, and Carl Ciarfalio as The Thing.
Although scheduled for release in 1993, it soon emerged that co-producer Bernd Eichinger had only made the film in order to retain the Fantastic Four rights; as Stan Lee said in 2005, "The movie was never supposed to be shown to anybody." Instead, the Corman Fantastic Four was essentially a placeholder for the $100m adaptation released in 2005; and thus, a film history legend was born.
Twenty years later, filmmaker Marty Langford aims to tell the story behind Corman's Fantastic Four in his documentary, Doomed! With contributions from those who toiled on it – including Mark Sikes, who worked with Corman in the 90s, and many of the principal actors – Doomed will dig into the history of a film that, due to various rights issues, may never be released through legal channels.
Deus Ex Machina 2
Mel Croucher is one of the true pioneers of the British games industry. Not only did he found the UK's first games company – Automata – but he was also responsible for some of the most unusual and fiercely original games of the 1980s. These included Pimania, My Name Is Uncle Groucho, You Win A Fat Cigar, and perhaps most famously, Deus Ex Machina.
Part multimedia experiment, part dystopian sci-fi and part prog rock album, Deus Ex Machina used music, interactivity and graphics to create something entirely new in gaming. The game's cassette came with a soundtrack which was designed to run in synch with the unfolding events on the screen; with music and narration from Ian Dury, Jon Pertwee and Frankie Howerd, Deus Ex Machina took the player on a tour of human existence, from cradle to grave.
Surreal, disturbing and slyly funny, Deus Ex Machina was truly ahead of its time. And now it's back, with Croucher devising a new, 21st century version of his legendary game. In production since 2010, Deus Ex Machina 2 is heading to Kickstarter to secure some final funds – these will be used to complete the PC and Mac versions of the game and finish off early builds of iOS and Android ports.
Those who pledge £7 or more will get a copy of Croucher's book, Deus Ex Machina: The Best Game You Never Played In Your Life, in which the growth of the games industry is told with the author's typical dry wit.
One of gaming's eccentric one-offs, Deus Ex Machina deserves to be remembered – and almost 30 years after its first release, this star-laden re-imagining (Sir Christopher Lee's among the new cast) could be the perfect way to mark the occasion.
Osamu Tezuka's The Crater
Like Mel Croucher, Osamu Tezuka was a true pioneer. Commonly described as "the father of manga", this renowned artist produced some of the most adored comics in Japan, and is perhaps best known to us as the creator of Astro Boy (or Tetsuwan Atom, to give him his original name). In a career that stretched from the 1940s to his death in 1989, Tezuka created an astonishing body of work, ranging from science fiction to historical drama to fantasy adventure.
The Crater is a collection of short stories, which were first published in a Japanese magazine between summer 1969 and spring 1970. Compared by some reviewers to The Twilight Zone, Tezuka's brief tales are full of mystery and suspense, as well the creator's playful humour.
The tiny US publishing company Kansai Club is bringing an English-language version of The Crater to the west for the first time, in a single hardback volume limited to just 2000 copies. Although Kansai Club's president Andrew Nevo has already secured the rights to publish The Crater, Kickstarter will enable him sell copies of the book without losing money to gigantic shops like Amazon, and, Nevo says, the money from the campaign will be put straight into his next manga translation and publishing project.
A pledge of an entirely reasonable $35 gets you a copy of the book, and three 7 x 10 art prints. For fans of Tezuka or Japanese comics in general, it's a great chance to get hold of an unusual and rare piece of work – and support a new publishing company in the process. Oh, and if you've never looked at Tezuka's work before, it's well worth looking at some of the examples on the Kickstarter page linked above – simple, lyrical and full of warmth, it's seldom less than gorgeous.