News
Critters: A New Binge TV Series to Revive the Horror Franchise on Shudder
The classic Critters horror film franchise is returning in the form of a TV series that's set for streaming service Shudder.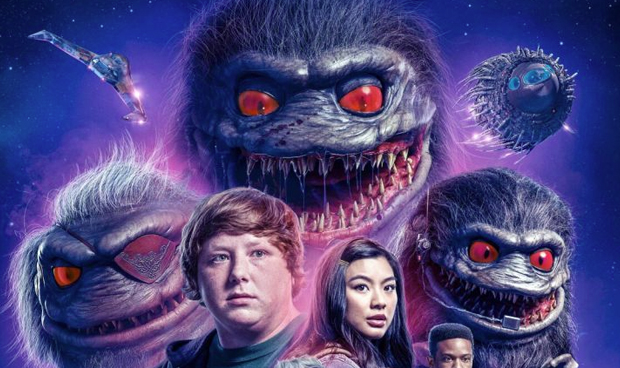 Critters may be but one of several campy horror franchises from the 1980s to – akin to the soon-to-be-animated Gremlins – feature diminutive multiplying mini-monsters, but the imagery of its eponymous alien invaders – resembling demonic bipedal versions of Star Trek Tribbles with shark teeth and T-Rex arms – make them especially memorable, even if the poster image of the toilet monster from Ghoulies was more memorable in its ability to make tense experiences out of nature's call for a generation. Regardless, Critters is getting a long-overdue return.
AMC Networks' horror-centric Shudder streaming service will be the platform for a revival television series bearing the meta-minded title, Critters: A New Binge. Moreover, the series is arriving a lot sooner than you might have thought, since the announcement reveals that the horror revival – an 8-episode short-form series – is set to premiere in the U.S. on Shudder on Thursday, March 21.
Check out the Critters: A New Binge teaser trailer!
The official synopsis for Critters: A New Binge also reveals its cast.
Pursued by intergalactic bounty hunters, the Critters return to Earth on a secret mission and encounter lovelorn high-schooler Christopher (Joey Morgan, Scouts Guide to the Zombie Apocalypse), his crush Dana (Stephi Chin-Salvo, iZombie), his best friend Charlie (Bzhaun Rhoden, Van Helsing), and his mom Veronica (Kirsten Robek, The Edge of Seventeen), whose past will come back to bite them—literally. The series also features Gilbert Gottfried (Aladdin, Justice League Action) and Thomas Lennon (Reno 911!, Puppet Master: The Littlest Reich).
As Peter Girardi, Executive Vice President, Blue Ribbon Content, and Executive Vice President, Alternative Programming, Warner Bros. Animation, expresses in a statement:
"It's been more than 30 years since the Critters first landed on the big screen, and we're incredibly proud to bring this cult classic franchise back to fans. Shudder is the perfect platform for this fun, scary new take on everyone's favorite, furry extraterrestrial threat. We are committed to delivering Shudder members the best horror content available and this time we are also bringing the laughs."
Critters: A New Binge will not be a reboot, instead serving as a continuation of the classic film franchise, which consists of director Stephen Herek's original 1986 Critters, followed by 1988's Critters 2: The Main Course, 1991's Critters 3 and 1992's Critters 4. The small screen revival arrives under the purview of a team of writer/executive producers in Jordan Rubin (who will also direct), Jon Kaplan, and Al Kaplan, all of whom worked on Zombeavers and The Drone.
The main creators are joined on the series by executive producers Rupert Harvey and Barry Opper (of the original films, the former also directed Critters 4), joined in that capacity by Ivana Kirkbride and Chris Castallo. Jonathan Stern and Harvey Kahn are also onboard as producers. The series is a production of Warner Bros. Television Group's digital studio and Blue Ribbon Content, along with Front Street Pictures Inc. and Abominable Pictures in association with Blue Ribbon Content.
Critters: A New Binge joins Shudder's other original offerings, which will soon include Creepshow, an anthology TV series revival of the classic 1982 horror film, developed by The Walking Dead's Greg Nicotero.
Joseph Baxter is a contributor for Den of Geek and Syfy Wire. You can find his work here. Follow him on Twitter @josbaxter.