Features
Cripping the Comic Con: 2013
Den of Geek attended the first ever Cripping the Con this week . . .
This past week Den of Geek was in Syracuse, New York for the very first "Cripping the Comic Con" conference. It was the first ever conference focused exclusively on disabilities in Geek culture (mainly comics).  And in many ways this was not your average comic con! It was the brainchild of two Geeks who wanted to create a radically accessible space for conversations about disability and Geek culture.
The first thing we should let you know is what the term "cripping" means. The website for the Cripping the Con event defines "cripping" in the following way: 
Using the terms "crip" and "cripping" is one way of "taking back" language and power from the people who and the institutions and systems that have used it historically (and in some cases, presently), to harm and demean people with disabilities, including certain at times "crippling" physical disabilities (like Cerebral Palsy, Muscular Dystrophy, Multiple Sclerosis, etc.).  Language, control and social power are thus asserted by people with disabilities and our allies, who have the right to speak for ourselves and act on our own behalf.  Therefore, by using the terms "cripping" and "crip," instead of "cripple" or "crippling," one may claim, strategically, that a host of well-meaning diagnoses, labels, treatments, options for intervention and medical cures have the potential to be unwelcomed by, if not harmful to, the individuals they are designed to "help."  An extreme illustration of certain "curative" approaches is eugenics.  Individuals with disabilities and disability identities have the right to exist, to make our own choices and to be expected, included and welcomed in all societal spheres.  Individuals who are disability identified have ownership of our own bodies, minds, ideas, thoughts and feelings.
The morning began with caffeine run and complaints about the rain in Syracuse. When we found the space it was set up like an average comic con. Tables for vendors, swag bags filled with geeky goodies and schedules everywhere. All around were posters with the Access Avengers; a comic team created by Jill Stromberg depicting four superheroes each with disabilities.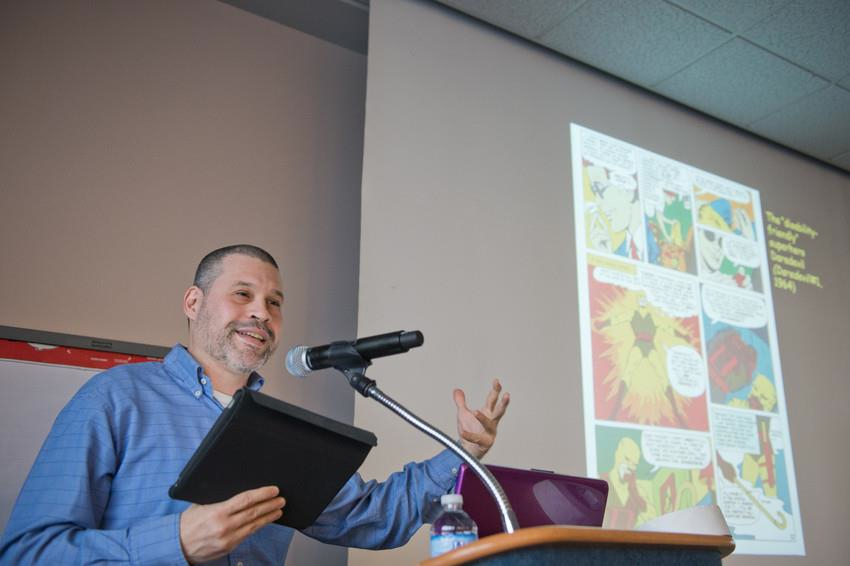 The keynote speaker, Dr. Jose Alaniz, spoke about disability as depicted in the Silver Age superhero. He was a wonderful speaker who introduced us to a number of comic book characters with disabilities and how their stories were told in the days of Silver Age comics. 
The rest of The Con was filled with some of the coolest and geekiest workshops one could imagine. Things like "Flying Blind: An Investigation into Daredevil and Oracle;"  "Deviance, Stigma and 'Crippled' Sexuality: The Portrayal of Disability in House, MD;" and "Boldly Going Where No Crip Has Gone Before: Examing Disability in Star Trek." From these workshops came these amazing conversations about the importance of representation and how to create accessible spaces to engage in geek culture. And of course, we all geeked out over our favorite comic book characters, horror films and sci-fi novels. We heard arguments about the best Star Trek series, excitement over the next season of American Horror Story and zombie love. Lots and lots of zombie love. Many expressed the sentiment "we are fans first and foremost." Some of the hot topics heard most were about the controversy regarding Oracle, The Walking Dead and whether Family Guy is offensive, hilarious or both.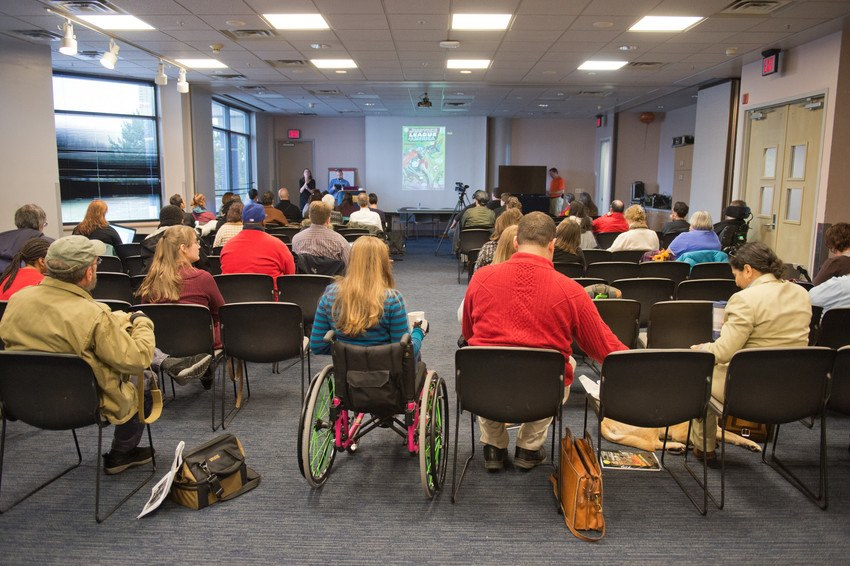 The final speaker of the night was Day Al-Mohamed. She led a discussion on representations of people with disabilities within speculative fiction (horror, science fiction, mystery). She expressed concern over the lack of any kind of disability representation within this genre of writing. It generated discussion around how we can make sure that conversations about disability representation continue outside the walls of Crip Con. She discussed how we can help writers who may fear dealing with the topic of disability for fear of "doing it wrong."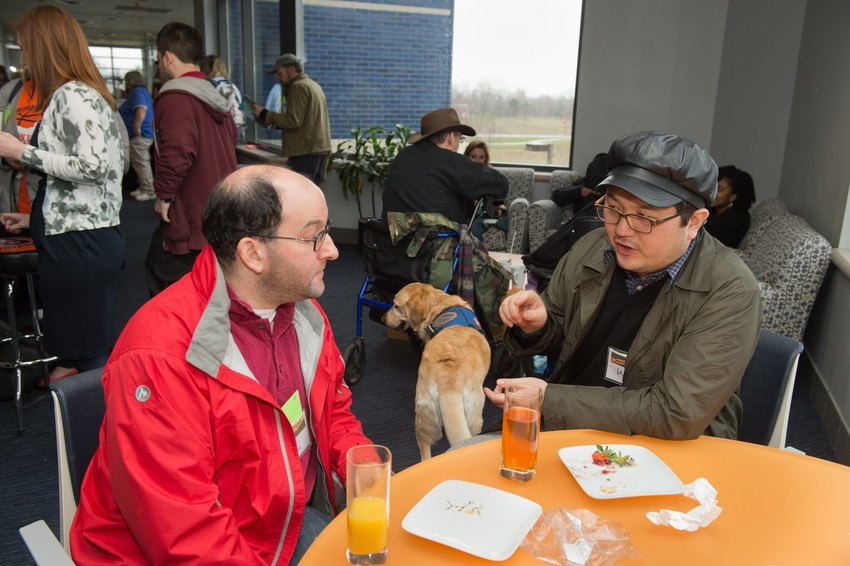 So what made this Con different than any other Con? It wasn't just the topic. The inclusive nature of this event was incredibly impressive. People using wheelchairs, assistance animals and rapid signing with their friends were all norms. Each of us was given a colored card (with colored labels) so we could express our desire to talk to strangers. Displaying the red card signalled "please do not talk to me," yellow meant "proceed with caution" and green meant "come talk to me!"
How refreshing is THAT? No need to worry about breaking the ice or annoying someone. It's all right there. There was also CART (computer assisted realtime translation) at all the major events. Even the food was thought through and gluten free was available at all the events. These small details added up to an incredible event that created space for everyone.
And all of this was wonderful. But the most important conversation of the night was "where do we go from here." People beamed with joy throughout the conference and wonderful conversations occurred. But where do we go from here? How do we add characters with disabilities to our comics, movies and television series? How do we improve on what has already been created? And how do we create accessible spaces within Geek culture? Many talked about proposing panels to conferences, encouraging conversations about disabilities and thanking the artists who create good representations. We here at Den of Geek vowed to include conversations around Geek topics related to disability. And to create a safe and welcoming space for all Geeks. Even the Twilight fans!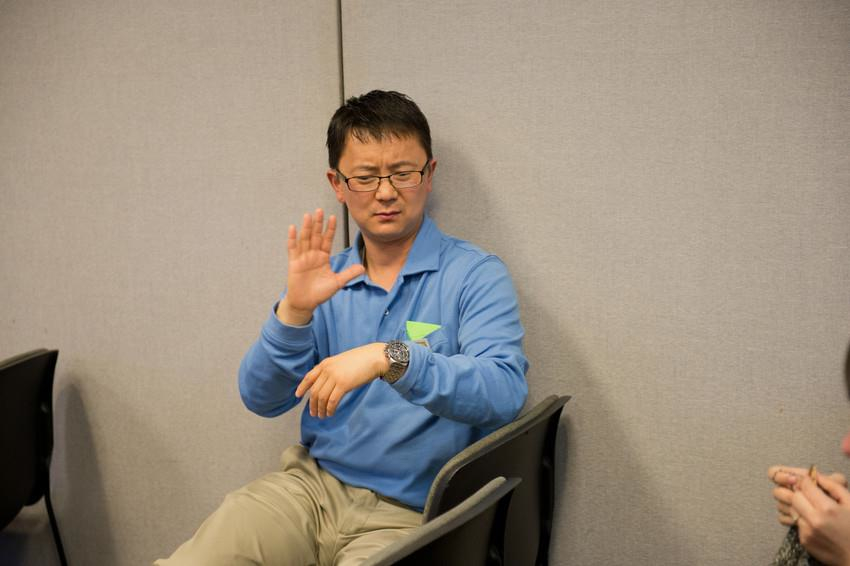 This was an event about disability representation in Geek media, but it was also a celebration. Together we celebrated superheroes, our favorite television shows, our favorite novels and our favorite films. Numbers were exchanged, people friended one another on facebook and future plans were made. And isn't that the point of an event like this? To come together and celebrate the things we love. The things that sometimes make all of us, with or without disabilities, feel like outsiders. Creating an inclusive and safe space should be a goal for all Geeks in our communities.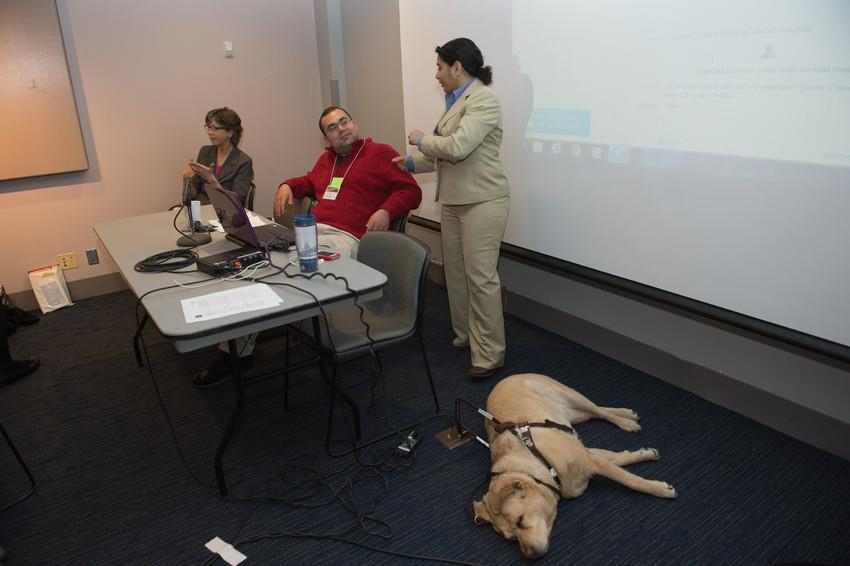 We were incredibly proud to be a part of this historic event and we want to thank Cripping the Con for inviting us. We will be posting a series of interviews regarding the event so look out for those.