News
Crimson Peak: New Poster of the Guillermo del Toro Horror
We have the latest poster from Guillermo del Toro's house of horrors, Crimson Peak, plus so, so much more...
If you haven't watched the trailers for the new Guillermo del Toro horror film, Crimson Peak, we cannot stress enough that you do so by clicking on the below video. Right now.
As an intentional throwback to the psychological gothic nightmares of 19th century authors, Crimson Peak looks like it could have been based on the musings of either Brontë sister—except with more perverse depravity. Why else would Universal and Legendary so proudly brandish its new R-rating nine months prior to release?
But other than being a luscious thriller with a cast that includes Tom Hiddleston, Mia Wasikowska, Jessica Chastain, and Charlie Hunnam, what exactly is Crimson Peak? Join us as we attempt to unpack why this is one crumbling estate that you cannot resist entering of your own free will.
Latest News
First, the latest bit of juicy tidbits we have on Guillermo del Toro's gothic horror is a new Crimson Peak poster. It does not reveal too much other than a beautifully blood red dress for Jessica Chastain, but all three principals are on display (Chastain, Tom Hiddleston, and Mia Wasikowska), as is the creepy house they inhabit. Feast your eyes upon the one-sheet and tremble…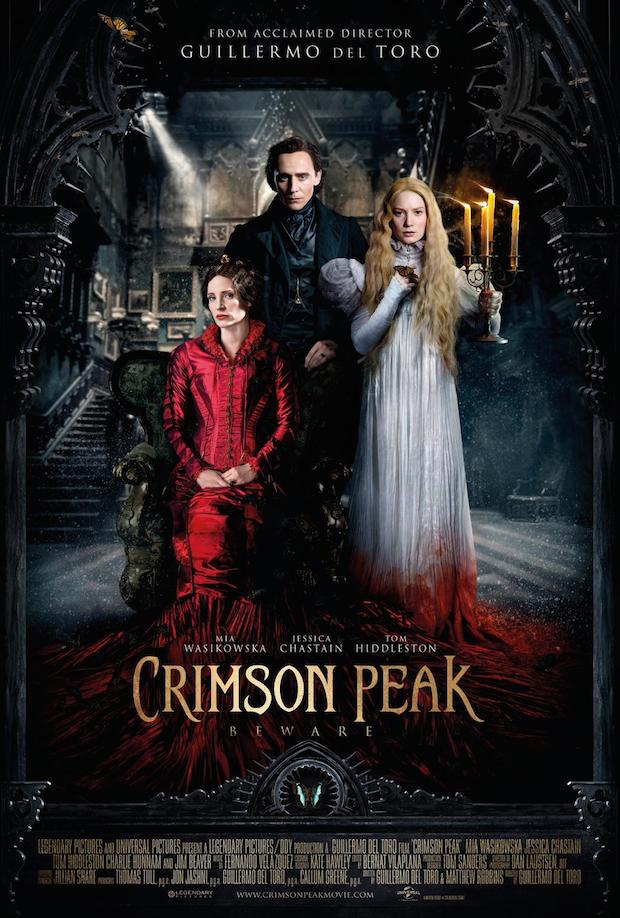 The Story
Always enjoying a vaguely cryptic marketing veil, the synopsis for the latest del Toro chiller currently seems akin to staring at a fog-swept moor, beckoning for you to pass through its secrets:
In the aftermath of a family tragedy, an aspiring author is torn between love for her childhood friend and the temptation of a mysterious outsider. Trying to escape the ghosts of her past, she is swept away to a house that breathes, bleeds…and remembers.
If that seems ambiguous, then you are correct. However, there is much more to know about this mystery box than the above mist of words.
Since del Toro first announced the project in December 2012, he said that he viewed the film as "very set-oriented, classical but at the same time modern take on the ghost story. It allows me to play with the conventions of the genre I know and love, and at the same time subvert the old rules."
In that vein, we already know from the dripping of other press materials that the aforementioned unnamed author is one Edith Cushing (Mia Wasikowska) of America.
Despite being played by Australian Wasikowska, Edith is a Yankee-born novelist with gothic aspirations when she meets Sir Thomas Sharpe (Tom Hiddleston), a charismatic but deeply troubled English lord that hails from the remote countryside of Cumbria. It is there that he dwells in a decaying family estate known as Crimson Peak—and where he wishes to whisk Edith to in a whirlwind romance.
As del Toro explained when the idea was still in pre-production in 2013, Crimson Peak is very much split between being a traditional gothic romance and then the ghostly madness that follows. Says del Toro:
"It's at the turn of the century and half the movie takes place in America, and the other half takes place in a crumbling mansion in Cumbria." The reason for this transatlantic juxtaposition is an intentional one. "I don't like what I call 'class porn,' where everybody's all gooey over, 'If only the aristocracy was still in charge, life would be so civilized…It was never true, and this is the opposite. This is a movie about a very American trait in Edith and a very decadent trait of the aristocracy [that's] rotting away in a mansion on a hill."
When Edith arrives at Crimson Peak, she meets Sir Thomas' equally secretive sister, Lady Lucille (Jessica Chastain), in a home full of dark memories and of dark deeds. Edith is also followed to this place by the kindly Dr. Alan McMichael (Charlie Hunnam), a childhood friend that is still in love with Edith, even after she married another man.
Del Toro has also described this as his first serious film for mass American audiences. "It's the first adult movie [I've done] in English," del Toro said. "I can hardly call Blade an adult film. It's the first time I've tried to marry Pan's Labyrinth and Devil's Backbone sensibilities with a larger cast and a larger budget."
Continuing that thought with Screenrant, he later said of the sex and violence, "[Crimson Peak] has moments that are very visceral, physical violence. You're in this sort of sedate romance, and then there is this brutal moment where you're like, 'Woah!'"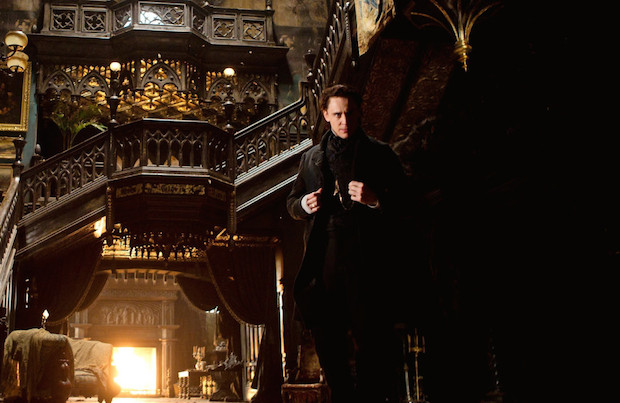 The Production and Cast
Crimson Peak began as a spec script that del Toro wrote with Matthew Robbins shortly after the success of Pan's Labyrinth in 2006. It was quietly purchased by Universal Pictures around this time, but remained in nebulous development until del Toro worked on 2013's Pacific Rim. While directing that monster flick, Legendary Pictures CEO Thomas Tull asked del Toro what else he is interested in making, and del Toro suggested three films, one of which was the eternally elusive H.P. Lovecraft adaptation del Toro continually covets, At the Mountain of Madness. The other was another filmic variation on The Count of Monte Cristo, but what most caught Tull's eye was del Toro doing a classical horror film. As Legendary's Jon Jashni described it, Crimson Peak is "just the right size" for Legendary. So, as that production company transitioned from Warner Bros. to Universal, so too did development of Crimson Peak shift to Legendary with Universal keeping a financial stake in the picture, as well as distribution rights.
When del Toro first talked about the project, he said, "I think people are getting used to horror subjects done as found footage or B-value budgets. I wanted this to feel like a throwback."
During the pre-production process, English playwright Lucinda Coxon was brought aboard to give an uncredited polish to the screenplay, providing the film with a "proper degree of perversity and intelligence." Further, the cast became a game of rotating chairs. While Chastain joined early as Lucille Sharpe, and has stayed with the project, as has del Toro stalwart Hunnam, the two leads both were recast through the process.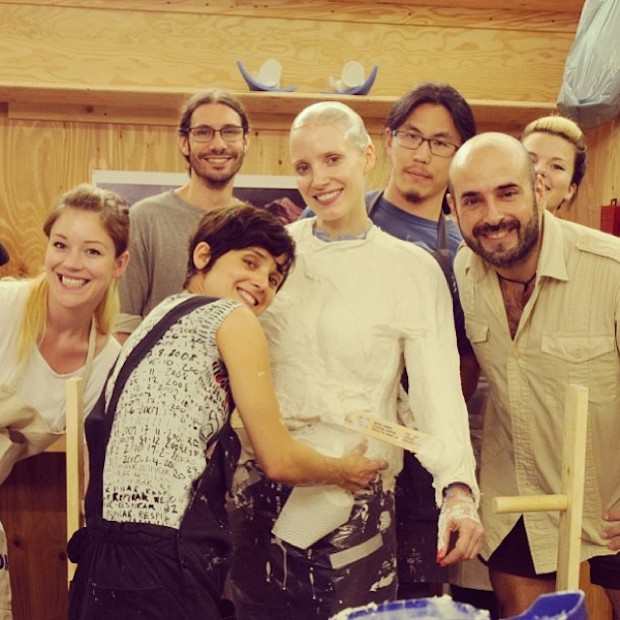 Originally, Crimson Peak was supposed to star Emma Stone and Benedict Cumberbatch, but both had dropped out of the film by August 2013. Wasikowska first replaced Stone, and then Hiddleston took on the role of Sir Thomas Sharpe. The film began production in Pinewood Toronto Studios in early winter and spring of 2014. During this time, Chastain revealed via her Facebook account the above photo of herself undergoing a full-body cast for the film.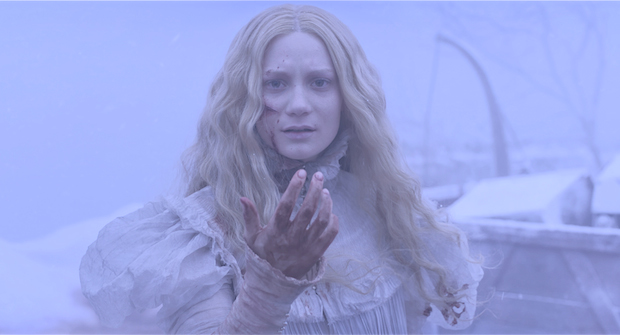 The Influences
Yet, perhaps the most striking aspect about Crimson Peak in these early days is the very intentionally gothic and classic aesthetic of the film. As del Toro mentioned in an above quote, he wishes to get away from found footage blandness, and the trailer promises exactly that from the gilded glory of Thomas E. Sanders' crumbling sets to the lascivious frills of Kate Hawley's costumes.
Del Toro has explained this visceral windswept look in the past: "The House decays. We needed to have the house feel a little bit like an organism…We knew that the top needed to be sort of the most weathered part of the house. The bottom and the areas where you received visitors are alive and slightly more kept. But the top is the head, the people in the movie are insane, so the head is all rotted away."
The effect is an exquisitely obscene environment that harkens back in my mind to the soundstage fever dreams Francis Ford Coppola created in Bram Stoker's Dracula (1992). However, del Toro is looking back even further when he talks about influences.
"To me this is Robert Wise's The Haunting, which was a big movie, beautifully directed, with the house built magnificently," the director said. "And the other grand daddy is Jack Clayton's The Innocents." Indeed, he describes both films as "grand dames" since they both feature haunted homes where women may or may not be losing their minds. Del Toro elaborated, "I've always tried to make big-sized horror movies like the ones I grew up watching. Films like The Omen, The Exorcist, and The Shining, the latter of which is another Mount Everest of the haunted house movie."
This may be the case for the director, yet the trailer alone also takes my mind to a different kind of terror: namely Dragonwyck (1946), a classic gothic film where Gene Tierney throws away her simple life to marry the mysterious Nicolas Van Ryn (Vincent Price). The film is responsible for Price becoming the king of gothic horror (or eventually camp), but it is also just one in a long line of films emulating Wuthering Heights, Jane Eyre, and any number of 19th century gothic stories written by women that the character of Edith Cushing likely would have admired.
Del Toro addressed this during a set visit:
"Rebecca, Jane Eyre, they're all cousins. You can mix and match gothic romance, and you're always going to find an innocent heroine going to a crumbling mansion where a dark, brooding, mysterious guy turns out (or doesn't turn out) to be the holder of a secret."
He later added, "I was attracted to this thing [because] when one story ends, the other one flows. You have, I think, a really good love story and when that ebbs, the ghost story kicks in, and then the complete psycho story picks up. So my hope is that I don't want to do a straight gothic romance. I want to do it hardcore, which is different. But I don't want to do it exactly the same way it has been done; I want to bring different stuff."
It's easy to believe that intent. But I also must note that his film stars Wasikowska, who has played Jane Eyre in the past, and it just so happens to incidentally be opening on the exact date of that Charlotte Brontë novel's publication…just 168 years later.
Posters & Photos
Check out these new Crimson Peak posters straight out of SDCC 205!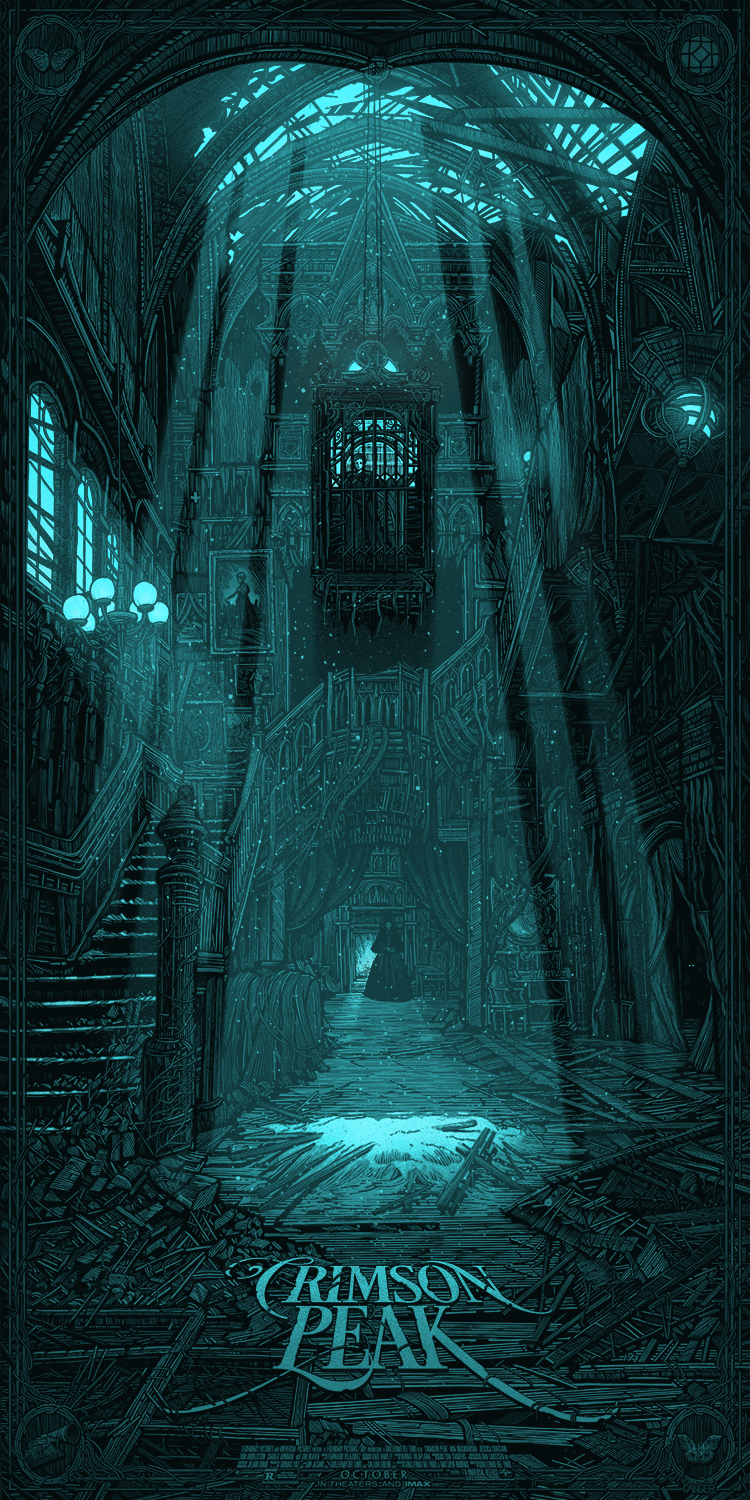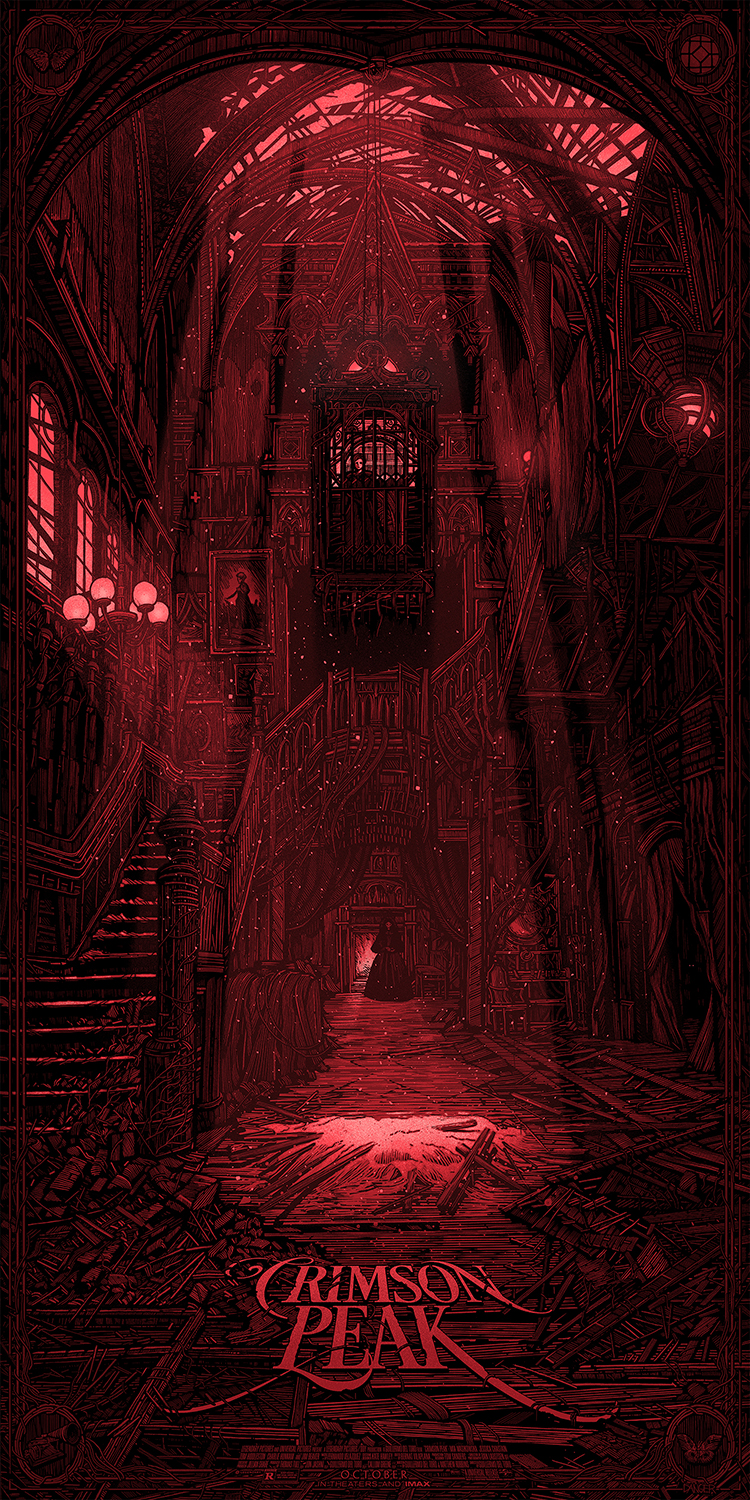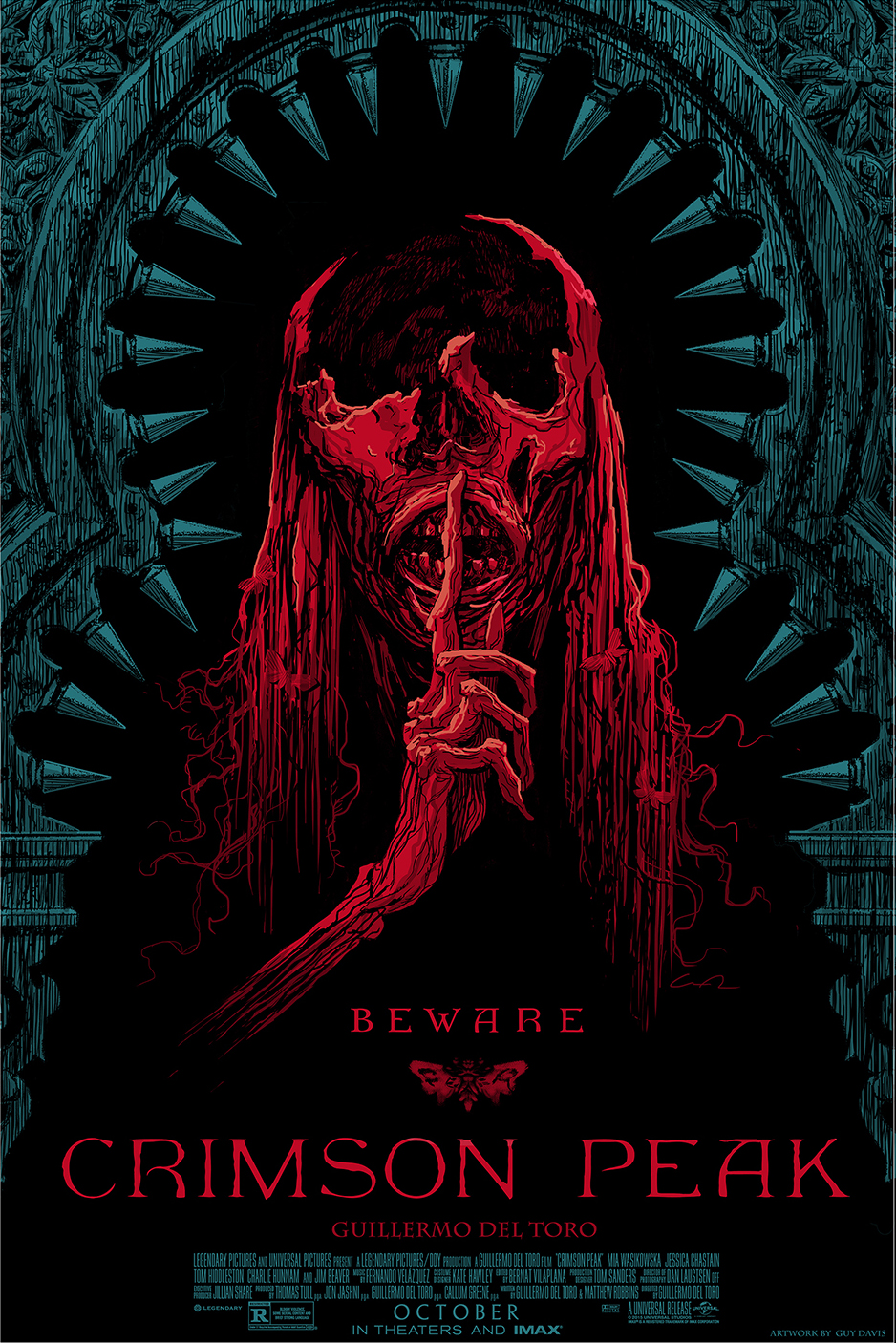 Crimson Peak opens on Oct. 16, 2015.