News
Creepshow TV Series Release Date and Trailer Revealed
The Walking Dead executive producer Greg Nicotero will head a TV series revival of the classic horror anthology movie, Creepshow.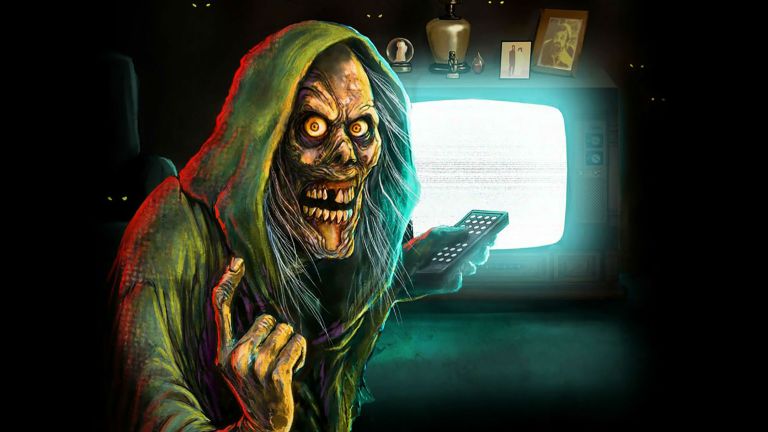 Creepshow is coming back in a big way, this time headed to the realm of peak television!
Shudder, the premium streaming service owned by cable channel AMC, is reviving the Stephen King/George Romero-crafted Creepshow horror anthology film as a television series. Moreover, AMC has tapped talent from its own tent, appointing The Walking Dead executive producer and legendary effects maestro, Greg Nicotero, to serve as director, executive producer, and overall supervisor for the small screen endeavor.
In the latest news, another trio of cast members, David Arquette, Tricia Helfer and Dana Gould, have just been added, and the great Tom Savini is now confirmed to occupy the director's chair for an episode.
Creepshow TV Series Release Date
Creepshow will premiere on September 26, 2019. That's a month's head start on your Halloween plans.
Creepshow TV Series Trailer
A brand new, blood-strewn, unapologetically old-school trailer for Shudder's Creepshow has arrived!
Below is the first full trailer for the Creepshow TV series, released ahead of the show's appearance at San Diego Comic-Con 2019. Most, if not all of the segments seem to be represented herein. 
Meanwhile, Creepshow producer Greg Nicotero is living his best life in this teaser that contains some behind-the-scenes footage of the making of the series:
Creepshow TV Series Cast
Musicians Kid Cudi (Scott Mescudi) and Big Boi (Antwan Patton) are joining the cast alongside the non-musician actors Jeffrey Combs, Bruce Davison, and DJ Qualls. 
Kid Cudi and Jeffrey Combs will star in "Bad Wolf Down" from writer/director Rob Schrab. Bruce Davison will star in "Night of the Paw," written by John Esposito. Big Boi will appear in "The Man in the Suitcase" written by Christopher Buehlman and directed by Dave Bruckner. DJ Qualls is set to star in the just-announced "The Finger" from David J. Schow.
Tricia Helfer will star in a story called "Lydia Layne's Better Half," in which "a powerful woman denies a promotion to her protege and lover but fails to anticipate the fallout." The episode was written by John Harrison, based on a story by Harrison and Greg Nicotero, and will be directed by Roxanne Benjamin.
David Arquette will star in "Times Is Tough in Musky Holler," showcasing "a small town whose leaders once ruled through intimidation and now get their comeuppance." It will also be directed by Harrison, and written by John Skipp and Dori Miller, based on their short story. 
Dana Gould will star in "Skincrawlers," described as "a tale about a man who considers a new weight-loss treatment that has unexpected complications." The script was written by Paul Dini and John Langford, with Roxanne Benjamin set to direct. 
Adrienne Barbeau, who appeared in the original Creepshow movie as Billie in "The Crate," has also been cast. Her episode is called "Gray Matter," a 1973 Stephen King story – published in his 1978 collection, Night Shift – adapted by Byron Willinger and Philip de Blasi (The Commuter), directed by series showrunner Greg Nicotero. 
"Gray Matter" focuses on Doc and Chief, two old-timers in a small, dying town, who brave a storm to check on gluttonous alcoholic Richie after hearing disturbing – some might say monstrous – stories from his terrified son, who was forced to get beer for him at a convenience store. Giancarlo Esposito (Breaking Bad, Better Call Saul) and horror royalty in Tobin Bell (the Saw films, Jigsaw) are also onboard the episode.
Creepshow TV Series Episodes
12 segments will make up Creepshow's six-episode first season. That means two segments per episode, keeping true to the anthology structure of the original movie.
The Greg Nicotero-directed Stephen King adaptation, "Gray Matter," recently joined the lineup, which was first announced at the 2019 TCA winter press tour, where it was initially teased as a mystery Stephen King story. The first episode of Creepshow will feature the segments "Gray Matter" and "House of the Head."
All 12 segments have now been revealed:
– "Gray Matter" by Stephen King 
– "House of the Head" by Josh Malerman (Bird Box)
– "By the Silver Waters of Lake Champlain" by Joe Hill (NOS4A2)
– "The Companion" by Joe Lansdale (The Bottoms)
– "The Man in the Suitcase" by Christopher Buehlman (The Lesser Dead)
– "All Hallows Eve" by Bruce Jones (The Hitchhiker)
– "Night of the Paw" by John Esposito (The Walking Dead Webisodes)
– "Bad Wolf Down" by Rob Schrab (Monster House)
– "The Finger" by David J. Schow (The Crow)
– "Lydia Lane's Better Half" by John Harrison
– "Skincrawlers" by Paul Dini (Batman: The Animated Series) & Stephen Langford (Family Matters)
– "Time is Tough in Musky Holler" by John Skipp and Dori Miller
Creepshow TV Series Creeper
Here's a brand new image of the Creeper!
And here he is in a nice poster.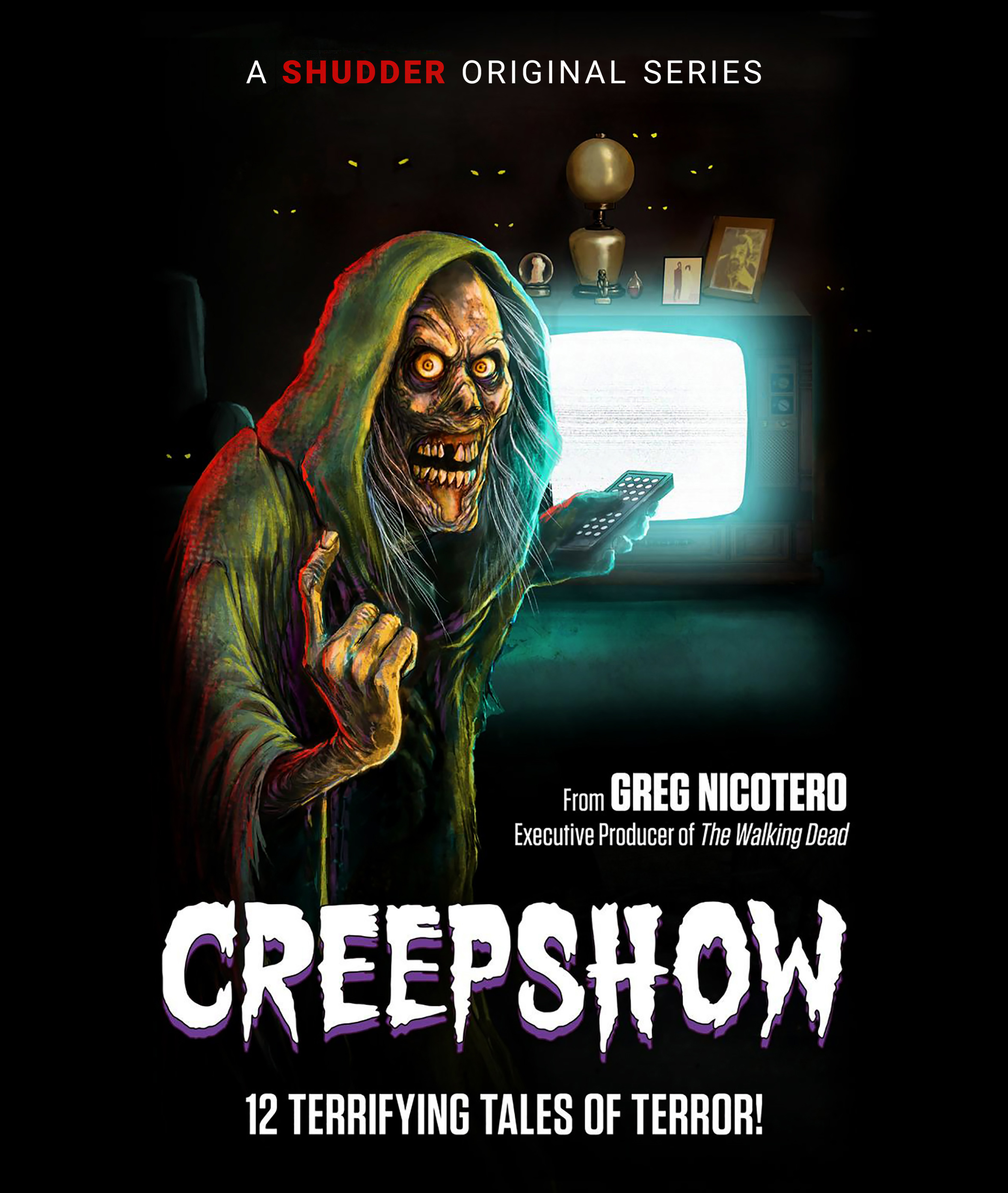 Nicotero recently celebrated the wrap of the Creepshow pilot episode by providing the first released image from the new series. However, the imagery will be instantly familiar to fans of the original movie, revealing the show's updated version of the horrific skeletal mascot, the Creeper!
For the sake of comparison, here's the Creeper from the original 1982 movie…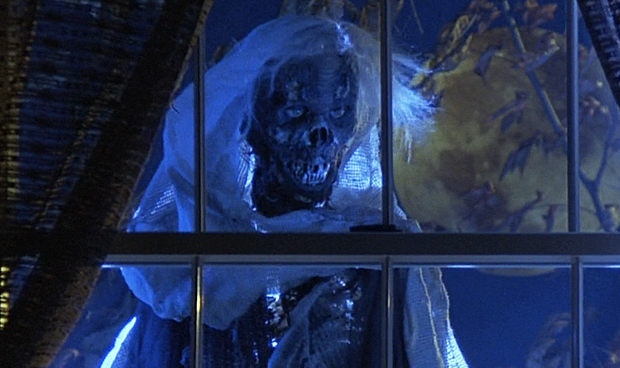 We will keep you updated here on the Creepshow TV series as the news arrives!
Joseph Baxter is a contributor for Den of Geek and Syfy Wire. You can find his work here. Follow him on Twitter @josbaxter.