News
The Craft Remake Cast, Details and Everything to Know
Blumhouse is moving forward with a reboot movie of The Craft, which will star Cailee Spaeny.
The Craft, the classic drama fueled by gothy teen angst, a soundtrack of '90s alternative rock and a coven of teen witches, is – as nixed previous iterations from the past years have suggested – getting a reboot/remake treatment, now by way of Blumhouse and (the original film's studio,) Columbia Pictures.
Arriving all the way back in 1996, making it we-don't-want-to-do-the-maths-re-the-years-because-we'll-feel-even-more-ancient-than-we-already-do years old, The Craft was a deceptively silly teen horror movie that has stood the test of time due to its otherwise complex themes such as empowerment and sexual assault. It made a little (but not a huge amount of) money for Columbia Pictures at the box office back then, but performed well upon its home release, and these days you'd be hard-pressed to find someone who doesn't have a fair amount of love for it.
Blumhouse's remake of The Craft is to be written and directed by Zoe Lister-Jones, an actress who's recently made the move to behind the camera.
The Craft Remake Cast
Donald MacLean Jr. (Nurses, Working Moms) is the latest addition to The Craft remake cast, set for an unspecified role, reports Deadline.
Michelle Monaghan (Mission: Impossible – Fallout, The Path, True Detective) will field a mystery role in the film, according to Deadline. The outlet also recently reported the additions (also for unspecified roles,) of young cast members Julian Grey (Godless) and Nicholas Galitzine (Chambers).
The Craft remake also recently snagged Spooky Mulder himself! David Duchovny has signed on to play an as-of-yet undisclosed role in the film, as Deadline reported. But, guys, he's been training for this for decades.
Here's the main cast of The Craft remake as it stands…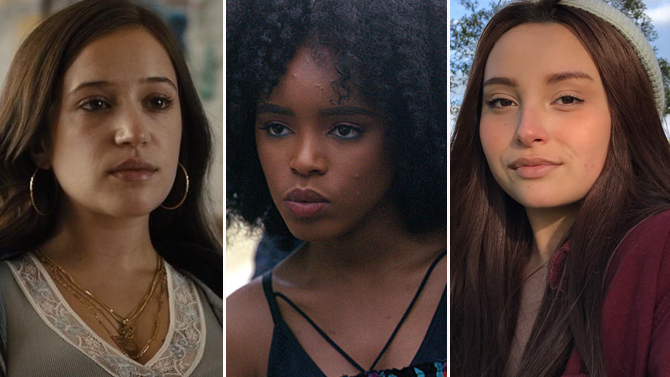 The Craft remake completed its coven quartet with a trio of co-stars who join headliner Cailee Spaeny, as reported by Deadline. While no details were revealed about their characters, the trio (pictured directly above from the left,) consist of the following:
Gideon Adlon is an up-and-coming actress who can be seen on Netflix sci-fi/mystery series The Society, as well as films such as the John Cena-headlines Blockers, with more recent offerings Skin in the Game and Mustang.
Lovie Simone, a recent industry entry, has been fielding a TV run on OWN drama Greenleaf, with film appearances in Selah and the Spades, Share and All Rise. She made her onscreen debut in a 2017 episode of Netflix's Orange is the New Black.
Zoey Luna, a teen transgender advocate-turned-actress, recently made her onscreen debut in this past April's Rosario Dawson-directed short film, Boundless, and banked an appearance on FX drama Pose in Season 2, Episode 10, "In My Heels," which just aired on August 20.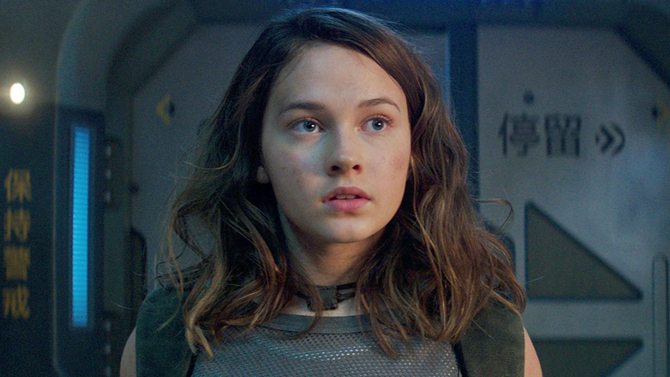 Cailee Spaeny procured the lead role in The Craft remake, reported THR back in June. She will play main character Hannah, described as "a high school outcast who falls into a friendship with three other young women and begins experimenting with witchcraft. They unleash a power that at first seems to solve problems in their lives but slowly consumes them with unforeseen costs."
Spaeny's career has been on an upward trajectory from its (very recent) beginning, having made her feature debut – opposite John Boyega – in 2018 franchise sequel Pacific Rim: Uprising, followed by appearances in major films such as the cast-stacked Bad Times at the El Royale, On the Basis of Sex and Vice. She will next be seen in an upcoming FX sci-fi series from Ex Machina's Alex Garland, called Devs. Indeed, it's quite the resume for such a short time.
The Craft Remake Details
Zoe Lister-Jones was appointed writer and director, as first reported by Deadline back in March. You may recognize Lister-Jones' face if you're a fan of TV sitcom Life in Pieces, where she stars opposite Colin Hanks, or as Fawn in New Girl, but she's also the director of a string of well-received feature films, including indie efforts Lola Versus, Breaking Upwards, and Band Aid. Now, she'll be in charge of bringing us a new version of The Craft, which we really hope will be great.
1996's The Craft centered on grieving teen Sarah (Robin Tunney), who arrives in LA and starts at a new school while she is learning to embrace her natural gift for witchcraft. She's soon noticed by a trio of fellow outcasts (Fairuza Balk, Neve Campbell and Rachel True) who encourage her to develop her supernatural skills further, growing their power as a coven. However, when Sarah decides to go out on a date with a popular boy at school (Skeet Ulrich), things soon turn nasty, and the other girls begin to take their newfound powers too far, which leads to a face-off between Sarah and her only friends.
The Craft Remake Release Date
The Craft does not have a release date set. However, Blumhouse is known for pumping out pictures at supernatural speeds, and a release in 2020 (likely in time for Halloween season,) is still feasible.
Joseph Baxter is a contributor for Den of Geek and Syfy Wire. You can find his work here. Follow him on Twitter @josbaxter.