News
Cowboy Bebop: The Movie Returning to Theaters in August
Cowboy Bebop: The Movie is coming back to the big screen Cowboy Bebop: The Movie for two nights only.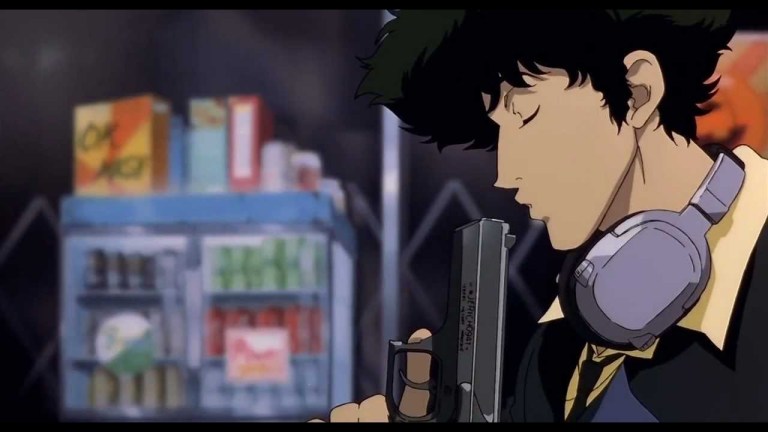 Cowboy Bebop: The Movie will be returning to theaters for a very limited time.
For two nights only (August 15 and 16) Cowboy Bebop: The Movie will be screened at theaters across the country courtesy of the folks at Funimation. The August 15th show will be a subtitled version of the film while the August 16 show will feature the dubbed version of the movie. You can find more information about the showings – including where they will occur and where to buy tickets – via the Funimation website. 
"What should have been an easy bounty turns into biological war after a terrorist gets ahold of a deadly virus," reads a description of the film from Funimation. "Drawn in by the pretty price on the mastermind's head, Spike and the Bebop crew are ready to collect a much-needed reward. Unfortunately, the gang's about to find themselves in more trouble than money when the terrorist threatens to unleash the virus on Halloween—effectively killing everyone on Mars. With little time and leads that seem more dreamy than helpful, they'll have to use their own bag of tricks to stop a dangerous plot.
While Cowboy Bebop: The Movie didn't exactly break box office records upon its initial release (its worldwide box office was just over $3 million), the movie served as a bit of a thank you letter to those fans who helped the show become an anime classic. It also gave director Shinichirō Watanabe a chance to finally turn Cowboy Bebop into a film (which is the format he originally envisioned for the series). 
However, critics were a bit divided on the final product. Some felt the movie's terrorist plotline made it a bit uncomfortable to watch so close to the events of 9/11 (the movie was released in Japan on September 1, 2001) while others stated that it left them with the feeling that the movie may have benefited from just being an episode of the show. 
Still, there are plenty of others who thought that Cowboy Bebop: The Movie did an effective job of capturing most of the things that made the original series so special. It's certainly worth seeing in theaters for Cowboy Bebop fans who weren't able to see it in on the big screen during its initial run (or those who want to do so again). 
Read the Den of Geek SDCC 2018 Special Edition Magazine Here!