News
Countdown Clip Shows There's an App for Death
In an exclusive Countdown clip, check out what happens when you download an app that will tell you the exact second you die.
It seems every day there's a new app getting hyped, whether you want to hear about it or not. The newest swipe right for dating, another one to monitor your health, and if you want to catch ghosts around the neighborhood while listening to Oingo Boingo music, there's an app for that too. But with all technological developments, there's a certain paranoia that sets in about where this is taking us as a society—and anxiety makes for fertile horror movie stomping grounds.
Thus enters Countdown, STXfilms' newest horror chiller in which a mysterious new app becomes all the rage with youths who will use it until the day they die. Which might be sooner than they expect. Aptly titled "Countdown," the app picks a seemingly random number that will countdown the years, months, days, minutes, and even seconds before your death. For some folks it's a nice, happy 68 years away… for others it's tomorrow.
Obviously it owes more than a little bit of debt to The Ring, both the Japanese and American versions, where a VHS tape reveals you have seven days to live, but there is something amusingly apropos about your phone deigning how long the rest of your life will be. It's also already developed a cult following among fans. Indeed, one technologically gifted enthusiast created on his or her own a "Countdown" app in the Apple iOS store as tribute to Countdown's release. In a few weeks it had been downloaded 6 million times and had climbed to #1 on the iTunes App Store. Apple inexplicably took it down after that, but a week later it returned and is still in the Top 10 downloads among new apps.
So if you're hankering to know what's waiting for you if you download this sucker, in the below exclusive clip, we give you a glimpse of what happens when one "Countdown" user (Black Lightning's Jordan Calloway) sees his number growing low. Let's just say he doesn't find any relief in the bathroom.
The film is from first-time writer-director Justin Dec, and stars Elizabeth Lail and Jordan Calloway. The movie opens tomorrow on Friday, Oct. 25. You can check out the poster below.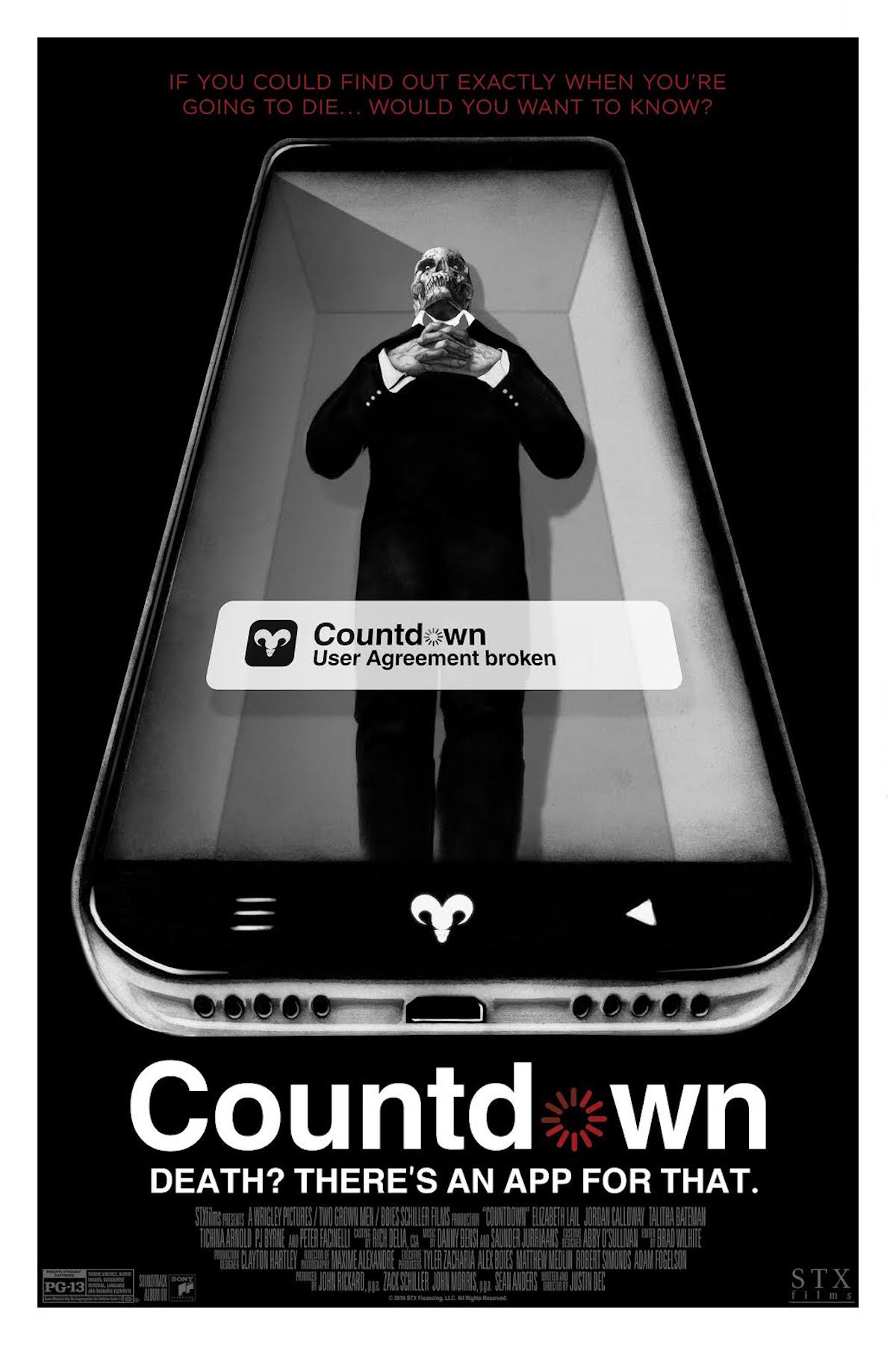 David Crow is the Film Section Editor at Den of Geek. He's also a member of the Online Film Critics Society. Read more of his work here. You can follow him on Twitter @DCrowsNest.