News
Coming to America 2 Release Date, Cast, Story and Everything to Know
Paramount is moving ahead with sequel Coming 2 America, with Eddie Murphy returning to star as Akeem.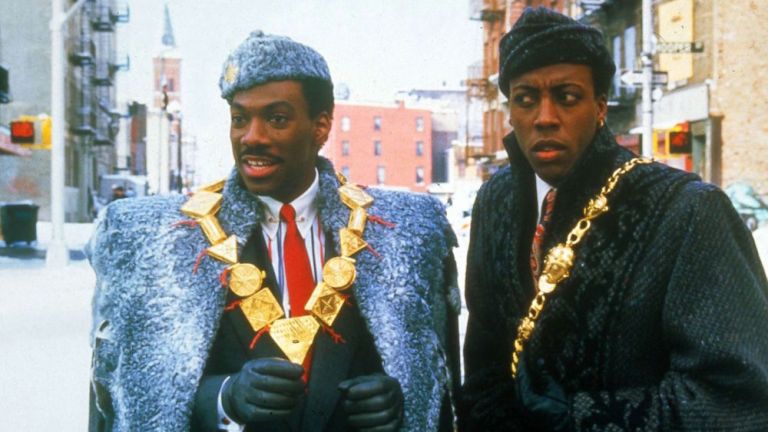 Good morning, my neighbors! Coming to America 2 is actually a thing that's really happening!
Craig Brewer is set as director, as first reported by Deadline. The sequel, which we now know will be titled Coming 2 America, continues the story of Akeem, an African prince who blew off his arranged marriage to seek true love in Queens. Brewer has just finished directing a movie with star Eddie Murphy, called Dolemite Is My Name, and the pair are very keen to work together again on this long-in-gestation follow-up flick.
Kenya Barris, the creator of Black-ish, rewrote a screenplay by original movie writers Barry Blaustein and David Sheffield. We previously heard the movie was about Murphy's Akeem being a king who must take his son to America to sow his wild oats, but now it appears the plot will instead be about a long lost heir. Deadline wrote it's now about "a long lost son, and [Akeem] must return to America to meet his unlikely heir to the throne of Zamunda."
Coming to America 2 Cast
Here's the latest on the rapidly-expanding Coming 2 America cast!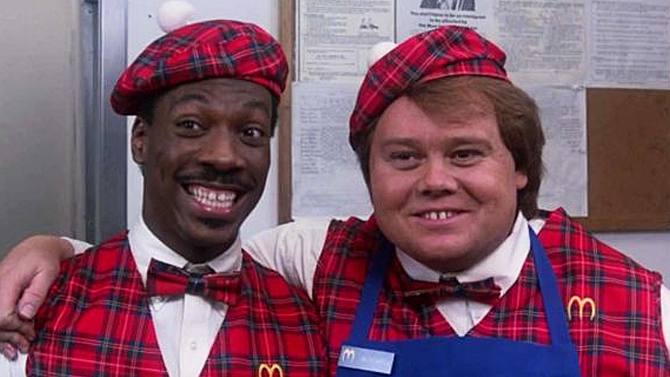 Louie Anderson has confirmed his role reprisal (which Collider previously reported) as original movie character Maurice, the jaded life-advice-dealing McDowell's fast-food employee. Moreover, he revealed, in an interview with TMZ, that he's already shot said return. – Anderson, a veteran stand-up comedian, recently fielded a TV run on FX's Baskets, and is also known for his 1995-1998 autobiographically-based Fox cartoon series, Life with Louie.
As for the rest…
Garcelle Beauvais will reprise her role from the original movie as an unnamed Rose Bearer, reports THR. The Haitian-born supermodel-turned-actress was recently seen in TV runs on Freeform's Siren and Syfy's The Magicians, and on the big screen in the Marvel Cinematic Universe (or, at least what used to be part of it,) as Doris Toomes (The Vulture's wife) in 2017's Spider-Man: Homecoming.
Vanessa Bell Calloway will reprise her role as Akeem's overly-subservient originally selected bride-to-be, Imani Izzi, reported Variety.
Tenaya Taylor – a dancer seen on shows such as Hit the Floor, The Breaks and Star – will field an unspecified role, reports Collider.
Michael Blackson, a Ghana-born comedian, will play an unspecified character reports Collider. He was recently seen in The Lick Movie, I Got the Hook Up 2 and will have a role in upcoming comedy sequel Last Friday, having fielded a role in 2000's Next Friday.
Nomzamo Mbatha is set to play an unspecified new character. The up-and-coming South African beauty was most recently seen in films such as Hotel Called Memory and All About Love, and fielded a TV run in her native country on the eTV drama, Umlilo.
Shari Headley is officially set to reprise her original movie role as the American love interest and later wife to Prince Akeem, Lisa McDowell, as reported via Deadline. Headley, who, like her character, hails from Queens, NY, can be seen very soon recurring on Showtime's Kirsten Dunst-headlined comedy series, On Becoming a God in Central Florida, which premieres on September 1. She was also recently seen on Fox's Star, a run on OWN's The Haves and Have Nots and was seen on the big screen in 2018's Goosebumps 2: Haunted Halloween.
Rotimi, the R&B singer and cast member of Starz series Power, is set for an unspecified role, reported Deadline.
Tracy Morgan will play Reem, who's described as a hustler, reports THR. He also happens to be the brother of the mother (the character of fellow SNLer Leslie Jones) of Akeem's long-lost son, the result of a purported one-night stand with the Zamundan prince. Morgan, the former longtime SNL cast member, is currently starring in the TBS comedy series, The Last O.G., which is set to for a third season in 2020. He also recently appeared in films What Men Want, The Clapper and Fist Fight, as well as "The Comedian" episode of CBS All Access's revived The Twilight Zone.
John Amos will reprise his role as Cleo McDowell, reported Extra. The character was, of course, the owner of the Harlem fast-food joint, McDowell's, and the father Akeem's would-be bride, Lisa.
Leslie Jones (SNL, Ghostbusters) has joined to play an unnamed role, reported THR . However, the subsequent report about Tracy Morgan's casting revealed that Jones is playing the mother of the apparent long-lost son of Akeem; the alleged result of a one-night stand.
Kiki Layne (If Beale Street Could Talk, Native Son) has been cast as Akeem's daughter, described as "burdened with feeling like she is the son her father never had."
James Earl Jones, who played King Jaffe Joffer in the original film, will return for the sequel, Deadline reported.
Paul Bates will return as bodyguard Oha.
Rick Ross, the five-time Grammy-nominated rapper, is set for an unspecified role.
A certain daywalker is headed to the Coming to America sequel!
Wesley Snipes has joined the cast of the comedy sequel, according to THR. He will play a new character, General Izzi, the ruler of a neighboring nation to Akeem's home of Zamunda. It was not specified if Snipes's Izzi is an antagonist, but it's possible, given the dictatorial implications of his title.
This casting will serve as a quick reunion for Snipes, since he's appearing in (CTA2 director) Craig Brewer's upcoming biographical dramedy, Dolemite is My Name, in which star Eddie Murphy plays Rudy Ray Moore, star of the 1975 blaxploitation classic, Dolemite, with Snipes playing his co-star in that film, D'Urville Martin. Amongst his array of straight-to-video offerings, Snipes – the 1990s action icon of the Blade Trilogy (the first seriously successful Marvel movies), Demolition Man and New Jack City – recently appeared in Spike Lee's Chi-Raq and fielded a co-starring role on the short-lived NBC 2015 thriller series, The Player. He was also part of the onscreen action royalty in 2014's The Expendables 3.
Arsenio Hall is set to reprise his role as Akeem's best friend and right-hand man, Semmi (he also played an array of other characters), as Deadline confirmed. The actor/comedian, who enjoyed a brief reign as the king of late-night talk shows back in the late-1980s/early-1990s, recently fielded appearances – as himself – on Netflix comedy series All About the Washingtons and a duo of appearances on ABC's short-lived comedy, The Mayor.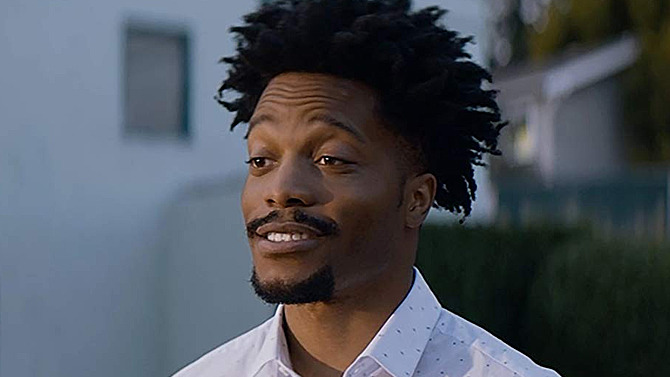 Jermaine Fowler (pictured directly above,) has joined the Coming to America 2 cast, as first reported in June by Variety. While no details were revealed about Fowler's character, one may be inclined to speculate that the 31-year-old actor is just the right age to play the "long lost son" of Eddie Murphy's Akeem described in the film's teased premise. For now, though, that notion will remain purely in the realm of speculation. Fowler comes into the film off TV runs on HBO's Crashing, and a co-starring role opposite Judd Hirsch in CBS's two-season-lasting sitcom Superior Donuts. He also appeared in recent films such as Buffaloed and Sorry to Bother You.
As you can see, the film has already coralled much of the original Coming to America cast, and you can expect more major players to be courted. Indeed, who wouldn't want to see Eriq La Salle break out the Soul Glo for another performance as the vainglorious Darryl?
Coming to America 2 Release Date
Coming 2 America is set to arrive at theaters (on a trail of rose petals,) on August 7, 2020.
Coming to America 2 Details
Eddie Murphy released an official statement on Brewer's appointment:
"After many years of anticipation, I'm thrilled that Coming To America 2 is officially moving forward. We've assembled a great team that will be led by Craig Brewer, who just did an amazing job on Dolemite, and I'm looking forward to bringing all these classic and beloved characters back to the big screen."
Meanwhile, writer Kenya Barris added "Craig's ability to create a distinct cinematic world with each of his films is not only impressive, but also what made him exactly the voice and vision we needed to bring this story to life. From Hustle & Flow to his work with Eddie on Dolemite Is My Name, he never fails to blow me away. He is a true auteur and we couldn't be more thrilled to have him on board."
Director Craig Brewer is previously best known for directing the 2011 remake of Footloose, 2006's Black Snake Moan, as well as directing eight episodes of Empire, which he also serves on as a producer. He also directed the pilot episode of FX's legendary 2010 crime-comedy series, Terriers.
Paramount is hoping to have the sequel in front of cameras this year, if all goes well. We wish them well as the original film, directed by John Landis, is a comedy classic of the 1980s and remains one of the crown jewels in Murphy's once sparkling comedy career. It'd be nice for him to reach for that crown again.
Additionally, costume designer Ruth E. Carter, who worked on the intricate fictional-African clothing for Marvel's Black Panther, is set to apply her trade to Coming to America 2, as reported via Deadline. It's rather poetic, since the 2018 release of Black Panther wrought its share of Coming to America-inspired memes.
Read and download the Den of Geek SDCC 2019 Special Edition Magazine right here!
Joseph Baxter is a contributor for Den of Geek and Syfy Wire. You can find his work here. Follow him on Twitter @josbaxter.