News
Comedy DVDs: Gervais, Alan Carr, Connolly and Djalili
Simon Brew has been working his way through this year's Christmas stand-up DVD releases. He's even been laughing at them...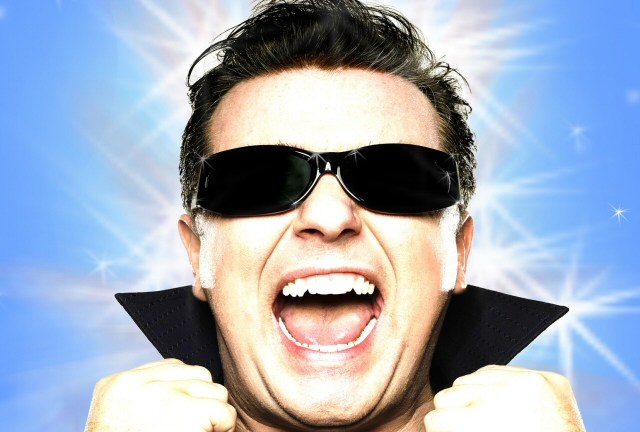 For the first part of this round up, we've got four DVDs to check out… 
Billy Connolly Live: Was It Something I Said?Universal£21.99
I've had mixed experiences with Billy Connolly over the years. I've picked up pretty much every video and DVD live release he's done in that time; some have had me banging the floor in agony I've laughed that hard, while others have left me cold. Furthermore, when I did finally get to see him live, it was flat out the most meandering, dull and unimpressive comedy gig I'd seen in my life.
His latest release, Was It Something I Said?, was filmed in Adelaide, and falls somewhere in the middle. Running to nearly two hours – almost unheard of for a modern day comedy DVD – it's very much a stream of thought from a man who happily spouts out seemingly whatever comes into his had.
And he's at his best when he's ranting. There are some very, very funny moments in the gig, not least his crusade against the powers of beige, his oh-so-accurate description of the different sides of the average married couples' bedroom, and his thoughts on suicide bombers. Yet to enjoy these moments, you do have to wade through what boils down to a man talking about his life.
Sadly, for long periods, it's simply not funny, and while Connolly is never dull, for too much of the time, he's not generating the laughs. His closing monologue about ballet and opera, for instance, just seems to be because he wants to tell us about ballet and opera, rather than make us laugh.
Still, Was It Something I Said? still has just about enough to warrant sitting through. But it's a tougher slog than a man of Connolly's talent should make it.
***
Ricky Gervais: FameUniversal£21.99
I've never been the greatest fan of Gervais' stand-up, although I'm not a card-carrying member of the 'backlash'. The Office is still a work of genius, and its creator is a very funny man.
Working under the title of Fame, this – his third live stand up tour – opens with an introduction by Matthew Kelly, and then features an hour and a quarter of Gervais loosely talking around the subject. He doesn't obsess over fame, instead he uses this as a simple basis to talk about pretty much what he wants.
Of course, it's more structured than that, but the trick to Gervais' stand-up is that it comes across so naturally. And he's got plenty to say.  His set takes in the likes of Dawn French, religion, tabloid newspapers, Big Brother, and a whole host of near-the-knuckle gags about the less fortunate. Some of the lines can't help but make you wince, but his writing is generally strong, and he does know how to rustle up a good laugh.
The best bit for us though was the encore, which was less structured stand-up material, and instead a tale of sitting in the audience of The X-Factor and hearing Sharon Osbourne gob off at Chris Tarrant
Gervais is a real comic talent, and Fame – in spite of a fair share of troughs across its running time – is a maturer live comedy act than we've seen from him before. It's not vintage stand-up, granted, but it's often very funny, and is worth a spin.
***
Omid Djalili: No AgendaStarz Home Entertaiment£19.99
Few stand-ups can embrace political incorrectness as warmly as Omid Djalili and still get away with it. Playing strongly on his part-Iranian background, Djalili's show – which runs to just over an hour and a quarter on this disc – kicks off with him declaring himself 'the Les Dennis of the Middle East' and covers content that you could see other comics being outright berated for if they even attempted.
Yet get away with it he does, partly thanks to his background, but also because of his natural ability to deliver such material in a warm and friendly way. Culture provides the majority of the material for the show, which he intersperses with an array of accents, Godzilla impressions, and dancing. His strength is that's he's a terrific performer, capable of transforming middling material into lines that punch above their weight, and while the DVD's not a continually uproarious feast of comedy, it is frequently very funny.
Djalili's embarking on another tour in 2008, and his star is very much in the ascendancy. This 2007 show demonstrates that he's a good comic to be in the company of, and while the material is variable, the man himself rarely fails to deliver.
***Alan Carr: Tooth Fairy LiveUniversal£21.99Straight from The Friday Night Project and onto the stand-up stage, Alan Carr's brief DVD is a show recorded at the Hammersmith Apollo as part of his recent tour. But it's a very mixed bag.
The problem here is that Alan Carr the performer and Alan Carr the writer both have differing days. The performance side of the show is very good, with Carr flexing his camp-card and bringing a shrieking energy to his delivery that clearly plays well to the audience. And while he won't be everyone's bag, Carr is – for this writer's money – a comic who can deliver a fine show.
Sadly, the jury is very much out as to whether he can write one. Very often, Carr traipses the stage trying to wring laughs out of material where few are to be found, and while there are plenty of laugh-out loud moments as part of Tooth Fairy Live, you can't help but think he's capable of more. This particular show is at its strongest when he talks about his father (a former football manager!), but the highs simply aren't frequent enough. His stand-up is still one to watch, though, even if this particular show only demonstrates glimpses of the laughs that Carr should be regularly getting.
***
Coming soon: we're currently ploughing through releases from Tony Robinson and Russell Brand. Expect reviews in due course…