News
Color Out of Space Trailer: Nicolas Cage Stars in H.P. Lovecraft Movie Adaptation
Nicolas Cage stars in Color Out of Space, adapting H.P. Lovecraft's story about a mysterious meteor's effect on a small town.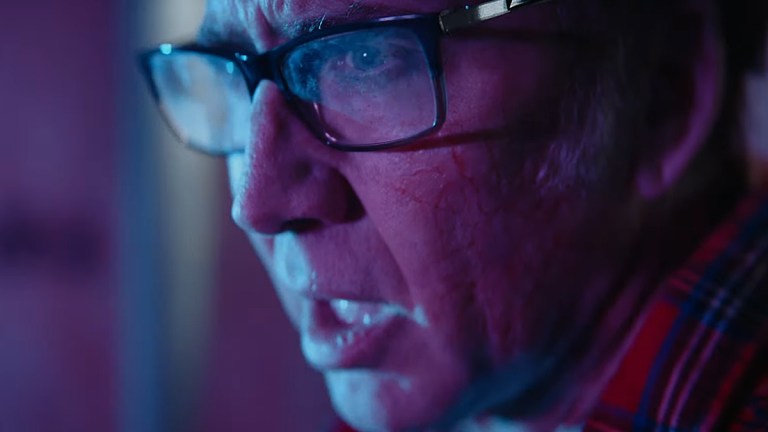 Color Out of Space may be one of many when it comes to star Nicolas Cage's current spate of debt-decreasing payday pictures, but this one arrives with the unique context of being a wantonly wild adaptation of a story by legendary horror author H.P. Lovecraft.
This prospective new source of "Cage Rage" memes has the iconic headliner playing a family man whose farm estate existence becomes incredibly inconvenienced when a meteorite lands on his front yard; an event that becomes the catalyst for an outbreak of a mutant virus that runs roughshod across his Massachusetts small town, jeopardizing his family and neighbors.
Famously embattled South African horror auteur Richard Stanley serves as director here, working off a screenplay that he co-wrote with Scarlett Amaris, adapting Lovecraft's 1927 short story, The Colour Out of Space.
Further Reading: An Introduction to HP Lovecraft: 5 Essential Stories
Color Out of Space Trailer
The trailer for the Color Out of Space movie is here in all its pathogenically purple glory!
Color Out of Space Release Date
Color Out of Space crashes its way to theaters on January 24, 2020.
Further Reading: The Holy Trinity of Nicolas Cage: The Rock, Con Air and Face/Off
Color Out of Space Details
As the official synopsis for Color Out of Space reads:
After a meteorite lands in the front yard of their farm, Nathan Gardner (Nicolas Cage) and his family find themselves battling a mutant extraterrestrial organism as it infects their minds and bodies, transforming their quiet rural life into a living nightmare. Based on the classic H.P. Lovecraft short story, Color Out of Space is "gorgeous, vibrant and terrifying" (Jonathan Barkan, Dread Central).
Joining Cage in the Color Out of Space cast are Joely Richardson, Madeleine Arthur, Brendan Meyer, Julian Hilliard, Elliot Knight, Josh C. Waller, Q'orianka Kilcher and (since this movie might be best seen while high,) Tommy Chong.
Director Richard Stanley conjured sci-fi horror offerings like 1990's Hardware and 1992's Dust Devil before having his Icarus moment (flying too close to the proverbial big studio sun,) with 1996 H.G. Wells adaptation The Island of Dr. Moreau for New Line. He wrote the script and served as director for the Val Kilmer and Marlon Brando-starring wide release, only to be fired a few days into production and replaced by John Frankenheimer, working sporadically ever since. The behind-the-scenes events of the eventual box office boondoggle of a movie were chronicled in director David Gregory's 2014 documentary, Lost Soul: The Doomed Journey of Richard Stanley's Island of Dr. Moreau. Indeed, Color Out of Space is Stanley's first feature-length directorial effort since Dr. Moreau, which at one point a few years back, he was thinking of remaking.
On an interesting sidenote, the film's fictional setting (as depicted in Lovecraft's stories,) of small town Arkham, Massachusetts inspired Dennis O'Neil and Irv Novick to create the more-famous Arkham, the asylum for the criminally insane in Batman's Gotham City stomping grounds, which the duo introduced into the DC Comics mythology in 1974. It's quite the DC juxtaposition for a film featuring the actor who was to be Superman.
Joseph Baxter is a contributor for Den of Geek and Syfy Wire. You can find his work here. Follow him on Twitter @josbaxter.