News
Coen Brothers' Ballad of Buster Scruggs Trailer, Release Date and More
Filmmaker siblings Joel and Ethan Coen are set to unveil Netflix Western movie The Ballad of Buster Scruggs.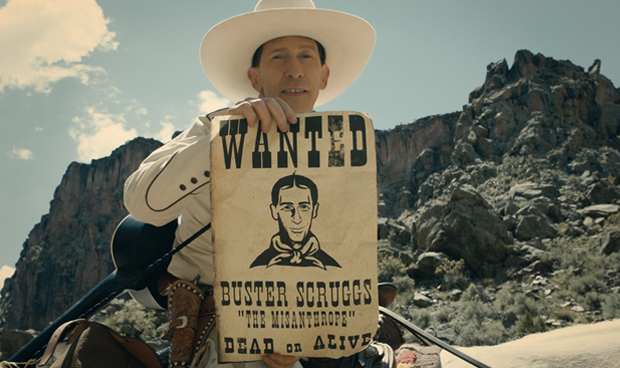 The Ballad of Buster Scruggs was first teased as a television event series that would put the signature dark humor and idiosyncratic action of directors Joel and Ethan Coen through a Western lens. Certainly, the idea of the sibling visionaries behind film classics such as No Country for Old Men, O Brother, Where Art Thou?, The Big Lebowski, Fargo and Hail, Caesar! taking a peak television plunge was auspicious news.  
…However, there's something you need to know about that whole TV series hoopla. Surprise! The Ballad of Buster Scruggs will instead arrive as the latest Coen Brothers movie, and not as a television series, as everyone was led to believe for nearly two years. Specifically, it will be a six-part Western anthology film.
We have all the preview hype you'll need, but, if you're so inclined, you can also read our advance The Ballad of Buster Scruggs review.
The Ballad of Buster Scruggs Trailer
Netflix has released a new trailer for The Ballad of Buster Scruggs ahead of its release this month.
…And here's the previous trailer:
The trailer showcases the Coens in their signature comedic mode, manifesting as a Western anthology offering that feels like a genre hybrid of Raising Arizona and No Country for Old Men with a hint of O Brother, Where Art Thou.
The Ballad of Buster Scruggs Release Date
The Ballad of Buster Scruggs is set to drift into into the town of Netflix on November 16. A limited theatrical run will first open on November 8.
The Ballad of Buster Scruggs Movie
In late-July, Netflix announced the imminent arrival of Buster Scruggs, revealing its movie medium metamorphosis. The news arrived (via Variety,) just in time for the now-movie to throw its cowboy hat into the Oscar-coveting awards season ring; an endeavor that will commence at the Venice Film Festival (to be held August 29 to September 8), where the film will make its premiere. As the Coens explain in a statement:
"We've always loved anthology movies, especially those films made in Italy in the Sixties which set side-by-side the work of different directors on a common theme. Having written an anthology of Western stories we attempted to do the same, hoping to enlist the best directors working today. It was our great fortune that they both agreed to participate."
The Coens were thrilled last August when its then-television project was picked up by Netflix, doing little to hide it, stating "We are streaming motherf—ers!" in the presser.
Netflix's vice president of original content Cindy Holland chimed in on the 2017 acquisition less colorfully, stating, "The Coens are visionary directors, masterful storytellers, and colorful linguists. We are thrilled for Netflix to become home to the full range of their talents."
The Ballad of Buster Scruggs was to see the Coens team with Annapurna Television, which still seems to be the case. Based on their original idea, the Coens wrote the Buster Scruggs script and serve as directors. Their intent from the very beginning was to combine the television and theatrical experiences. The Coens are also producing Buster Scruggs through their company Mike Zoss Productions. Annapurna founder Megan Ellison and their president of television Sue Naegle will serve as executive producers.
The Ballad of Buster Scruggs Cast
The cast members were revealed last year via The Tracking Board.
Tim Blake Nelson will star in The Ballad of Buster Scruggs – both the overall film and the eponymous omnibus episode – as the title character himself, who is described as "a singing cowboy."
Nelson has been seen in films such as 2016's Billy Lynn's Long Halftime Walk, 2015's Fantastic Four (as a character nod to comic villain Mole Man), 2012's Lincoln, 2008's Incredible Hulk (as Samuel Sterns, Hulk's would-be nemesis the Leader) and 2003's Holes. However, his television role in Buster Scruggs will be a reunion, since Nelson was part of the primary trio of fugitives – opposite George Clooney and John Turturro – in the Coens' legendarily rustic 2000 adventure comedy O Brother, Where Art Thou?, which was an adaptation of Homer's The Odyssey.
James Franco (127 Hours, Spider-Man Trilogy), Stephen Root (Boardwalk Empire, Office Space) and Ralph Ineson (Harry Potter and the Deathly Hallows: Part 2, Guardians of the Galaxy) are onboard to appear in "Near Algodones." The episode centers on a "high plains drifter" who botches attempts at bank robbery and cattle driving.
Zoe Kazan (The Big Sick, Ruby Sparks) will reportedly star in "The Girl Who Got Rattled" to play the character to whom the title refers. As the initial report describes, Kazan's character is a woman on a wagon train who seeks the help of two trail bosses.
Tyne Daly (Cagney & Lacey, Judging Amy) will capitalize on newfound momentum from her Spider-Man: Homecoming role to star in "The Mortal Remains," which will follow five passengers on a stagecoach headed for a mysterious destination.
The Ballad of Buster Scruggs Episodes
Interestingly, a major clue about its series-to-movie shift arrived last year. Ahead of The Ballad of Buster Scruggs's mid-July through September 2017 Santa Fe, New Mexico shoot, The Albuquerque Journal reported that its anthological structure classifies it not as a TV series, but, rather, as "a feature-length omnibus series." Its six episodes will each showcase a completely different storyline, all of which are Westerns. However, the previous report hinted that the six stories could somehow intertwine, likely indirectly. The six episodes break down as follows:
"The Ballad Of Buster Scruggs" follows a singing cowboy.

"Near Algodones" is about a high-plains drifter whose own fecklessness dogs his attempts at bank robbery and cattle driving.

"Meal Ticket" follows an actor and impresario of a traveling show.

"All Gold Canyon" is about a prospector who happily finds a gold seam but then unhappily finds an evil encroacher.

"The Gal Who Got Rattled" follows two trail bosses on the Oregon Trail and a woman on the wagon train who needs the help of one of them and who might be a marriage prospect for the other.

"The Mortal Remains" follows five very different passengers on a stagecoach of mysterious destination.
The Coens have previously dabbled in the Western genre with their 2010 remake of True Grit. Plus, the Texas-1980 setting of 2007's No Country for Old Men emanated a dusty Western vibe. However, their television transition was apparently one of necessity for this tale, since the scope of the project would have allegedly been "too challenging" to cover within the breadth of a single film release.
While the Coens do serve as executive producers on FX's serial adaptation of their film Fargo, Buster Scruggs would have marked their proper television debut. The move would have been similar to big shot Hollywood helmers like Steven Soderbergh with Cinemax's The Knick, David O. Russell with a star-studded mystery Amazon project, Woody Allen with an Amazon project and J.J. Abrams, who has multiple small screen projects gestating, including an HBO series set in space called Glare. Even the atmospheric David Fincher, who serves as executive producer on Netflix's House of Cards, has another TV project in the works with FBI crime drama Mindhunter.
Joseph Baxter is a contributor for Den of Geek and Syfy Wire. You can find his work here. Follow him on Twitter @josbaxter.