News
Coco was Pitched as a Very Different Movie
The Coco filmmakers reveal their influences, as well as how different the original vision for the Pixar movie once was.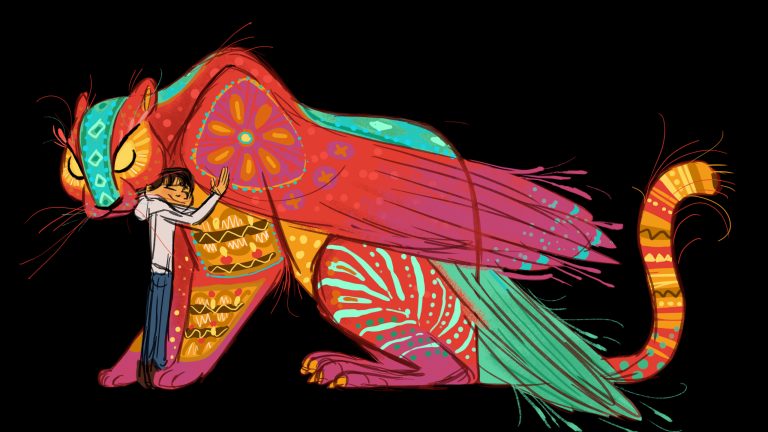 Sitting down with Coco directors Lee Unkrich and Adrian Molina, as well as producer Darla K. Anderson, is obviously a wonderful moment for any follower of Pixar's history. While Molina is making his (passionate) directorial debut with Coco, Unkrich and Anderson go back to Pixar's earliest days as a movie studio looking to finish its first feature—Toy Story. Credited respectively as an editor and "digital angel," Unkrich and Anderson cut their teeth on that 1995 classic, and have been cutting out Pixar wonderlands ever since.
It is probably why Coco was such a smooth pitch for Unkrich and story supervisor Jason Katz in 2011. Having gone into a meeting with John Lasseter, the chief creative officer at Pixar and director of many of its classics including Toy Story, the concept of Coco was an obvious winner, even if it was the third proposal by Unkrich. Fresh off of the Oscar winning Toy Story 3, Unkrich suggested making a movie set during the Mexican holiday Día de los Muertos (the Day of the Dead). And while the filmmaker suggests he would have been fine with any of the three movies he imagined, Anderson wasn't quite so modest.
"It's my favorite," she laughs. Apparently Lasseter agreed, as it was too good to pass up.
Unkrich recalls, "John kind of went for that one right away, and I honestly would have been happy to go in either direction, but this one in particular seemed like it could be the start of an adventure for me personally."
Still, it was apparently a very different movie on first glance. Whereas Coco became a movie that, to paraphrase Adrian Molina, could only be set during Día de los Muertos, the original pitch was much more from an American perspective. In the finished film, the central hero is Miguel, a Mexican child who dreams of pursuing a mariachi musician's life—and must contend with his disapproving skeletal ancestors on the one day when ghosts and the living can mingle—but what Unkrich first foresaw was something much more American-centric.
"It was a very different story than what we ended up making," Unkrich remembers. "It had some similar elements; it had a main character who was a kid, but it was about an American kid traveling down to Mexico and visiting his Mexican relatives. Music wasn't a big part of that story at all. There were a lot of things that were different just in the course of developing a story as it always happens. Some things work, some ideas are good, some are bad, and you jettison those, and you start to think of different ways of approaching the story. It was probably a year of working on different stories before we finally settled on the story of this kid that wanted to pursue music in a family that didn't allow it."
The result is a movie much more in line with celebrating the heritage of Mexican and Central American culture, which Unkrich and Molina are all too proud about in its own right given our current climate. It also is a movie unlike anything else we've seen from Pixar. While the studio has always embraced a classical moviemaking vocabulary, Coco is what Molina describes as "a duet across the living and the dead," complete with stylistic throwbacks to the Golden Age of American and Mexican cinema. It is embodied in the image of Miguel mimicking the artistry of his long deceased musical idol, Ernesto de la Cruz, via a worn out VHS tape of the man's 1950s movies.
"From the very beginning when I joined the team for the first Toy Story, I saw a world and I saw technology that allowed us to do what we wanted, and we didn't have to be bound by the rules of how you could move a camera in the real world," Unkrich considers. "We could suddenly move the camera anywhere we wanted, do what we wanted. But we started to lay down some rules for ourselves at the very beginning that we didn't want to do that. We wanted to follow basic film grammar. We thought we were doing the film as grounded because, at the time, we knew it was such a new technology and we knew the images we were creating were unlike anything we've ever seen before. And so we wanted to make sure there was a familiarity in those images, and people felt like they were watching a movie that they might have seen in the 1950s or 1930s. So after doing that on our first film, on Toy Story, we've continued to through all of them. We've tried to keep them very grounded."
Anderson is also intrigued by this dichotomy, and she considers it one of the many secrets that explains why people tend to love Pixar movies so much over multiple generations. It is an emphasis on classical storytelling versus concessions to topical modernity.
"It's not popular to say an 'old-fashioned sensibility,' but I mean that in the best way," Anderson says. "[It's] just grounded in history and heritage, and familiarity."
That sensibility raises an interesting question unto itself. Given that another major aspect of Coco is being able to meet your ancestors and connect with the past, one wonders what childhood heroes the filmmakers would love to interact with on the Day of the Dead?
For Unkrich, the answer is not all that surprising as he has been able to sneak hidden homages to his favorite film, The Shining, into all the Pixar movies he's directed, including Monsters Inc. and Toy Story 3. (And yes, there will be something in Coco too.)
"I would want to meet Stanley Kubrick," Unkrich muses. "I've spent so much of my career and my life adoring all of his work, and getting to know his family. He's somebody I think I want to meet. Whether that would actually work out, I don't know. They say, you know, you don't actually want to meet your heroes, and I've certainly had some experiences where I met some heroes that I kind of wish I hadn't. But that's mine."
Anderson also gave her own very personal answer to the query, revealing she'd use the opportunity to solve a family mystery.
"I would want to meet my ancestors on my mother's side," Anderson says. "She was adopted, and my mom is no longer with us, so I'd love to see her and all of her ancestors because of the matriarchal connection… It's a big, fun, interesting mystery, and all the adventures that includes."
This in turn gets Molina to become very reflective on his family history.
"I knew him in life, but I would want to see my grandpa on my dad's side because when I was a little kid, he was always a really funny guy," Molina says. "He was super gregarious, super outgoing, and as a kid, I loved that about him. I just know that being able to interact with him at an adult level, he must have been the same thing. But you know, as you grow and interact with your family on different levels, you realize more about who they are."
And families might also realize more about who they are, or at least how they connect, when Coco is released on Nov. 22.
Read and download the full Den of Geek Special Edition magazine here!