News
Cobra Kai: Karate Kid TV Sequel Releases New Trailer
Cobra Kai will be a half hour comedy on YouTube Red, and it's a sequel to the original Karate Kid movies.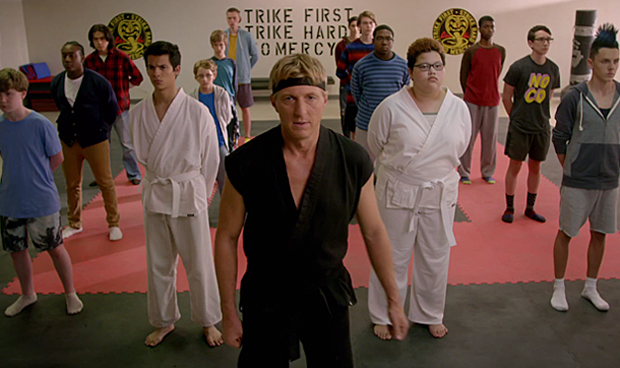 The Karate Kid is about to become a TV series on YouTube Red. Cobra Kai is a 10-episode, half hour comedy that will see Ralph Macchio reprise his role as Daniel LaRusso and William Zabka return as Johnny Lawrence. Macchio and Zabka are executive producing with Jon Hurwitz and Hayden Schlossburg. Hurwitz and Schlossburg, whose credits include Harold and Kumar Go To White Castle, are writing with Josh Heald (Hot Tub Time Machine).
1984's The Karate Kid was directed by John G. Avildsen, and kicked off a new wave of martial arts pop culture mania in America. It was followed by three sequels of increasingly diminished returns, as well as a 2010 reboot. This TV series will be the first revisiting of the "original" Karate Kid continuity since 1994's The Next Karate Kid, which starred Hillary Swank.
Cobra Kai Trailer
The latest Cobra Kai teaser arrives in the form of a new clip, focused on the insanely unorthodox teaching methods that Johnny Lawrence is bringing to the table; a regiment designed by a character that used to be one of cinema's most iconic bullies, intended here to actually help a group of bullied teens (albeit in his own "mercy is for the weak" way).
This clip, which bears the subtitle, "Bad Sensei," is especially intriguing, since the show's array of trailers and preview footage seem to depict Johnny as a sympathetic character, maybe even the good guy of the story, compared to movie series protagonist Daniel LaRusso, who, with one fateful Crane Kick to Johnny's face, has done quite well for himself.
Indeed, Daniel's (loud) success seemingly mocks Johnny's current hard luck status. This idea was reinforced with a recent series of 30-second clips, some of which show Johnny dealing with hate from his own son, Robby and, in stark contrast, Daniel getting love and support from his karate-trained daughter, Sam.
Check out the previous trailers below!
"If you want to get technical, I kicked his face."
The third Cobra Kai trailer focuses on the formerly-titular Karate Kid himself, Daniel LaRusso, and the ominous threat he'll be facing when his old rival, Johnny Lawrence, re-opens the infamous Cobra Kai dojo, belligerent philosophy and all.
However, the feud that started over the absent – eventually Oscar-nominated – Elisabeth Shue as original movie love interest, Ali, has clearly evolved in the 30+ years since it was purportedly settled, despite the classic callbacks, notably with this new trailer's reintroduction of the (I daresay iconic,) spandex skeleton suits. – It makes one wonder if the moment of cockiness on display here from Daniel hints that he'll have the temerity to try the Crane Kick on Johnny yet again.
In this previous trailer, Johnny Lawrence and his titular nostalgic martial arts fiefdom; the same dojo where, over 30 years earlier, he was the apple of the sadistic eye of Sensei John Kreese – at least until Daniel LaRusso's foot fatefully met his face via crane kick. Interestingly, forgoing what subsequently happened with the Cobra Kai dojo in (the rightfully forgotten) The Karate Kid Part III, it appears that Johnny has taken ownership of the place, restored it to the way it was during his spandex skeleton suit salad days, and is teaching a new generation the old "strike first, strike hard, no mercy" methodology.
Here's the first Cobra Kai trailer, which made the show's initial claim for being the best around (and nothing's gonna ever keep it down… you know the rest).
While it was assumed that Cobra Kai would manifest as a sequel that bears elements of self-parody, we see here that the rivalry between Daniel and Johnny – who seemed to reach a reasonable détente at the end of the first film – is somehow more heated than it was over 30 years ago. Moreover, judging by some familiar rhetoric, Johnny seems to be hitting the Sensei John Kreese Kool-Aid hard, despite the whole "you're a loser," "second place is no place," parking lot choking incident.
Of course, an aspect of Cobra Kai that the teaser has yet to touch upon is that said rivalry will transcend generations as the respective children of Daniel and Johnny will continue the martial arts enmity.
Cobra Kai Release Date
Cobra Kai premieres on May 2.
Cobra Kai Cast
Entertainment Weekly revealed the cast of the series. 
Courtney Henggeler is Amanda, "Daniel's wife and business partner…the glue that keeps the LaRusso household and dealership running, and a calming force in Daniel's life."
Mary Mouser is Samantha, their daughter.
Xolo Maridueña is Miguel Diaz, who "struggles with bullies at his new school, until he's taken under the wing of a Cobra Kai karate master."
Tanner Buchanan plays "Johnny's street-smart son Robby Keene. Robby is eager to prove he's nothing like his dad, even though he's on his way to making the same mistakes."
In a neat surprise, Ed Asner is Sid Weinberg, Johnny's "reluctant stepfather…an old-school, hard-nosed, former studio mogul, who is tired of dealing with his stepson's failures."