News
Clive Barker's Books of Blood Movie Set for Hulu
Hulu is adapting Clive Barker's story collection, Books of Blood, as a movie, adding Star Trek director Brannon Braga and a stacked cast.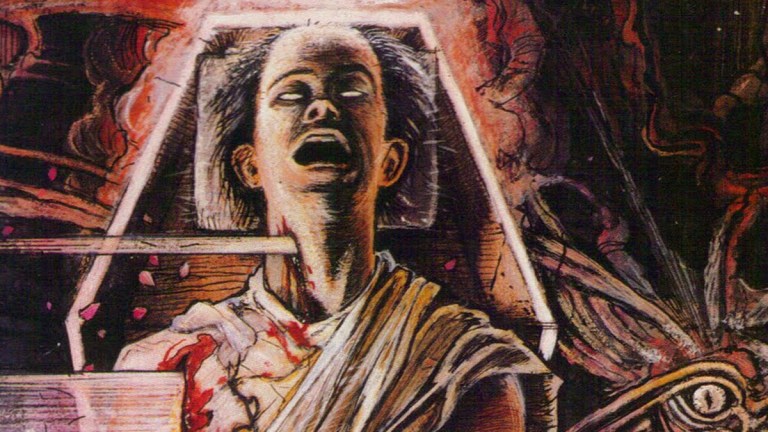 Books of Blood, the 1984-1985 six-volume short story collection that first brought maestro of macabre Clive Barker (conjuror of the Hellraiser film franchise,) to prominence, is getting a feature film treatment. However, don't expect to find said film at theaters, VOD, or, for that matter, even Netflix. – It's coming to Hulu!
Brannon Braga, the veteran writer and producer of the Star Trek franchise, will be the driving force behind Hulu's Books of Blood in a move that will certainly delight Trekkies… well, the ones who can appreciate hellishly twisted creatures and ambulatory flayed people. The project will be the feature directorial debut for Braga, who's also serving as executive producer, set to co-write with Adam Simon, who worked with him on WGN America series Salem. Additionally, Braga's recent work with Seth MacFarlane on Hulu's Fox-imported space-sci-fi series, The Orville, will carry over here, since MacFarlane will also executive-produce alongside Braga and Simon.
Barker's original collection took shape as bleak, fatalistic fantasy-driven horror stories in which normal people are thrust into nightmarish scenarios (often without the moral comfort of a genre-conventional just-deserts scenario). They are also famous for the Volume Five story, "The Forbidden," which, in 1992, would be adapted as the horror franchise launch film, Candyman, which has a Jordan Peele-produced reboot in works. If the creative coalition for Hulu's Books of Blood wasn't auspicious enough, the project has also corralled quite the cast for itself. Here's the first volley of cast members along with their official character descriptions:
Anna Friel (Marcella, Pushing Daisies) will play "Mary," a brilliant, beautiful psychologist who has gained fame as a skeptic that debunks all theories or beliefs that are not solely scientifically based. She loses her 7-year-old son to leukemia and then meets Simon who becomes her lover and convinces her that he speaks for her dead child.
Britt Robertson (Girlboss, Tomorrowland) will play "Jenna," a hypersensitive girl who suffers from "misphonia" — an abhorrence of sound. As she learns her mother is about to send her back to the "Farm," she steals her mother's cash and sets out for Los Angeles.
Rafi Gavron (A Star is Born, Homecoming) will play "Simon," a handsome, charismatic young man who convinces Mary that he is a "ghost whisperer" who speaks for her dead child.
Yul Vazquez (Russian Doll, I Am the Night) will play "Bennett," a professional killer who's latest "hit" clues him in on a priceless book that may allow him and his wife to permanently retire. On his search for the tome, his quest leads him straight into supernatural terror.
Further Reading: Nightbreed: The Enduring Appeal of a Horror Classic
Braga, of course, brings Starfleet-centric experience as a writer/producer for Star Trek: The Next Generation, Star Trek: Voyager and Star Trek: Enterprise, along with work on Fox shows 24 and Terra Nova, ABC's Flashforward and WGN series Salem. Yet, pertinent to Books of Blood's streaming platform, Braga's aforementioned work on The Orville – creator and cast member Seth MacFarlane's Star Trek-esque genre love letter of a series – had two seasons on Fox before prepping for an upcoming third season on Hulu.
Consequently, MacFarlane (not someone who's typically associated with horror,) has become a collaborative partner here, joining Braga and Simon in Books of Blood's sizable stable of executive producers; a stable that also consists of author Clive Barker himself, along with Erica Huggins, Alana Kleiman, Brian Witten, Jeff Kwatinetz and Josh Barry. They will be joined by co-executive producer Mark Miller and producers Joe Micucci, Jason Clark and Michael Mahoney. The film is a production of Fox 21 and MacFarlane and Huggins's Fuzzy Door.
Books of Blood Release Date
Books of Blood doesn't have a release date yet, but the movie is currently on the fast track, eyeing a Hulu premiere in fall 2020.
Joseph Baxter is a contributor for Den of Geek and Syfy Wire. You can find his work here. Follow him on Twitter @josbaxter.