Features
Clint Eastwood, Don Siegel, and the great anti-hero
Between them, director Don Siegel and Clint Eastwood created some classic movie anti-heroes, including one Dirty Harry...
Let's start at the end of this story.
Unforgiven (1992) is a film that builds on the groundwork of others, and takes the ideas of the past to a new level. In it, Clint Eastwood plays a once-vicious killer, William Munny, who chooses to return to the role of bounty-hunter in his old age. It's no wonder that the film is dedicated to the two directors who shaped the public image of Eastwood to such an extent that we can view Unforgiven as an extension of the mythology of his classic role- the anti-hero. One is Sergio Leone, who turned Eastwood into the Man With No Name. The other director is Don Siegel.
Siegel directed five films that starred Eastwood and was a great influence on him when he started to direct his own films, even playing a small part in Eastwood's directorial debut, Play Misty For Me (1971). The movies they made together relied heavily on Eastwood's silent sneer (Leone said of Eastwood – "As an actor, he has two expressions: with, and without the hat") but also began to stretch him as an actor in interesting directions.
These films shaped the crime movies and the Westerns that followed, and are still incredibly entertaining and iconic today. Here's a look at them:
Coogan's Bluff (1968)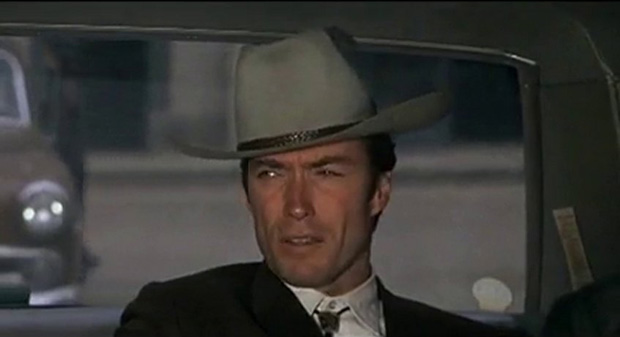 Siegel said, "Eastwood has an absolute fixation as an anti-hero. It's his credo in life and in all the films that he's done so far." Coogan's Bluff is absolutely an anti-hero film. Coogan is an Arizona Deputy Sherriff who comes on a manhunt to New York, and wears an expression of disdain for all things of the city, particularly elements of the counter-culture lifestyle and places such as the drug-ridden club with the memorable name of Pigeon-Toed Orange Peel. Coogan breaks the rules but this doesn't always work out for him; still, in the main he gets what he wants, and looks pretty smug doing it. It's a film that wants to have it both ways. It looks disparagingly at the naked women of Pigeon-Toed Orange Peel, but its gaze still lingers on their nakedness. It's an uneasy balance of severe expressions and psychedelic backdrops.
Siegel directed Invasion Of The Body Snatchers (1956) and there's something of that sense of distrust and alienation in Coogan's Bluff. Everyone looks so strange. They really are from a different world to Coogan, and there's the sense that his values are opposed to those he finds in the city.
The third element of success in these Siegel/Eastwood films is Lalo Schifrin. He scored three of these films, and made a brilliant job of it. The Pigeon-Toed Orange Peel song really gets stuck in your head.
Two Mules For Sister Sara (1970)
It's strange to think that Two Mules For Sister Sara would become such an influential Western – it must have seemed like a strange piece of casting to put Shirley Maclaine in it as a nun whom Eastwood saves from a gang-rape, and then escorts across the Mexican desert. The script was written with Robert Mitchum and Deborah Kerr in mind (if you want to see that pairing, Kerr had already played a nun to Mitchum's tough guy in the excellent Heaven Knows, Mr Allison) but with Siegel's involvement it evolved a harder edge, and Maclaine brings her unique charisma to the role, and stands tall against Eastwood's sneer. I think it's the most engaging female performance opposite Eastwood until The Bridges Of Madison County (1995), and the tension between them for control of the screen is a good reason to watch the film.
The other great thing about the film is the music. Written by Ennio Morricone this time, it's another one of those scores that you recognise instantly, and it's been reappearing recently in movies as an ironic aside. Tarantino uses it in his phenomenally fun Western Django Unchained (2012) and you can also find it in Sherlock Holmes: A Game Of Shadows (2011).
The Beguiled (1971)
This has to be one of Eastwood's and Siegel's most interesting films. It's the story of a Civil War deserter who seeks shelter in a girls' school and plays with the affections of the teachers and pupils. It's a slow, creepy film, shot in a Louisiana mansion, making use of the setting to build the tension long before things start to go wrong. And when they do go wrong, it's shudderingly horrible and filled with Freudian symbolism. By the end we're in the territory of Gothic horror.
Eastwood's performance is far from Leone's claim of him being an expressionless actor. He's great in this – tender and demanding and bored and bullish, he rules the roost. It's another character you can love to hate, but for very different reasons from someone like Coogan.
The film was considered a flop in the US, and if you look at the original trailer and posters you can see why. It plays up the salacious elements and makes it sound like some sort of 1960s Confessions Of A… type film – "Is he a helpless victim to be teased, enticed, loved at their will and pleasure?" asks the voice-over artist. Anybody who went along hoping for bedroom capers would have come out traumatised.
Dirty Harry (1971)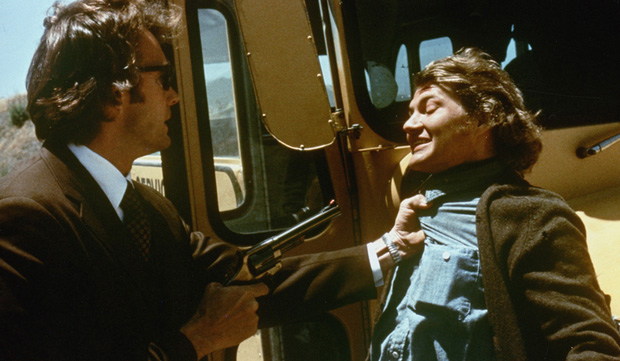 It's interesting when you look at the dates on these films to realise that they are all so close together. Perhaps that's why they build so effectively in terms of Eastwood's characterisation as an anti-hero. For Harry Callaghan is probably a character you'd think of if I asked you to name a great anti-hero of the movies – he hates everyone, he never plays by the rules, he has no family or friends, and yet we all love him. He's the pinnacle of Eastwood's early roles, a natural extension of the Man With No Name and Coogan, with no softness or pity.
Later Eastwood's characters began to soften, just a little, so we see caring elements in The Outlaw Josey Wales (1976) and comedic influences in the Every Which Way... films. But Dirty Harry reminds me more of Judge Dredd (and makes me wonder if Eastwood would have made a great Old Stoney Face) in that they both represent ultimate judgement. If you have been judged, and found wanting, then you will be punished.
Time, and our familiarity with it, has robbed the film of some of its controversial status. We're used to seeing vigilantes chase down criminals, from Death Wish (1974) to Batman in all his incarnations, with Eastwood even revisiting the territory in Gran Torino (2008). Technically Harry isn't a vigilante, but he's certainly not always acting within the parameters of the law. The frustration with due process, of feeling let down by the system, is here for perhaps the first time.
Now watching Dirty Harry is about the lines we all know. But there are so many successful elements to it: the action-heavy direction, the brilliant casting of Andy Robinson as Scorpio (who still gives me the chills), and another fantastic score by Lalo Schifrin. And it has one of the great openings, and great endings, in movie history.
Escape From Alcatraz (1979)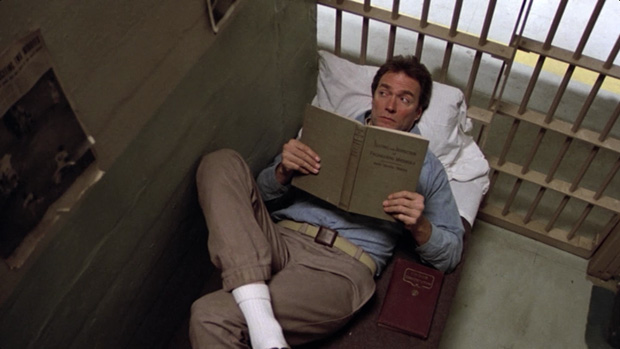 By 1979 Eastwood was a superstar, and it shows in this film. How many actors would have the clout needed to make a gritty prison movie based on a true story in which the hero is not wrongfully imprisoned? Frank Morris was in prison for crimes including burglary and bank robbery, but still we're asked to invest in him, and we do, because Eastwood is so still, so collected, that we are drawn to him. He's the centre of that island.
This was the last time Eastwood and Siegel worked together, and has more in common with The Beguiled than with Dirty Harry. It's the building of tension that is so well done, to a point of inevitability. The movie was filmed in Alcatraz itself, and the claustrophobia and despair of being incarcerated in such a place is palpable.
Is Frank Morris an anti-hero? He's not your traditional action man, but the prison is portrayed as so terrible that he is the guy flying in the face of the establishment, which is an idea that appears a lot in Eastwood films. To come full circle, it's also in Unforgiven; William Munny is going to bring down the brutality of the regime of local Sherriff Little Bill (Gene Hackman). The law does not mete out the deserved justice, so Munny will have to. Munny is a classic Eastwood character, and a Siegel one for that matter. We're just catching up with our anti-hero a few decades down the line. And yet this time around we see his despair at the fact that violence is still the only solution against violence. You get the feeling William Munny would like to throw the gun away and go back to his kids and his pigs. But we, the viewers, still haven't lost our love of the anti-hero, and so he goes on, as Seth Gecko, as Travis Bickle, as D-Fens, and as Tony Montana. I wonder where he'll appear next?
Follow our Twitter feed for faster news and bad jokes right here. And be our Facebook chum here.