News
Cliffhanger Female-Led Reboot of Stallone Movie in the Works
Sylvester Stallone's 1993 actioner, Cliffhanger, is getting a female-fronted reboot, with a key Fast & Furious franchise producer onboard.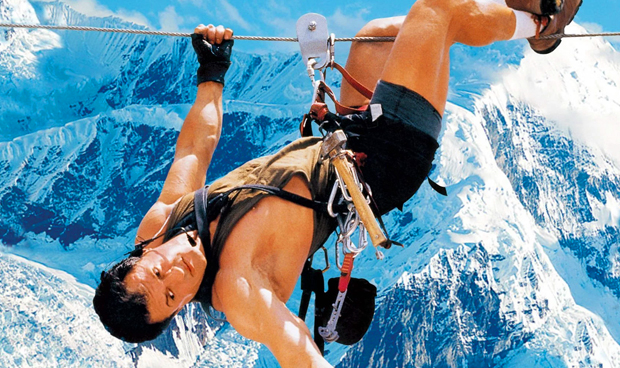 Cliffhanger may not be widely seen as an iconic Sylvester Stallone actioner, but the high-altitude intensity of the Renny Harlin-directed 1993 blockbuster reaped respectable box office rewards, banking $255 million worldwide off a $70 million budget – more than the $189 million made from Sly's then-recent franchise mainstay in 1988's Rambo III, and certainly more than the $119.9 million earned by 1990 dud Rocky V. Indeed, Cliffhanger has its fans, notably Fast & Furious film franchise producer Neal Moritz, who's now spearheading a female-fronted reboot effort.
Yes, Hollywood's insatiable reboot rampage has placed its grip on Cliffhanger, which Moritz is bringing to the table with a gender-swapped twist in the protagonist department, according to Deadline. Set to occupy the director's chair will be Ana Lily Amirpour, who, working off a script by Creed II writer Sascha Penn, will reimagine the story with a female hero, replacing Stallone's original mountain-climbing rescue ranger, Gabe Walker. However, this Cliffhanger will still contain a steady testosterone level, with Jason Momoa (Aquaman, Game of Thrones) reportedly in talks for what is being called "a key cameo." For now, a gravity-defying teaser poster for the Cliffhanger reboot brandishes the tagline, "Hold on."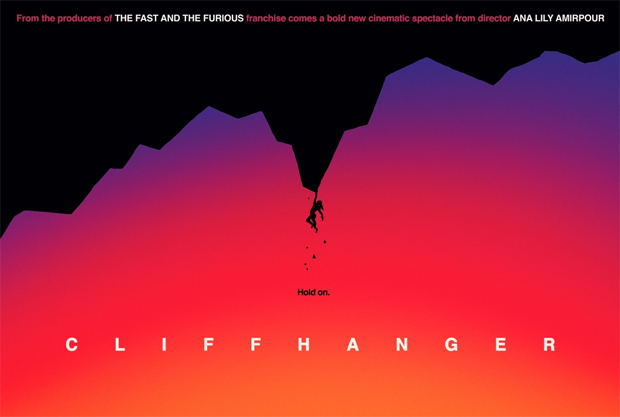 Director Amirpour is a surging filmmaker who's been riding momentum from written/directed indie offerings such as 2016 dystopic cannibal-filled horror thriller The Bad Batch and the 2014 black-and-white vampire horror film, A Girl Walks Home Alone at Night. She's currently working on a fantasy film called Blood Moon, which will be headlined by Zac Efron and Kate Hudson. As Amirpour, upon revealing her enthusiasm for the action-survival genre, explains of her reboot plans:
"We are setting out to create a thrill-ride on the mountain which taps into the primal side of an action movie, where you see what a person is capable of doing to survive in the most extreme situations, pushed to the limits. Add to that some high-stakes espionage and a badass female mountain climber as the lead and it becomes a truly epic reinvention of what made the original Cliffhanger movie so fun and so thrilling."
The Cliffhanger reboot will reportedly be shopped around for international sales by Rocket Science at the Cannes Film Festival – held from May 14-25 – in an endeavor that mirrors how the original Stallone-fronted film was shopped at the festival. However, said task currently depends on writer Sascha Penn turning in the first draft by a week's time. The film will also see Moritz produce alongside Toby Jaffe via their Original Film company, joined in that capacity by financing partners Thorsten Schumacher and Lars Sylvest of Rocket Science. As Moritz lauds of this passion project of a remake (while telegraphing franchise ambitions):
"I've been wanting to re-make this adrenaline filled survival thriller with a strong female protagonist – both in front of and behind the camera – for some time. The elements came together with Ana Lily and Rocket Science and we look forward to gathering the rest of the pieces. I've always wanted to make the movies I want to see — big at their core with characters which connect to the audience while simultaneously encouraging them to leave their house and go to a theater. Cliffhanger is just that, in what we hope will be the first of an entirely new franchise."
The Cliffhanger reboot doesn't have a release date yet, but the wheels are moving steadily, with production scheduled to start in spring 2020.
Joseph Baxter is a contributor for Den of Geek and Syfy Wire. You can find his work here. Follow him on Twitter @josbaxter.