News
Clerks Actress Lisa Spoonauer Passes Away, Kevin Smith Reacts
Kevin Smith pays a heartfelt tribute to Clerks cast member Lisa Spoonauer, who passed away at age 44.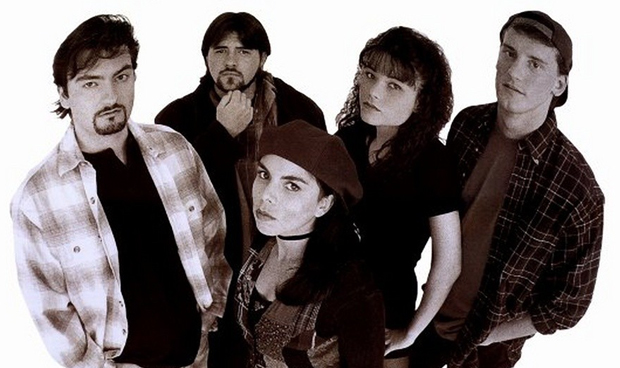 Clerks actress Lisa Spoonauer has passed away at the tragically young age of 44. The cause was not revealed.
Spoonauer played a crucial role within the plot of writer/director Kevin Smith's buzz-generating black-and-white 1994 debut film Clerks as Caitlin Bree, the idealized, but flighty love interest to the film's ambivalent convenience store counter-dwelling protagonist Dante Hicks (Brian O'Halloran), who seemed unware until it was too late that the relationship he really desired was the one he already had with Veronica (Marilyn Ghigliotti). However, Spoonauer's Caitlin becomes central to the film's climax as the victim of one of cinema's most memorable comedic accidents when – inside the Quick Stop's light-deprived bathroom – she unwittingly hooks up with a dead customer, thinking it was Dante.
Kevin Smith took to Instagram to pay tribute to Spoonauer, recollecting the crucial role she played in the film that launched his career.
Spoonauer, as Smith explains, was cast for the New Jersey-set Clerks role back in 1992, selected from students at a local community college. However, no one could have predicted the global groundswell that the film would go on to create after receiving festival circuit acclaim, winning the "Award of the Youth" at Cannes in 1994, a tied win with crime drama Fresh at Sundance and three nods at the Independent Spirit Awards. The film, a bellwether geek moment with its unforgettable Star Wars analyses, brandished the irreverent loose banter of a Richard Linklater film, minus any perception of hipster pretentiousness. Moreover, it introduced the characters of slack-jawed stoner Jay (Jason Mewes) and cohort Silent Bob (Smith); a duo who would become the comical thread linking the subsequent array of Smith's New Jersey movies.
Interestingly, Spoonauer did not parlay the Clerks momentum into an acting career, instead opting for careers as a restaurant manager and event planner. She would have only one more onscreen role, appearing in director Gabe Torres's 1997 indie drama Bartender. However, she did reprise her role as Caitlin Bree – via voice – in an episode of the short-lived 2001 Clerks ABC primetime animated television series. However, her connection to Clerks will always endure, part of a mid-1990s phenomenon buttressed by the pre-Internet buzzworthy narrative about a guy – Smith – who sold his precious comic book collection to make his first movie; a narrative that put Spoonauer and the rest of the Clerks cast such as Brian O'Halloran, Jeff Anderson, Marilyn Ghigliotti, Jason Mewes and Smith himself briefly at the center of the world.
Lisa Spoonauer is survived by husband John Spoonauer and daughter Mia Spoonauer, along with her mother, father and several extended family members. We at Den of Geek express our condolences to her friends and family.